The Stamford Historical Society
Presents the Virginia T. Davis, Stamford Historical Society
Distinguished Service Award to
Rosemary Vacca
19 June 2006
Address by Ron Marcus, Librarian
Good evening. It is a pleasure for me to present this year's Virginia T. Davis, Stamford Historical Society, Distinguished Service Award to one of our most outstanding volunteers. This award is given in memory of a truly remarkable individual, whose devotion to the City of Stamford through this organization was summarized in a 23 March 1983 Advocate Editorial. "[Virginia] believed that a community's sense of its own history gave it a solidity and depth that it otherwise would not have. She was right in thinking so."
This year's recipient has given of herself to this organization for many years, beginning in 1971. A Stamford native, she graduated from Stamford High School and Russell Sage College. Upon this, she entered into a long career, teaching in the elementary schools at Rye, New York. It was during the 1976 Bicentennial activities here at the Society that she began volunteering in earnest. Notable amongst her contributions was assisting Carl Lobozza in his endeavors to photograph the unending rapid changes within many of our City's neighborhoods. Because of their efforts, numerous buildings that subsequently happened to be either drastically altered or demolished were recorded on film.
She was instrumental in obtaining additional information on Elizabeth Davenport Spence, also an alumna of Russell Sage College. Mrs. Spence's donations of Davenport family memorabilia over the years to the Society, was a significant factor in enabling us to produce our award winning exhibit Portrait of a Family: Stamford through the Legacy of the Davenports.
Our honoree manages The Shop Downstairs, a pleasant, challenging and vital undertaking. For, the sales generated from this "represents a continual fund raiser."
It was during her involvement on our Immigrant's Stamford: Along Pacific Street exhibit that we learned an interesting, personal detail about our honoree. It seems that her paternal grandfather worked on erecting the wonderful stone walls of the very building within which we are now meeting.
The fact that we continue providing the City of Stamford with a significant amount of programs and services, is due essentially to selfless, dedicated volunteers, exemplified by this person who we are about to formally recognize.
At this moment, it gives me great satisfaction in presenting this year's Virginia T. Davis, Stamford Historical Society Distinguished Service Award to Rosemarie A. Vacca.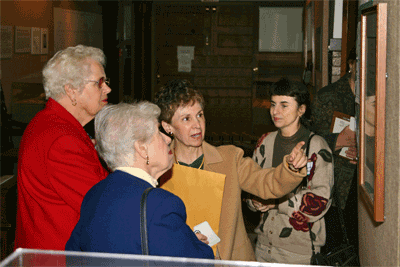 Rosemary Vacca hosts a Russell Sage College alumnae chapter tour, August 2005
Awards
Volunteer Opportunities