Photo Archivist's Selection of the Month: May 2007
The League of Women Voters and Harold I. June, June 26, 1930
(after a long hiatus, we are back!)
Recently, the Society was given a photo of a group of ladies from The Stamford League of Women Voters – our thanks to the donor, Gwen June Ketchum!
The photo was taken on June 26, 1930 at the Condé Nast estate. The occasion was a luncheon for Harold I. June, "tendered by the Women of Stamford." Harold I. June was a member of the Byrd Antarctic Expedition, August 1928 through March 1930. On June 26, 1930 the citizens of Stamford gave a Welcome Home to the aviator. There is a related brochure which can be viewed in the Marcus Research Library (919.9 LEW).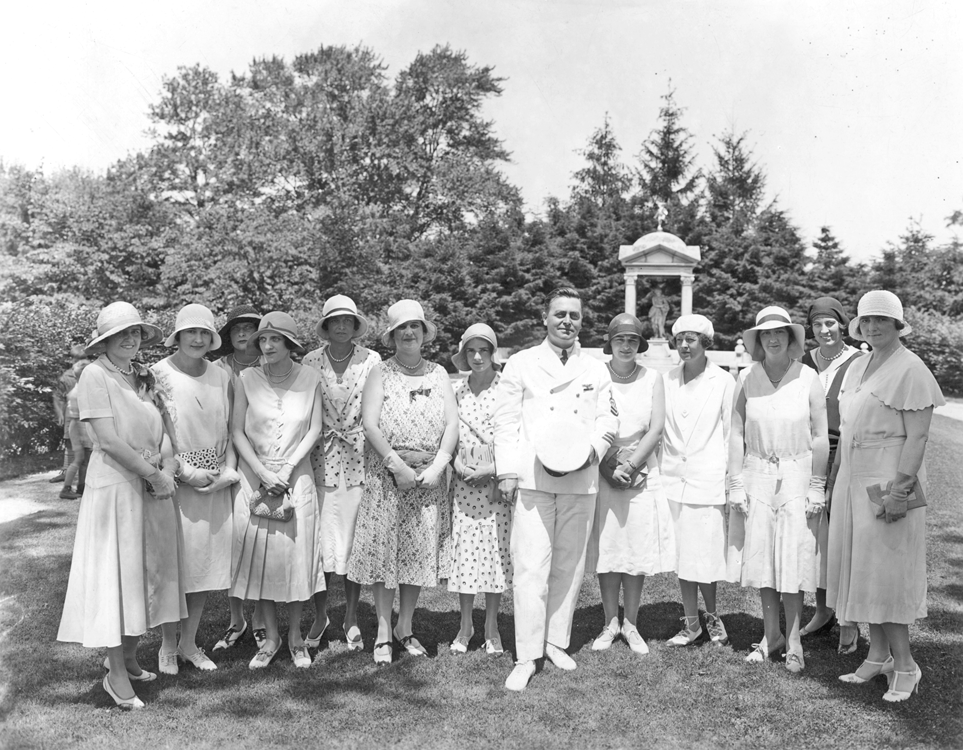 Left to right – as far as we can decipher from the back of the photo:
(1) Mrs. George Wheat; (2) name erased; (3) Mrs. Wm. Barr; (4) Mrs. Roger Offen; (5) Mrs. Elise? Gilbert (6) Mrs. Clarence White; (7) Mrs. E. Glass;
Mr. Harold I. June
(8) Miss Pauline Nash; (9) Mrs. Alice Herneck-Breden?; (10) Mrs. Virginia Thayer? (11) Mrs. Carlisle Hunter (?) (12) Mrs. Barnes? (the question mark is in the text)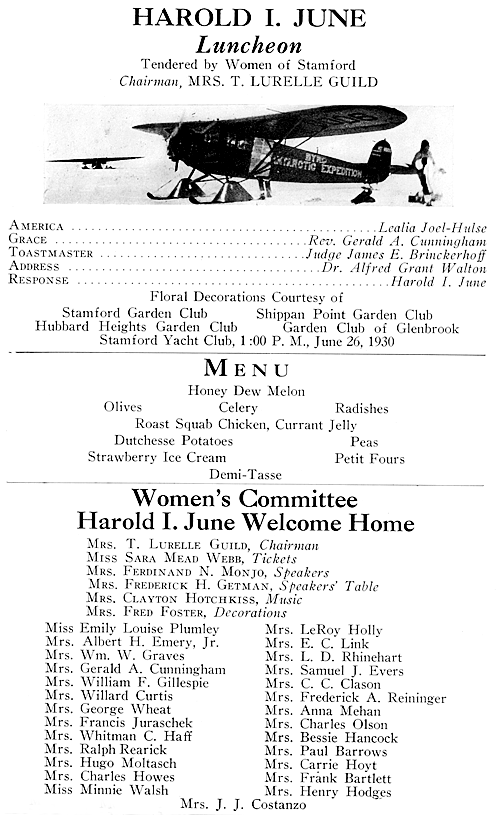 Welcome Home to Harold I. June on the occasion of his return from participation as co-pilot in the Byrd Antarctic Expedition, June 26, 1930
What are "squab chicken?" Squab chicken, aka poussin in French, are not squab, but are small less than 1 1/2 pound chickens, between 4 and 6 weeks old.
Photos © Stamford Historical Society
Other Photo Archivist Selections of the Month
Photo Collection Information