Picturesque Stamford, 1892
Mercantile Affairs, etc., Page 301.
Erastus E. Scofield.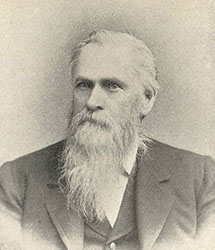 One of the oldest men in business in Stamford is Erastus E. Scofield. It is doubtful whether any of those in business here to-day were so engaged in 1857, when Mr. Scofield first ran a grist mill on land leased from Ambrose Todd, where the woolen mill afterwards stood. Five years later Mr. Scofield opened a feed store at the corner of Main and South Streets. This place was burned a couple of years later, and he occupied a store opposite the Stamford National Bank. Later he built the Star Mills on Canal Street, and for about twelve years has conducted two places – on Pacific Street and Canal Dock. He does a large business, wholesale and retail. Mr. Scofield was born in the north part of this town, and while engaged in business for forty-five years, has filled, at various times, the offices of Selectman, Justice of the Peace, Burgess, and member of the Board of Relief.
Picturesque Stamford, 1892
Research Library
917.46 Stamford G
---
Home