The following is a story about the Jewish Historical Society and their archives, courtesy The Advocate
January 19, 2003

In the

COMMUNITY
Assembling the past: Historians uncover glimpses of area's Jewish history
By J. Clyde Wills
Special Correspondent, The Advocate
Reprinted with permission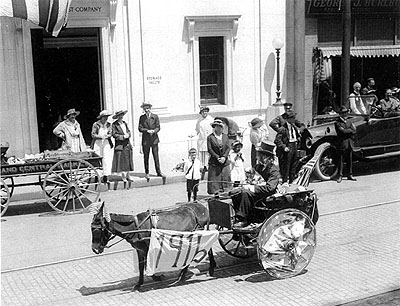 Louis Altman, 18, rides in the parade celebrating Stamford's 275th Anniversary. Altman served in the Navy during WWI. A prominent lawyer and community leader, he was the first Commander of the Stamford Jewish Veterans Post No. 142.
STAMFORD -- When he first looked up Stamford in the Encyclopedia Judaica, Irwin Miller was surprised to find how little it offered. According to the encyclopedia, he said, Stamford's first Jews immigrated in the 19th century, but he knew it had to be earlier.
Miller found from letters dated in 1721 that the first Jewish resident of Stamford was Nehemiah Marks. Abraham Hays, the earliest Jewish resident of Greenwich, settled in 1728, and the first Jew in Norwalk was Ralph Isaacs, who lived there with his family in 1724.
"His (Isaacs') gravestone is in Norwalk at St. Paul's on the Green," said Miller, founder of the Jewish Historical Society. "His wife and children are buried up the hill from him."
The fruits of research by Miller and his colleague Linda Baulsir can be found in "The Jewish Communities of Greater Stamford," released by Arcadia Publishing in November. Compiled by Miller and Baulsir, the photographic history details the origins of Jews in Stamford, New Canaan, Darien, Greenwich and Pound Ridge, N.Y.
"It took us about nine months of intensive work to come together," said Baulsir, a former executive director of the Stamford Historical Society.
The Jewish Historical Society had all of the archive material at its disposal; it was just a matter of assembling it, Baulsir said.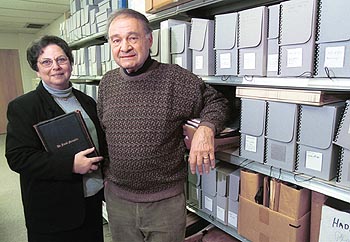 Linda Baulsir, left, and Irwin Miller wrote 'The Jewish Community of Greater Stamford,' which was published in November.

Dru Nadler / Staff Photo
Copyright © 2003 The Advocate
The Harry Rosenbaum Judaica Library utilizes space in the Jewish Community Center, she said, though there is still a considerable amount of historical material in people's homes.
"The material is constantly being organized," she said. "It is of no use unless you can access it."
There are many stories, such as the tale of Louis Drucker, who settled in New Canaan in 1869. As the first Jew to settle in New Canaan, he was a tailor, volunteer fireman and town constable. He was murdered attempting to thwart a robbery, and his killer is thought to be the last man hanged in Connecticut, Miller said.
It was revolutionary for New Canaan to have a Jew in such a position of civic responsibility, Miller said.
The book focuses on the 19th and 20th centuries. However, the historical society's goal is to trace the local history of Jews to the Colonial period, Baulsir said.
"Jews were part of America since the beginning," she said.
When Stamford was settled the area was tightly controlled by the Congregational Church. All residents were tithed, regardless of religion, Miller said. In addition, only Congregationalists could vote.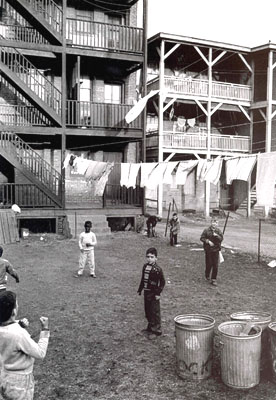 Children from the Pacific Street tenements play in the yard behind Brazel's Kosher butcher store. The area has been replaced by the Stamford Town Center.
"This is a bit of a historical lesson," he said. "You have to understand what New England was like in the colonial period."
While the Colonies were being established, Jews populated small pockets along seaboard trade routes, often providing shelter for Jewish coastal traders. The first Jewish immigrants were young peddlers, Baulsir said, and usually male and single. Many of these men married Christian women.
"There are many residents who are not aware of their Jewish heritage," Miller said.
It wasn't until the late 19th century, however, that larger numbers of Jews began to move from New York City to reside in Stamford.
Their first place of worship was Agudath Sholom Synagogue, established in 1889. Now the largest synagogue in New England, meetings were first held in rented rooms. The first Jewish cemetery, what is now Agudath Sholom Cemetery, was established in 1891.
Usually a Jewish cemetery is a precursor to a synagogue, Baulsir said, but this time it was reversed.
By the 1920s, Jewish immigrants had moved into the economic mainstream. It was during this time that Pacific Street in Stamford became the commercial district for the Jewish community. As a haven for Stamford's immigrants, it housed Italian bakeries as well as Kosher butchers.
Following World War II, as Pacific Street started to deteriorate, most Jewish merchants moved to Atlantic Street. In 1967, through an urban redevelopment program, the area was demolished to make way for what is now the Stamford Town Center.
"The Jewish Communities of Greater Stamford" is the first history compiled by the Jewish Historical Society, but Miller said he hopes there will be more.
"Most of the people in the Stamford Jewish community aren't aware of this," Miller said.




Copyright © 2003 The Advocate. All Rights reserved.
Images: © 2003 The Advocate (1), © Jewish Historical Society of Fairfield County (2)
More information
about
THE JEWISH COMMUNITIES OF GREATER STAMFORD
by Linda Baulsir and Irwin Miller