Membership Information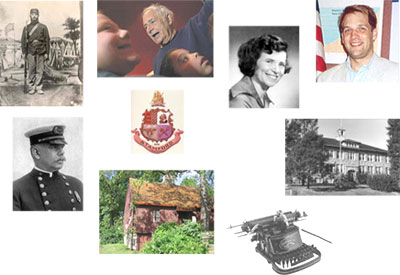 Center: The Seal of the City of Stamford. Clockwise from top left:
Charles Hobbie, Civil War Soldier
Society Volunteer Frank Zurzola telling immigrants' stories to third-graders (Photo Andrew Sullivan, Stamford Advocate)
The late historian Dr. Estelle Feinstein
Executive Director Dr. Thomas Zoubek
Home of the Stamford Historical Society on High Ridge Road
Blickensderfer Electric Typewriter, 1902
The Hoyt-Barnum House on Bedford Street
Police Chief (1905-1923) William H. Brennan
Images: Stamford Historical Society; Stamford Advocate (1)
Membership dollars help us to further our Mission of bringing local history to members of our community. We mount two exhibitions a year, each dealing with some aspect of Stamford history – you can see some of our recent exhibits online on this website. Membership dollars support the work we do with schools in the area, bringing colonial life alive for second grade students at Hoyt Barnum House tours, as well as through our Immigrants' Stamford exhibit for third and fifth grade students.
We are the official historian for the City of Stamford, and membership dollars also help us to preserve and conserve the city's past through maintaining and expanding our paper and photographic archives and our objects collection.
A personal benefit of membership is free use of our research library, including genealogical research, receipt of our quarterly newsletter, admission to the members only annual Founders' Day lecture, and reduced rates for our museum trips.
Please join us and share in the story of Stamford's past, present and future!
Benefits of Memership
Basic Membership: ($25 to $50) for families, individuals, seniors, senior couples, and students, includes:
Free admission to the Museum
Free use of the Research Library
Quarterly Newsletter
Admission to members only Founders' Day Lecture
Invitations to exhibition openings
Advance notice of events and excursions
Reduced rates for our museum trips.


All of the previous benefits, plus: Free admission to two annual lecture series.

All of the previous benefits, plus: Complimentary copy of 1883 aerial view map of Stamford.

All of the previous benefits, plus: Special patron's/benefactor's/sponsor's opening receptions.

All of the previous benefits, plus: One use per year of the Museum facility for a private reception or meeting.

---