The Stamford Historical Society takes pleasure in hosting the
Civil War Roundtable of Fairfield County
1508 High Ridge Road
Stamford, CT 06903
Directions: Merritt Parkway, Exit 35 to High Ridge Road, North 3/4 mile to 2-story, c.1915 fieldstone building located on the left, past gas station.
map
THURDAY, JULY 18, 2013, 7:30pm
SPEAKER: Edwin C. Bearss
TOPIC: The South's Best Cavalryman: JEB Stuart or Nathan Bedford Forrest?
ADMISSION: Free
QUESTIONS: Steve Laird, 203-227-2581
---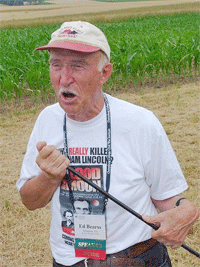 Our speaker Ed Bearss will analyze the relative merits of JEB Stuart and Nathan Bedford Forrest as cavalry commanders to determine who was
the best
. The comparison is complicated by the radically different military circumstances that prevailed in the Eastern Theater (Stuart) versus the Western Theater (Forrest). Not withstanding, judgments can be made regarding their relative success in conducting the generic cavalry functions of screening, recon, intel, rear guard protection and local breakthrough exploitation. Beyond this classic role, a more expansive cavalry mission involves deep penetration raiding, communication interdiction, a mounted infantry capacity and mobile warfare in general. This is a fascinating topic!
Ed Bearss is America's most renowned Civil War historian and tour guide. He served as Chief Historian of the National Park Service for many years. At age 90, Ed continues to deliver lectures and lead tours, traveling 200 days per year around the United States, Europe and the Pacific. His encyclopedic knowledge of military affairs extends well beyond the Civil War, covering the American Revolution, War of 1812, Indian Wars and World War I and II. Ed's enormous personal energy routinely outpaces his much younger guests as he charges over rough battlefield terrain.
Ed was born in Billings, Montana in 1923 and grew up on the family cattle ranch close to the Custer Battlefield. He joined the Marine Corps in April 1942 and served with the 3rd Marine Raider Battalion at Guadalcanal. In January 1944, Ed was severely wounded at "Suicide Creek" Cape Gloucester, New Britain by Japanese machine gun fire. Evacuated to California, Ed spent 26 months recovering in various hospitals.
Come spend an evening with this war hero and icon of Civil War scholarship!
---
Books
Links
Civil War Collections at the Connecticut Historical Society
The Sneden Civil War Collection
Civil War Preservation Trust
The Civil War Home Page
Civil War Education Association
Civil War Studies at The Smithonian Associates
American Battlefield Protection Program, National Park Service
Friends of the National Parks at Gettysburg
Welcome to Virtual Gettysburg
Blue & Gray Magazine
North & South - the Official Magazine of the Civil War Society
Civil War Interactive - A Free Online Civil War Magazine
Selected Civil War Photos
Civil War Information Resources on About.com
United States Military History on About.com
About.com usually provides excellent resources
The Denbigh Project supervised by J. Barto Arnold III (Institute for Nautical Archaeology, Texas A&M).
Denbigh, Archaeology of a Civil War Blockade Runner
Stamford Historical Society
Exhibit: Stamford's Civil War: At Home and in the Field
Record Group 16: The Diaries of Noah W. Hoyt: Summary, excerpts & bibliography
Blogs