Record Groups
Research requests may be sent to history@stamfordhistory.org
Research Fees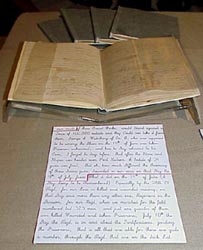 RG-16
THE DIARIES OF NOAH W. HOYT
Registration Sheet February 1995
Introduction
America's Civil War was a highly personal conflict. There were draftees, but the majority of men who fought were volunteers. In the North they volunteered to fight for the Union, for their country, for their flag. Slavery was, if anything, a secondary issue, one that would be addressed. and solved at the war's end.
They fought so that the Mason-Dixon line would never be a boundary between two foreign countries. They fought and they died. Some died on the battlefield, some weeks or months later, suffering all that time from appalling wounds. They died of malaria, dysentery, diarrhea, pneumonia, drowning, measles and typhoid. Union casualties in this worst of all our country's wars numbered over six hundred fifty thousand.
Initially, this war was not expected to last more than a few months. By early summer 1862, both sides began to reassess their positions. Shiloh had cost the Union over 13,000 men, the Seven Days Campaign for Richmond, another 15,000. Many enlistees had signed up for three, six or nine months. Some were discharged when their time was up, many just went home when they considered they had served their time.
Early in 1862 Lincoln called for 300,000 volunteers, and the response to the initial call was hesitant. In small communities, and Stamford was one of them, leading citizens offered bonuses to young men willing to enlist. Young women let it be known they would be proud to see their men in uniform. John Sloan Gibbon wrote, "We are coming, Father Abraham, 300,000 strong" and, in time, they came.
In Stamford, notice was given of a meeting to be held at Seely's Hall on Main Street, Friday evening July 18, 1862, "at seven and half o'clock, to proffer aid to the government". A large assembly gathered, addresses were made and a goodly number of volunteers responded. At a July 24th meeting $2500 was pledged, later increased to $3000. One hundred nine men enrolled in nine days. Francis R. Leeds held a meeting on the 15th to recruit a company. By the 29th he had enlisted 110 men, who came to be Company A of the 28th Regiment.
Noah Webster Hoyt, a carpenter and a single man, was 26 when he answered the call and became part of this Company and part of the last of the nine months' regiments to be formed in Connecticut. Noah kept a diary. His entries were accurate, informative, often humorous. Contained in five small notebooks, the simple phrases of his diary tell a story that reaches across more than a hundred years to touch the heart.
Noah begins, "I, Noah W. Hoyt, enlisted to serve the United States for nine months, and on the 2nd of Sept. we had a full Comp. Francis R. Leeds was our Capt." On September 2nd they had their first lesson in military tactics under the command of Capt. Waterbury, and on the 3rd they left for Camp Terry, in New Haven.
"Time jogged along very well again, and everything was lovely, for we had a plenty to eat and nothing to do but to run up town and see the gals and steal everything we could lay our hands on, that is in the eating line."
Originally their company had been Co C in the 23rd Regiment, but when Capt. Leeds did not get the position he sought, he persuaded the Governor to have his company transferred into the 28th, where they became Co A. The 28th left New Haven on the steamboat "Traveler" on November 17th, having been mustered in for the third time, just before leaving. After an overnight stop at Rikers Island, they arrived at South Street, Williamsburg, NY in the rain. It rained until the 25th.
One day Noah decided he had his fill of rain and the weather would be better in Stamford, and he left for home, "with a couple of boys who felt the same way" and they stayed in Stamford until the 28th. That day Noah heard the Constable was around, picking up "skedaddlers", so he headed for the depot, where he met said Constable with three or four "skedaddlers" in tow. Noah managed to give the impression that he was going along with the group, but instead, he slipped away and got back to camp ahead of the others, just in time to hear "pack knapsacks, strike tents and be ready to march".
And march they did, 12 miles in pouring rain, mud up to their ankles, and boarded the "Che Kiang" in Brooklyn. With the 23rd regiment also on board, there were 1400 men where 800 might have been comfortable. December 5th they encountered a gale at sea, so severe they all thought they were doomed, especially when the Captain ordered life boats lowered and provisioned. After losing the yardarms and having the deck sprung from the hull, they rode out the storm. The next night the Assistant Engineer fell asleep and the red hot boilers were discovered just in time to avert an explosion. To compound their discomfort on the trip, most of the 1400 men were desperately seasick. Noah doesn't mention that he suffered with this problem.
On December 11th they anchored at Ship's Island on the Mississippi and here they stayed until the 17th. Noah mentions the warm days, cool nights and swimming in water about the same temperature as Stamford's in September.
Ship's Island had been a military part of the expedition for the capture of New Orleans, under General Butler. About 1200 men of the 23rd and 28th Regiments were there until the 18th, on half rations all that time. The 28th boarded the "Che Kiang" once again on December 17th, with five companies of the 23rd, and they arrived at New Orleans at 5 p.m. on the 19th.
On the 20th they went up river to Carrollton and then to Camp Parrish, nine miles above New Orleans. Here they pitched tents and prepared to settle in when they were ordered back aboard the boat until morning. Then, back to New Orleans where they loaded coal and left for Pensacola, where they arrived on the 22nd. Noah became ill with dysentery at this time.
At Pensacola he was quartered in the Methodist Church until December 24th. The city had been vacated on May 9th of 1861, and the soldiers were moved into private homes. Officers were quartered in fully furnished homes, and Noah noticed the good mahogany furniture and "pianofortes". He commented often on furniture and gives dimensions of rooms, as might be expected of a carpenter and builder, and son of a cabinetmaker.
Noah was quartered in a house which had been fitted for the 91st New York. Ten or twelve men were assigned to a room where they had 10 foot ceilings and a fireplace. Here Noah spent Christmas and New Year's.
The men complained of bad food and were suspicious that the lieutenants were drawing more than their share of food and selling it. Finally, they forced the officers to give over distribution of the food to a sergeant, and here Noah names the Stamford lieutenant who was decided upon as the guilty party.
Noah recovered from his dysentery by the 4th, but rations must still have been slim, for on January 15th he writes, "Shot a wild hog, bayoneted him, tied his legs together, carried him 3 miles to camp arriving at 8 p.m. Built a fire in the fireplace, skinned the hog and roasted it." On the 19th, Col. Dyer of the 15th Maine, with 60 Maine and Connecticut men, scouted for cattle. Those on horseback gathered about 15 head together and started them for camp. "Some of them was so thin and lank you could see daylight through them." The poor quality hogs were kept for meat. "It would take three of the largest to make a shadow". Noah had poor opinions of the success of their cattle-rustling.
Capt. Leeds had been suffering from typhoid fever when his regiment left Stamford in September, and he rejoined them February 1st. On the 8th he returned to the hospital with dysentery and died February 17th.
Noah reports, "The body was boxed for shipment and on the 18th, to muffled drums, placed on a steamer to Fort Pickens. There they obtained a cask and 35 gallons of whiskey into which we put his body." The steamer took off without the cask, which was finally shipped on the 25th. "And this is the last of Captain Francis R. Leeds." Captain Leeds was finally buried in Woodland Cemetery.
John E. Hoyt died, also of dysentery, on February 21st. He was buried in a pine box in the cemetery at Pensacola, with a 24 gun salute, and Noah commented, "Such a death I hope never to see again."
On the 24th they began having trouble with guerrillas, who would drive Union pickets into camp and then retreat. Several times they tried to track the Rebs without success, only to be fired upon as they returned to camp. Finally, on March 6th, men of the Connecticut and Maine regiments under Colonel Ferris, boarded 7 small sail boats. They were joined by 10 marines, 18 sailors and one field piece. One hundred men decamped at Judson's Mill, marched two hours in the rain, and searched houses. Finding one with a spark in the fireplace and food on the table, they began to break in a locked door behind which they found 3 Negroes. They learned that 36 cavalrymen came to that house every day to feed men and horses.
The Yanks divided into three companies and Noah was among those assigned to the old house, with 12 or 15 others. When the Rebs rode up next morning, 2 or 3 sailors, without orders, opened fire. The result was that only 4 were captured. After destroying all buildings and supplies, the men boarded their sailboats again. The 7th boat had run aground and the boat engaged in rescue, capsized. Eight Maine men and two sailors were lost. Bodies were retrieved and buried in the cemetery at Pensacola.
Noah described Pensacola in favorable terms, as having a good harbor with a railroad to the dock. In peacetime there was manufacturing of turpentine, pitch, tar, etc. and cotton shipping.
The 28th left Pensacola for Barrancas on March 20th, but Noah remained behind on picket duty until the 22nd. Upon arriving at Barrancas, he found his regiment in tents in the woods, 1/4 mile from the west shore of Pensacola Bay and 1/4 mile north of Fort Barrancas. While there, and on a scouting expedition to Perdita Point, 25 men left camp and returned on March 27th with 6 prisoners and 12 guns. A man from Greenwich, Cpl Isaac Moore, was lost on this trip. On the 29th, Noah was called to the hospital to help lay out William Totton who died of typhoid and brain fever.
Several days were spent settling into camp and Noah complained constantly of dust and sand. He was reminded of the biblical quote, "Of dust thou are and to dust thou shalt return". He thought they were returning to dust. He remarks on April 13th that they "buried a Milford man, caused by the doctor giving him the wrong medicine". This was a man from New Milford, Decatur D. Mersh. Noah was not impressed with the quality of medical care.
On May 2nd the paymaster appeared, and the men were paid from enlistment date to March 1st. On May 6th a Winsted man, Myron N. Hubbard, died.
At this point Noah reports they had fired on a provision boat and returned to the scene to find provisions stashed on shore. He notes that the blank books being used as his diaries were part of this supply.
May 10th they embarked on the transport "Crescent City" and en route to Brashear City, they ran aground twice in soft mud. At Brashear City where they arrived on May 12th, they encamped on a sugar cane plantation with about 5000 troops. Here General Banks captured large quantities of supplies, including cattle, horses, mules, 2 tugs, artillery pieces and shot guns.
On May 22nd they buried the drummer of Co D, Aaron N. Ford of New Milford and on the 23rd, orders were received to leave for Algiers. "Buried two men, one from Co D (Henry Dailey of Sherman) and one from Co F (Caissus Watson of Winchester) and left 15 in hospital including William Taylor, Lewis Provost and Spencer Bouton". Bouton died June 7th. Noah was careful always to mention by name the Stamford men who died.
May 24th they boarded the steamer, "George Cromwell". Noah stayed on deck. The boat was loaded with cotton and it rained all the way to Springfield Landing, 10 miles above Baton Rouge. Here there was nothing but a tent hospital, and on the 25th, they marched 15 miles toward Port
Hudson and stayed the night. Next day they marched another 20 miles to join Grovers Division, one half mile from the rebel batteries at Port Hudson. Here their rest was constantly interrupted by pickets firing. They then marched 5 miles further, toward the rebels, battery and cavalry in advance, and dispersed the rebels. Their regiment and others had marched 25 miles, been fed 1/2 pound of salt pork and 1 pound of hard tack from May 23rd to the morning of the 27th. On the 27th they "fed well on sheep, goats, hogs and cattle", and a bloody battle ensued, including a bayonet charge which captured 4 guns. The Union lost about 800 men. The Negro regiment involved, "Stood up like heroes and lost about 400 killed or wounded."
May 28th Noah described the wounded in graphic terms and with great sympathy. It might be well to note that had the 28th been mustered out when their nine months was actually over, they would have been home by this time.
On the 30th of May, he comments, "Heavy cannonading still going on. Rebel guns mostly silenced. Our men lay so close under their batteries that the instant they attempted to load a gun or show themselves upon the breastworks, they were shot down."
May 1st - "Still at the old sugar mill, hot days, dirt floors to sleep on with wood ticks and fleas. There we sit, broiling in the sun all day and sleeping on the baked earth at night, with nothing for shelter except the heavens. But of this we do not complain, for it is nothing compared with the pain and suffering we have endured from wood ticks and fleas." "Rebels attempted to escape by a charge through our lines. They were warmly received and politely invited back by a heavy charge of musketry and artillery."
At about 6 a.m. on June 3rd, the 28th left the old sugar mill for the battle field. On June 4th Noah says, "When we marched into the entrenchments, I thought our time had come, for they opened up on us with shell. None injured. For 15-20 minutes we lay, hugging the ground as our last phantom of hope, expecting every minute to be our last on earth. Shells were bursting above us and all around us and had it not been for the gun boats opening on them as they did, I think we would have suffered badly, for every shell burst nearer and nearer to us. We were in a ticklish position. I am sorry to say that the 28th Regt disgraced themselves that night, for as soon as they began to shell, the Regt began to scatter. About 2 companies marched in the entrenchments (Co A and F). The rest scattered, there could not be more than half of each company around. Co B lost the right to carry the colors, which was given to Co A. Co B also lost position as the 4th Co in the Regt and placed in 6th place."
June 6th was a quiet day and Noah used the time to describe their location. Port Hudson is situated on the Mississippi, south of Vicksburg, on a high bluff. Sheer cliffs descend to water's edge. The fortifications were 6 miles in length, the principal part a natural fortification, and surrounded by deep ravines, 10 to 60 feet deep in places, and a dense forest. The railroad from Mobile into Port Hudson had been entirely destroyed by the Union and the location was completely surrounded by Union infantry and artillery.
About 7 p.m. on June 7th, the Rebels opened fire. About 10 a.m. that day they had offered a flag of truce to let the Union withdraw. Noah says, "Our water is very poor. Nothing but the draining of the ground and runs along through the ravines. It is about the color of the ground and we have to wash and drink out of the same stream."
On the 8th, the 28th and others dug rifle pits. On the 9th there was heavy firing on the Rebs all day. Buildings and tents within the fortifications were seen to be in flames. Little return fire was experienced.
June 11th - 28th was still in the entrenchments and it was HOT. On the 12th they came out in darkness and slept. On the 13th they opened fire on the Rebels and in about one hour the Rebs sent in a flag of truce. No indication of any resultant action. On the 12th, orders were received for a storming party, which was scheduled for the 14th, and on the 14th the battle was raging before sunrise. This is the charge the history books call the "forlorn hope", for there was no way the Union forces could take Port Hudson by storming party. In this encounter, grenades were issued to the 28th, who had never seen them before. The instructions were hasty and it was perhaps fortunate they were never in position for grenade use. This was also the day Sgt Stiles Raymond volunteered to take the place of Sgt George Mead since Mead had a wife and little daughter at home, and Raymond was single.
At daylight they began the charge. In the fierce battle they drove the Confederates a half mile deeper into their fortifications. The Union got a number of cannons nearer to the main works and were ordered to make a bayonet charge on the Rebel batteries. Two charges were made, and men were cut down "Like grass before the scythe", Noah says. "Our brigade was ordered to charge. Two regiments were in front, the 9th Massachusetts and the 173rd New York. The 9th refused to charge. No one blamed them."
The 173rd was then ordered to charge upon the 9th and drive them over the breastworks. They, too, refused. "We were then ordered up and when within 25 rods of their breastworks, were cut off by musketry. Could not go further, nor could we retreat, for everything was in such confusion. We had to throw ourselves on the ground and crawl behind logs and brick to secrete ourselves. There we lay, all day in the broiling sun and dust 3" deep, and had to take their raking fire all day. Dreadful was our suffering that day, not only from bullets, but from heat and thirst. The loss that day was about 1000 killed, wounded and missing, the loss in the 28th was 75 to 100. One regiment shot its own officers who were trying to make them charge the batteries."
Here Noah reports General Banks' promise to "bombard and bury Port Hudson in iron, but instead he buried the men."
On June 15th scattered companies began to come together. Cpl James Vaile and Pvt Jayson Wardwell were killed. Lt. Duran and Sgt George Waterbury were also dead. Charles Roseborough was wounded in the breast by buck shot. They were in the rifle pits and under fire until the 18th. On the afternoon of the 17th, George Wilmot started for water and was shot dead.
On June 20th, Hoyt started with brigades of infantry to roust an enemy camp. Noah had been ill and had to fall out after a mile and a half. He got back to camp where he was ill for 3 or 4 days. He had to pretend to take Doc Lyons' pills or do duty before he was able. "I planted them in the ground to see if they would not grow in case the old Doctor should get out of them. If I had put all they gave me down my throat, they would have planted me". Hoyt had little faith in the doctor's camphor and opium pills and when on June 24th, George Cook died, it is duly noted that he had been given the pills.
On July 1st Noah reported they were not in Port Hudson yet, and on July 4th, "Port Hudson must fall soon, Rebs are deserting, coming to camp in groups of 5, 10, 20 and 50."
On the 6th, while still in the rifle pits, Hoyt was suffering with jaundice. On the 7th they heard the news of the surrender of Vicksburg. They called the news to the Rebs who raised a flag of truce and on the 8th, all firing ceased. General Gardner (CSA) sent word to General Banks that if Banks would show official reports of the surrender of Vicksburg, Gardner would surrender Port Hudson. July 9th, "Our forces marched into Port Hudson and at 10 a.m. the Stars and Stripes were raised." A salute of 24 guns was sounded at the flag raising. "How much different the booming of those same guns sounded in our ears on that day from what it did on the 14th of June. A day long to be remembered, especially by the 28th Ct for our loss on that day was more than any one Regiment in the Division. Three hundred twenty five men marched for the field. We lost one-quarter."
July 15th, "Our term of service should have been complete." Very hot, longing to "once more poke my head into an old oaken bucket that hangs in a northern well."
July 25th, "Still sweltering. Four of our company have died in the last 25 days, 10 more reported on the sick list, 5 of them in the hospital."
July 28th, Cpt G.W. Platt was buried, dysentery since June 15. On the 30th they buried Nathan Sherwood, 27 years old, fever, ill three weeks. Twelve men dead from Co A. "Would to God the bones of those that the means of keeping us here could be bleached out beneath this scorching sun, for we have done our duty and our term of service is justly out and we ought to have been to our respective homes long ere this." The Regiment had averaged a loss of four men a week for the last two months. Col. Ferris had gone home from Port Hudson and "left his Regt here to die in the woods. Gen. Banks, I believe, has also gone home." Noah was bitter about their being left to the care of indifferent officers of other outfits.
They moved into Port Hudson and on August 3rd Andrew Waterbury died of measles. Next day his brother, Steven, also died of measles, contracted while caring for Andrew.
That day they broke camp and arrived at an open field within Port Hudson where there was good spring water. Doctor Lyons died on the 6th, he had been ill for 4 weeks. That evening they boarded the steamer "Madison" to start the long journey home, buried a member of Co D en route to the boat.
On August 9th they went ashore to bury a man from Co D at 4 a.m. and arrived at Vicksburg at 4:30. Lt Hugerford of Co D also died and was buried in Vicksburg. So was Bissell, the Hosp. Steward of Co D.
On the 10th they started upriver again, and at sundown went ashore to bury Andrew Hoyt.
At New Orleans they left Henry Lower in a hospital. He was never heard of again. All along the river Noah reports that it is very hot and the mosquitoes are fearful.
On the 13th they arrived at Memphis, having been five days on the boat with coffee, moldy hard tack and stinking meat. In Memphis they buried a man from Co H, Hibbert Mead from Greenwich and left 25 or 30 men in the hospital, including J. Lockwood, D. Lockwood, Aaron Billings and Theodore Knapp. There they also filled the knapsacks which had just been returned to them, with bread, cakes, pies and ate apples, peaches and pies.
En route once more with minor problems of being stuck in the mud, they stopped on the 14th to bury a man from Co. F. On the 15th they reached Cairo, Illinois and left George R. Searles in the hospital, with 10 or 12 others. On the afternoon of the 16th, they left the steamer and transferred to "cars". When they reached Matoon, Illinois, they were "Kindly treated by citizens with coffee, bread and cakes." Then back on the railroad, traveling through Illinois to Indianapolis where the citizens once more turned out with good food. Along the way the cars also improved, to where they were traveling on upholstered seats and appreciating that comfort. On the 18th in Cleveland the tables were loaded with the "best of everything" and there they left John Lowr, Charles J. Brown, Henry M. Whitney, Alonzo Morgan, Asable and Gilbert Scofield.
Noah reports the trip home in great detail and ultimately reports that the regiment was dismissed August 30th "and the worn out men steered for their respective homes once more". On September 1st they were paid off in full and he says, "There ends a nine months job, thank God, for many a poor and worn out man, who was compelled to serve over one year to accomplish that nine months. Served nine months and one day."
With his final comment on their length of service, the diaries end. There is more to the story. Noah made no report on their arrival in Stamford, but Loomis Scofield of New Canaan, reported the scene.
The train arrived at Stamford depot, where a large reception party had gathered, complete with band, flags flying, cannon salutes, ready for the parade and the reception to follow. Then the men began to disembark and Loomis says,
"We were considered the hardest looking regiment that ever came into Connecticut, as we had been two months without a change of clothing, covered with vermin, beards grown, our hair long." Parents failed to recognize their sons. Men too sick to stand were carried from the train on litters. Loomis speaks of Andrew and Stephen Waterbury,
"Their mother met our companies (Co A and B) when we arrived at the Stamford railroad station on our return from the war, expecting to see her boys. We had to tell her the sad news that they had passed away before we left Port Hudson. She was a widow and it was certainly very sad for her." George Mead, whose life was spared in the "forlorn hope", came home and died the first week in September of a malignant fever. His little daughter shortly thereafter. There were several instances of men from this regiment dying soon after returning home, and in two more cases a little daughter also died. One man was "deranged" and died in a Boston hospital. Another believed for the rest of his life that he had to defend his home against the Rebels and paced his sentry post every day, relieved by his dog, whom he believed to be his sentry relief.
Two of the Lockwoods died of fever. The Lockwoods lost a third son in another regiment. All three of the Scofields, their near neighbors, came home safety.
One hundred seventy seven Stamford men enlisted in the 28th regiment. Thirty-seven died. These were more than statistics. These men lived in a small community, Stamford was then a town of fewer than 10,000 persons. They were boys together, went to school together, danced with the same girls, married each other's sister, worked side by side. Their regiment is credited with only one engagement in the Connecticut Adjutant General's history, but that engagement helped to gain control of the Mississippi for the Union. Loss of that control doomed the Confederacy. They were cut off from ports on the Gulf, cut off as well from western supplies of men and food.
Noah Hoyt came home without suffering any serious health problems. He took up his trade as a joiner, married and had a son. He built a handsome home on what is now Washington Boulevard. His brothers, Henry and John also fought for the Union. Henry served with the 6th Ct and died at Pocataligo, SC in October of 1862. John came home after fighting with Grant at Petersburg and apparently worked with Noah and their father.
Noah's last entry in his diary reflects the bitterness he felt with the system. The men of his regiment were mustered in three times, the last muster on November 5th. They had enlisted on the 2nd of September for nine months. Had they been discharged at the end of nine months, they would not have been in the rifle pits at Port Hudson.
Bitter or not, Noah took up his life and went on with it. And every time the 28th had a reunion, Noah was there at the "campfire" where old comrades met for dinner, songs, speeches and reminiscences. At the reunion on June 15, 1903 he read from his diaries. He is buried in Woodland Cemetery in a section reserved to be dedicated to Civil War veterans. The idea never made it to fruition. Even the path to that area has been grassed over. Stamford never erected the planned Civil War monument, either. A handsome Rogers group was designed by the Norwalk sculptor. The city failed to raise the necessary funds, and Rogers smashed the model. For some years, a cannon and a heap of cannon balls occupied a plinth in what is now Columbus Park. In World War 11 these were contributed to the war effort.
When Battle Flag Day was held in Hartford September 17, 1879, the anniversary of the Battle of Antietam, while 10,000 spectators looked on, the colors of the 28th were paraded with the rest and placed in the Hall of Flags in the Capitol Building.
Sherwood says in his Story of Stamford, "The little state of Connecticut sent into the Union armies more men in proportion to its population than any other Northern state, and also finished great quantities of supplies." He also says, "Between 750 and 800 Stamford men served, more than 10% of the population. No other town in the state furnished a larger percentage of its inhabitants."
Dorothy Mix
Stamford Historical Society
February 1995
The Diaries of Noah W. Hoyt: Timeline
The Diaries of Noah W. Hoyt: Excerptss
Civil War Exhibit 2003 and related links
---
Bibliography
STAMFORD SOLDIERS MEMORIAL
Rev E.G. Huntington, A.M.
Published by the author, 1869, Stamford, Conn.
E. Hoyt & Co. Printers
120 William Street, New York
GENEALOGY OF THE HOYT, HAIGHT, HIGHT FAMILIES
David W. Hoyt, Providence
Printed for the author by the Providence Press Co.
Boston, Henry Hoyt 1871
STAMFORD BIRTHS, MARRIAGES, DEATHS 1641-1852
RECORD OF SERVICE OF CONNECTICUT MEN IN THE ARMY AND NAVY OF THE UNITED STATES DURING THE WAR OF THE REBELLION
Compiled by the authority of the General Assembly, under the direction of the Adjutant General
Hartford, Conn.
Press of the Case, Lockwood & Brainard Company 1889
CONNECTICUT AS A STATE
Forrest Morgan, editor-in-chief
The Publishing Society of Connecticut
Hartford 1904
BATTLE FLAG DAY
Melancthion W. Jacobs
Connecticut Historical Society Bulletin
Vol. 33, No 3. July 1968
MUSIC FOR PATRIOTS, POLITICIANS AND PRESIDENTS
Vera Brodsky Lawrence
MacMillan Publishers 1975
HISTORY OF THE TWENTY-EIGHTH REGIMENT CONNECTICUT VOLUNTEERS
Loomis Scofield, New Canaan, Conn.
New Canaan Advertiser 1915
HISTORY OF BATTLE-FLAG DAY, Sept 17, 1879
published by Lockwood & Merritt
Hartford, Conn. 1880
MILITARY & NAVAL HISTORY OF THE REBELLION IN THE UNITED STATES
W.J. Tenney 1866
D.J. Appleton & Company, 443 & 445 Broadway, New York
THE CIVIL WAR IN AMERICA
Benson J. Lossing, Philadelphia
George W. Childs, Publisher, 1866 3 vols.
GRANT MOVES SOUTH
Bruce Catton
Little Brown & Company
Boston and Toronto 1960
THE CIVIL WAR
Editors of American Heritage
Editor-in-Charge, Richard M. Ketchum
Narrative by Bruce Catton 1960
American Heritage Publishing Co., Inc New York.
MEMOIRS OF WILLLAM TECUMSEH SHERMAN
Written by Himself 1875
D. Appleton & Company, 549 & 551 Broadway, New York
DAILY ADVOCATE, Stamford, Conn.
April 6, 1909
CONNECTICUT, A STUDY OF A COMMONWEALTH DEMOCRACY
Alexander Johnston Boston and New York
The Riverside Press Cambridge
Copyright 1887
ENCYCLOPEDIA BRITANNICA VOL. I
William Bento, Publisher
Chicago, Toronto, London, Geneva, Sydney, Tokyo 1965
PICTORIAL HISTORY OF THE CIVIL WAR IN THE UNITED STATES OF AMERICA
Benjamin J. Lassing
T. Belknap, Publisher 1868 Hartford
THE STORY OF STAMFORD
Herbert F. Sherwood
The States History Company
List of Records
5 Diary Volumes