Photo Archivist's Selection of the Month: April 2001
Stamford Street Railroad Co.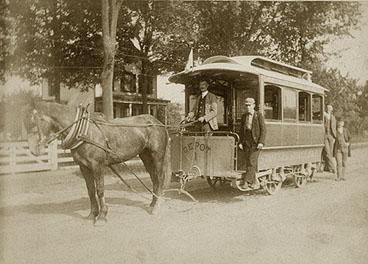 It all started with the Stamford Horse Railroad Company. Talk about it had been since 1866, and a charter was secured in 1870. However, the charter expired before any real plans were made. The company finally became a reality in 1886, and the first horse cars started running January 31, 1887.
The fare within the borough limits was 5¢ with one free transfer, 11 tickets could be bought for 50¢.
The company seems to have been poorly managed: It lost money from day one and had many disputes with the Borough of Stamford, resulting in bankruptcy in December of 1888. But horse cars were still running into the early 1890s.
Shown here is Horse Car No. 1, on Summer Street, circa 1890.
Reorganization resulted in the purchase of the franchise and the state legislature permitted a change to electricity for motive power, and the Stamford Street Railroad Co. came into being in 1889. It's early stormy history and subsequent development can be read about in the Transportation Bulletin No. 83 (issued July 1978) of the Connecticut Valley Chapter of the National Railway Historical Society (NRHS). Its author is Edward Warren Martin.
This 80-page bulletin, bound and donated to us by Mr. Martin, is beautifully put together, with many illustrations, and is available for review in the Marcus Research Library of the Stamford Historical Society (388.4M). Come visit us at 1508 High Ridge Road above the Merritt Parkway!
The brochure The Language of the Trolley was issued in 1977 by The Connecticut Electric Railway Association and can be found in the Vertical Files under "Transportation."
45 Years Later: the Last Day of the Electric Trolleys
On Saturday night, November 11, 1933 at 11:35 p.m., the last trolley car 1498, with Frank Camito at the controls proceeded out of Atlantic Square and down Main Street towards Norwalk,
being replaced by buses. Shown here is the last day of the trolley on Atlantic Street in front of St. John's Roman Catholic Church.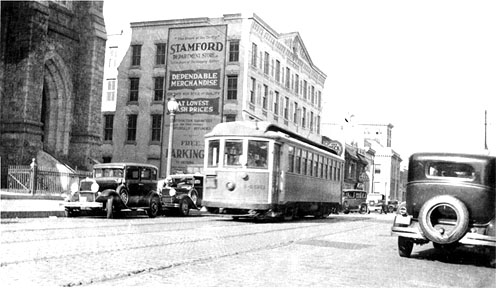 More photos and items from our collection
| | |
| --- | --- |
| Liberty Place Car Barn in 1900. Built in 1886, it was designed to accommodate 10 cars and 40 horses. It collapsed during a windstorm in 1910, by which time the new barn at the railroad station had been in use already for several years. | Shippan Point & Cove Road trolley cars on Atlantic Square in front of the Town Hall, circa 1902 |
| | |
| --- | --- |
| Car No. 7, circa 1904, Shippan Point trolley, Fairview Avenue at Ocean Drive West. The motorman is Harry Champion who operated trolleys and buses in Stamford for around 45 years. Passenger and conductor are unknown. | Stamford's original snowplow No. 1, later No. 01 at the new carhouse, circa 1905 |
| | |
| --- | --- |
| Trolley station at Hope Street & Toms Road, circa 1914 | Two older 4-wheel cars of the Summer Street line, near Bull's Head, 1918. |
Images © Stamford Historical Society
National Railway Historical Society (NRHS)
National Railway Historical Society (NRHS) Western CT
Connecticut Trolley Museum
Other Photo Archivist Selections of the Month
Photo Collection Information