Photo Archivist's Selection of the Month: June 2007
Brownstones on Bell Street
When downtown Stamford was redeveloped in the late 1960s – meaning, a lot of structures were torn down – The Stamford Urban Redevelopment Commission (URC) documented photographically all buildings slated for demolition, as required by law. As a result, there exists a treasure trove of heretofore unpublished photographs. Two years ago, the URC graciously agreed to having those photos scanned and catalogued by The Stamford Historical Society and The Historic Neighborhood Preservation Program. Ron Marcus (SHS) and Colin Skidmore (HNPP) spent almost every Monday for over two years at the URC's office, scanning and recording. Thanks to their devoted work, and courtesy of The City of Stamford, Connecticut, Urban Redevelopment Commission, the images will be accessible to a larger audience once the still ongoing cataloguing is complete.
Over a period of time we will show groups of the photos by theme on our Photo Selection of the Month pages.
Meanwhile, we were intrigued by the images of four brownstones that stood on the south side of Bell Street, or rather of the architectural details of their urban stoops, photographed by an obvious enthusiast, and we want to share them with our readers now. The descriptions are not yet available, but the photos speak for themselves. (The area where the houses stood is currently part of the parking lot adjacent to St. John's Roman Catholic Church, both identified as Parcel 1. The parking lot seen above right has been replaced by the Bell Street Garage.)
We welcome information about the history of the brownstones. Please e-mail us at history@stamfordhistory.org, attention Ron Marcus, or call (203) 329-1183.
Excerpt from Map Section 2, Urban Redevelopment Commission, October 23, 1967. River Street on the left is now Washington Blvd.
(asterisk added)

| | |
| --- | --- |
| | |
The brownstone photos correspond to Properties 2, 3, 4 & 5, Block 13, on the south side of Bell Street. Note: This series of images stems from contact prints.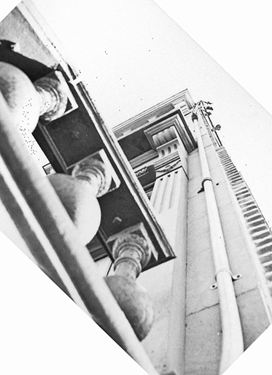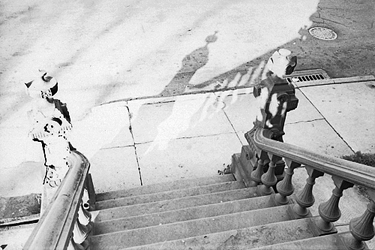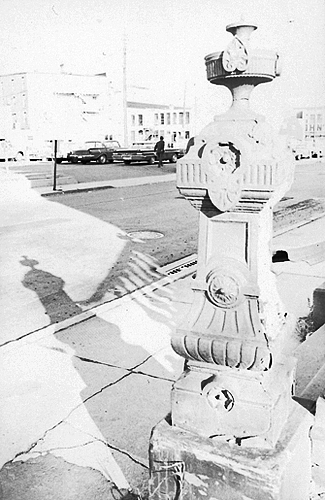 Images & Maps Courtesy The City of Stamford, Connecticut, Urban Redevelopment Commission
Other Photo Archivist Selections of the Month
Photo Collection Information