Photo Archivist's Selection of the Month: August 2002
The Stamford Children's Home
130 Hamilton Avenue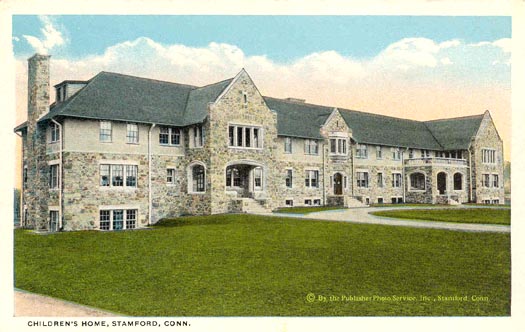 This imposing structure stood at Hamilton Avenue and is a testimony to Stamford's civic commitment!
The history we have is a rather sketchy one. As can be seen on the image to the left, the Children's Home was founded in 1895 and incorporated in 1898. The first mention in the City Directories is in 1899 on the corner of Main & Maple Streets. In 1901 we find it on 928 Main Street—which may be a typographical error—and from 1902 on at 938 Main.
The Children's Home moved to 130 Hamilton Avenue in 1918.
Beginning 1938, the home morphed into various agencies over time.
It became the Stamford Children's Services in 1938. The fund raising brochure to the right mentions that care was provided to 72 children with 17,594 days of care in 1938. There were 39 foster mothers and fathers.
The building must have been vacated sometime in 1939. In 1940, we have an annual report that uses the name The Family and Children's Center with a different location, as can be seen from the image on the 1940 report below. It may have been already at 79 Worth Street. Collaborating agencies then were: The Family Welfare Society, the Stamford Children's Services, and the Child Guidance Service.
There is also a letter from 79 Worth Street, announcing the official merger of these three entities into The Family and Children's Center, but unfortunately, it is not dated.
Today, the successor agency is The Child Care Learning Center at 64 Palmers Hill Road.
Other Photo Archivist Selections of the Month
Photo Collection Information