Photo Archivist's Selection of the Month: October 2000
As It's Almost Election Time…

Campaign Rally in 1936 in front of the Town Hall
Running for office in 1936 were two remarkable gentlemen from Connecticut:
Alfred Noroton Phillips Jr.
He was three time mayor of Stamford and here is running—successfull—for Congress in 1936, defeating Schuyler Merritt, and in turn was defeated in 1938 by Dr. Albert Austin of Greenwich, stepfather of Claire Booth Luce.
Grandson of the founder of Phillips Milk of Magnesia, he served in the Mexican Campaign, WWI, and later WWII. He was the publisher, for 30 years, of the weekly Darien Review. He was also a licensed harness racing driver in Maryland, and advocated legalizing harness racing and pari-mutuel betting in Connecticut.
As mayor of Stamford, he advocated causes in favor of the general citizenry, such as readjustment of the system of assessing property with the view of a more equitable distribution of the tax burden; acquisition of shore front property by the City, low bathing rates at the public beach and extension of the park system; free milk stations; hot and cold shower baths for the public; more free street showers for children; and a coal fund for the poor. He also came out for adequate salaries and pensions for city employees, but said they should do a "full day's work." While in congress, Phillips introduced a bill calling for a five day, 30-hour week standard.
During his second term as mayor, he was instrumental in the introduction of a Connecticut General Assembly bill to re-establish the whipping post for men who beat their wives or mothers, and for both men and women who beat their children. Mayor Phillips said that there had been "altogether too much coddling of criminals." Humiliating them in public would reduce crime.
Mr. Phillips later became a registered voter in Darien.
Adapted from the Advocate obituary on January 19, 1970
Gracious Living in Stamford, a 2004 Exhibit
Wilbur Lucius "Uncle Toby" Cross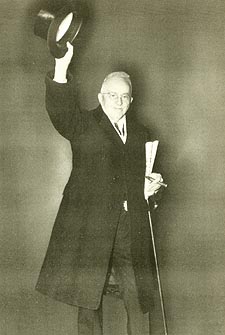 At the time of the above photo running for another gubernatorial term, Wilbur Cross was for more than 30 years a distinguished member of the faculty of English at Yale University, from 1921 to 1930 as the Sterling Professor of English. Under his editorship, the Yale Review grew steadily in prestige and the notable Yale Edition of Shakespeare was undertaken. His own published writings were numerous.
He came late to politics: Following his retirement as Dean of the Graduate School, at the age of 71 in 1930, he ran for office, and with his wit and erudition brought the Democrats out of political oblivion ... [he] astounded everybody by becoming the first Democratic governor since 1910 and serving longer than any governor since the Civil War. He goaded the legislature to pass an impressive number of social reforms and led the state's recovery from its two worst natural disasters – the Flood of 1936 and the Hurricane of 1938 ... [He] earned the affection of most citizens for his Yankee sense of humor and thrift...
Excerpts from The Miracle of Connecticut
by Ellsworth S. Grant; Connecticut Historical Society
Image: "LEAVING THE CAPITOL ON INAUGURATION OF HIS SUCCESSOR"
with the ubiquitous Connecticut cigar.
Photo from Wilbur Cross's autobiography Connecticut Yankee
Photos © Stamford Historical Society
Other Photo Archivist Selections of the Month
Photo Collection Information