Photo Archivist's Selection of the Month: October 2002
The Hurricane of '38 and the Floods of '54 and '55
Thursday, August 11, 1955
brings a hurricane chart: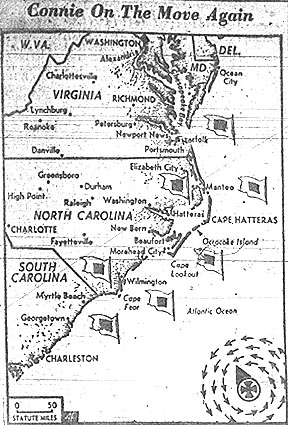 The Floods of '55 in the newspaper, the Stamford Adovocate
Excerpted from microfilm in the Ferguson Library.
Friday, August 12, 1955
Connecticut Again on Hurricane Alert
All New England
Advised Floods
May Hit Coastline
Connie's Exact Course
Still In Doubt, But Her Force Widespread
Washington (UP)--The Weather Bureau here reported reported today
that hurricane Connie moved inland at Morehead City, N.C., and is moving northward at 12 miles an hour. The hurricane was about 270 miles south of Washington, D.C., and her movement was again erratic.
Saturday, August 13, 1955
At this point, there was only Connie, a "wet, miserable storm in the Stamford area."
Hurricane Connie, demoted by the weather bureau for lack of fury to the status of "storm," belatedly made itself felt in Stamford today, causing downed trees, a scattering o power breaks, and tides one to two feet above normal…
Five-Six Inches. One of the storm's greatest effects was deluge of rain which from Thursday through this morning totaled almost six inches at the Stamford Museum and five inches at the Stamford Reservoir. This is more than the normal total precipitation for the entire months of August, and is more than the precipitation recorded during any one of the past several months.
Apparently it made for clean swimming. Four children seen swimming at West Beach this morning at 9:30.
The kicker came a week later…
State Crippled By Worst Flood Disaster
Friday, August 19, 1955
At this point, there were more problems in Darien than in Stamford, and only the rainfall reporting and the water situation in the city are of note at that point (flooded cellars and requests for pumping by the fire department are also covered):
…The Stamford Museum measured 2.75 inches of rainfall for a 24-hour period that ended a 7 this morning. By 8, it was estimated, it had reached 3 inches. Nicholas Rosa, the weatherman at the museum, pointed out that in the four days Stamford had rain from hurricane Connie, 8.86 inches of water fell here.
The Stamford Water Co. measured 3.66 inches that ended at 7 this morning and noted a total of 5.54 inches in the 48-hour period that ended at that time.
Heavy Rainfall. The total rainfall to date this month in Stamford came to 15.30 inches, about five times the normal rainfall of 2.81 inches at this time of the month. The normal rainfall for August is only 4.59 inches. This has already been more than tripled with 12 days to go.
There has been more rain this month than any previous month in the 44 years of rainfall recording...It was reported that if heavy runoff continues, Laurel [Reservoir] will overflow and double the amount of runoff water going into the Rippowam River. This would complicate flooded conditions already reported in various sections of Stamford.
Saturday, August 20, 1955
details to come — all its needs to find a volunteer to go down to the Ferguson Main Branch to go through the microfiches…
Other Photo Archivist Selections of the Month
Photo Collection Information