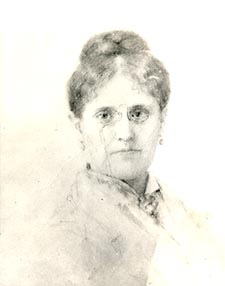 The Stamford Historical Society, Record Groups
Research requests may be sent to history@stamfordhistory.org
Research Fees
RG-03
THE CATHARINE AIKEN SCHOOL
Stamford, Connecticut
1855-1913
Registration Sheet October 1985
Introduction
In April 1855 Kate Akin, a 27-year-old Quaker school teacher from Cape Cod moved to Stamford to become principal of the Stamford Female Seminary, a recently chartered private day and boarding school for girls. First located on Henry Street, the school was backed by a group of prominent local residents.
During her 41-year tenure as principal and then proprietor of the seminary, Catharine Aiken, as she was known in Stamford, became one of the city's leading lights. Locally, she elevated the arts and founded several women's voluntary organizations. Nationally, she became known as the author of articles and two books on a system of mind training, based on intense concentration. She had developed the system while educating over 3,000 young women at Stamford.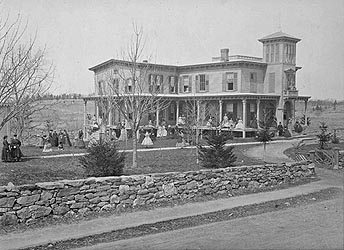 Catharine Aiken endeavored to provide her students with an education comparable to that offered at the best private schools in the northeast. Mathematics, science, history, philosophy, English, classical and foreign languages and literature were all included in the curriculum, as well as music, art and physical training. Young men who attended the Betts Academy in Stamford had a similar course of study. The two schools were largely responsible for the good reputation of Stamford's private schools during the 19th century.
By the early 1860s, Catharine Aiken had associated her name with the school and moved to a spacious new campus on Clark's Hill. As the seminary's reputation grew, students came from as far away as South Carolina and Wisconsin. Faculty members sometimes traveled from New York to teach at the school one or more days each week.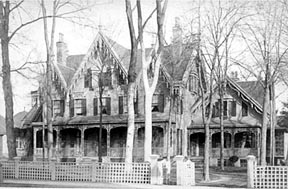 In 1867, through acquaintances in New York, Catharine Aiken employed a 26-year-old political exile from France named Georges Clemenceau to teach French and horseback riding at her school. The suave, dashing young Frenchman fascinated both faculty and students. Soon he fell in love with student Mary Plummer. The couple was married by New York Mayor A. Oakly Hall in June 1869 and sailed immediately for France.
The Catharine Aiken School moved to Gothic Hall at the head of Broad Street in 1869 and finally to Dolsen Place, at the north side of Bedford Park, where the Congregational Church now stands.
In the mid 1890s, Catharine Aiken sold her school to Mrs. Harriet Beecher Scoville Devan, daughter of former Stamford minister Samuel Scoville and grand daughter of Henry Ward Beecher. With the assistance of her sister Annie Scoville, Mrs. Devan continued the school in the Aiken tradition until the property was sold to the Congregational Church as the site for a new sanctuary.
The school closed its door at the end of the 1912-1913 school year.
Bibliography
Aiken, Catharine. Methods of Mind Training: Concentrated Attention and Memory. New York: Harper & Brothers, 1895.
Aiken, Catharine. Exercises in Mind Training, in Quickness of Perception, Concentrated Attention and Memory. New York: Harper & Brothers, 1899.
Huntington, Rev. E. B. History of Stamford 1641-1868. Harrison, NY: Harbor Hill Books, 1979 reprint of original 1868 edition.
Pendery, Joyce S. Women's Secular Voluntary Organizations and Their Leadership Stamford, Connecticut 1860-1910. Thesis for master's degree, Sarah Lawrence College, Bronxville, NY, 1978.Sherwood, Herbert F. The Story of Stamford. New York: The States History Company, 1930.
List of Records
Box 1
Folder 1
Catharine Aiken School Circulars and Catalogs. 6 items
"Catalogue and Circular of Miss Aiken's Seminary for Young Ladies, Stamford, Conn, 1866-1867." 20 pages.
"Young Ladies' Seminary, Stamford, Conn." No date. 4 pages. "Miss Aiken's School, Stamford, Conn, 1881-1382." 4 pages.
"The Catharine Aiken School, Stamford, Conn, A Boarding and Day School for Girls, Mrs. Harriet Beecher Scoville Devan, Principal." No date. 28 pages.
Ibid., 1907-1908. 23 pages.
Ibid., 1911. 18 pages.
Folder 2
Catharine Aiken School: programs, invitations, clippings. 13 items
Folder 3
Catharine Aiken School: student's papers, report cards. 18 items
Folder 4
Sketchbooks of Catharine Aiken School student Mary B. Dewing, 1870s. 2 items
Folder 5
Poetry copybook of Catharine Aiken School student Mary Dewing. 1 item
Marked: "Mary B. Dewing of Stamford, Connecticut, Gothic Hall"
contains additional clippings and poems.
Folder 6
Handwritten diploma of Charlotte H. Q. Beach, 22 June 1864, signed by Catharine Aiken. 1 item
Folder 7
Catharine Aiken School Magazine School Life. vol. 1, no. 1, June 1, 1893. 1 item
Folder 8
Catharine Aiken School Professor George Clemenceau and his student and wife Mary Plummer. miscellaneous newspaper clippings.
Folder 9
Methods For Mind-Training or Concentrated Attention by Catharine Aiken. New York: The DeVinne Press, 1889. 21 pages. 1 item
Folder 10
School books, programs, clippings of student Sarah E. Ferris, Stamford Female Seminary, Henry Street, 1858 and later. Several items
Folder 11
Photographs and engravings of The Catharine Aiken School, Stamford, Conn. 19 items
Folder 12
Photographs of Catharine Aiken, teachers, and students. 24 items
Box 2
Catharine Aiken School Yearbooks. 7 items


1905-1906 yearbook. 91 pages. 1 copy
1907 yearbook. 73 pages. 2 copies
1908 yearbook. 66 pages. 2 copies
1909 yearbook. 52 pages. 2 copies
Illustrated Autographs Albums of Catharine Aiken School Students. 3 items


Edith Kelso (1881)
Nellie Kelso (1881)
Lena Kelso (1882)
Textbooks of students at Catharine Aiken School. 4 items


La Literature Francaise Contemporaine (1867)
Les Aventures de Telemaque (circa 1870)
A Practical Course With the French Language (1373)
Frye's Complete Geography (1898)