The following is a story discussing old cemeteries, courtesy The Advocate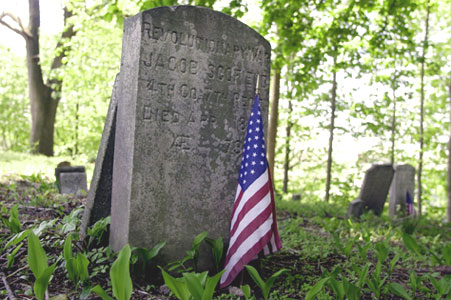 A flag honors the grave of Revolutionary War veteran Jacob Scofield Jr. in a small, historic burial ground known as Simsbury Cemetery at High Ridge Road and Cross Road in Stamford. A number of the city's old cemeteries need work.
Dru Nadler, Advocate staff photo
Copyright © 2004, Southern Connecticut Newspapers, Inc.
May 10, 2004
Oldest cemeteries need preservation help
By Angela Carella
Assistant City Editor
Related Editorial
STAMFORD -- The old iron gate droops from its hinge, stuck half-open as if hinting that ghosts may come and go.
It leads to a forgotten field where farmers -- city founders -- began to bury their dead in 1815. Tombstones that haven't fallen lean over graves or lie in the clutch of tree roots
Some graves are marked with marble tablets inscribed with words too worn to read. Others are marked with plain stones planted upright.
The dead sleep on a sloping third of an acre at High Ridge and Cross roads, just north of the busy Bull's Head intersection. Two centuries ago, it was called Simsbury Cemetery, resting place of Revolutionary War veterans Jacob Scofield Jr., Corp. John Scofield IV, Hezekiah Bishop, Squire Dan and Titus Lockwood, and a U.S. Navy veteran of the Civil War, Ezra Scofield Bostwick
Some of the most ornate tombstones mark the graves of children. An arched white marble one reads "Little Charlie," though the rest is illegible. Another one with flowers etched on top reads "Little Ella." Stamford Historical Society records show it marks the grave of Ella Rambo, a 3-year-old who died in 1864. Though the elements have smoothed the words away, records show the tombstone was engraved with the poem
"Softly, sweetly she reclineth
On a loving saviour's breast
All arrayed in spotless garments
Angel Ella is at rest"
The largest tombstone is an obelisk that marks the grave of Emily Louise Bostwick Fay, born in Stamford in 1850 and died in 1913. Fay was known for her work in church, patriotic and social service societies in Stamford and New York City , and counted among her acquaintances Presidents Taft, McKinley and Theodore Roosevelt, according to historical society records.
But Fay's remains rest forgotten, the same as those of her less prominent relatives whose graves are topped with fieldstones. Like Stamford 's other historic cemeteries -- 50 to 65 of them, maybe more -- Simsbury is abandoned and unowned.
That is a problem for Mildred Galasso and her husband, Carl, who have lived on Cross Road next to Simsbury Cemetery for 25 years.
"My husband is 85; I'm 80. We can't take care of the cemetery any more," Mildred Galasso said. "There are large trees that are dead and dangerous. When the wind is blowing in a storm, it's scary. One fell and smashed the car. We've paid to have them cut. The shrubs grow over the stone wall into our yard. When we back out of driveway, we can't see cars coming."
Before she moved into the house, her sister-in-law lived there for 45 years and cared for the cemetery, Galasso said.
"The city told us that there are a lot of abandoned cemeteries and they can't afford to take care of them," Galasso said. "I feel sad for those poor souls buried there. Some of the headstones are not where they are supposed to be. We feel bad, but we don't know where to put them."
The city has no legal responsibility for its historic burial grounds. They usually are cared for by homeowners, community groups or business owners who take an interest. Last month, a Stamford company, Almstead Tree & Shrub Care, removed a dangerous dead tree from a historic cemetery on Hope Street . Almstead manager Bob Bociek did the work for free after reading an Advocate story about how parts of the tree repeatedly damaged the house next door, owned by Alvin and Hyacinth Wellington. Doug Prior-Crofoot, a Stamford man with Native American roots and owner of Kemry Hills Landscaping, started caring for historic cemeteries on his own several years ago after he repeatedly saw them on the job. In 1998, Prior-Crofoot and other residents formed the Historic Cemetery Preservation Society, which uses donations to tend to old burial grounds. Prior-Crofoot and his group plan to clean the cemetery on Hope Street . About four years ago, they worked on the one at High Ridge and Cross roads.
"It had become a dump site with not just brush but tires and all kinds of trash," Prior-Crofoot said of Simsbury Cemetery . "The Boy Scouts helped us, and the city let us use a 40-yard Dumpster. We spent a couple of days there. But we could have filled another Dumpster."
A lot of brush still must be cleared and some trees are in bad shape, he said, particularly a huge dying oak that "will be a problem to remove."
But the Historic Cemetery Preservation Society's bank account is meager, and it could use more volunteers, Prior-Crofoot said.
Some help could come from the courts. Judge James Bingham of Stamford , who works in state Superior Court on Hoyt Street , said he read about the Hope Street cemetery and got an idea. The court's Alternative to Incarceration program sentences some defendants to educational, alcohol rehabilitation, anger management, community service and other activities instead of jail.
"I thought this could be an opportunity for these youths to impress us that they shouldn't go to jail and could be useful citizens," Bingham said. "Very often this type of thing improves their self-esteem. It shows them there are people who care about them and want to give them a chance, and they may become interested in the history of these places."
The judge said he's gotten interested himself. Many of the orphan cemeteries are difficult to find, so he and the manager of the Alternative to Incarceration program, working with city Tax Assessor Frank Kirwin, will go out on a few Saturdays to find some of the cemeteries and make a list of the addresses, the judge said.
"This is in the beginning stages," Bingham said. "There may be some money in the program for a Dumpster, but we probably will have to appeal to some contractors to make a charitable contribution and help us out."
Stamford 's old burial grounds have inspired previous community service. In 1923, a postman named Samuel Morrell began mapping and tending the graves of Stamford veterans who fought in the Revolutionary War, War of 1812, Civil War, Spanish-American War, World War I, World War II and Korea .
Riding his bicycle and carrying pruning shears and a scythe, Morrell had to cut his way into the old graveyards, sometimes working at night by flashlight. He cleaned them up, sketched the paths that led to them and wrote down names from tombstones.
He got the city to give him an annual stipend and used it to replace broken or missing headstones. Morrell's work can be found in Simsbury Cemetery , where he installed small stones with "1776" carved on the top edge to denote Revolutionary War veterans.
By the time he died in 1962, Morrell identified the graves of nearly 2,300 Stamford veterans, according to information from the Stamford Historical Society.
In 1998, Heather Katen, then a 15-year-old Stamford High School student, spent 50 hours researching the histories of those buried in Simsbury Cemetery to earn the Girl Scouts' Gold Award, the equivalent of an Eagle Scout. Katen became interested in the cemetery from seeing it on Sundays when she attended church across the street.
That's what it takes to save the old burial grounds, Prior-Crofoot said.
"They are everywhere -- there's one at Sterling Farms golf course, on the hill on Toms Road between some houses, in back yards, woods, off dirt roads. If you look for them, you'll see them," he said. "I've found them on old maps and went to look for them and they have been paved over or have buildings on top of them. We should preserve them -- there's so much history there."
And there's so much work to do to honor the dead and keep the living from harm.
"We spent as much money as we could," Mildred Galasso said of Simsbury Cemetery next door. "Now we are just praying the trees don't fall."
Copyright © 2004 The Advocate. All Rights reserved.
Reprinted with permission.
Development threatens ancient cemeteries (June 1, 2004)
Lost stories: Historic cemetery showing ravages of time (August 23, 2005)
---
EDITORIAL: Neglected cemeteries deserve more help
May 16, 2004
In good economic times and bad, Stamford 's historic cemeteries are largely ignored. A concentrated effort by the city could go a long way towards saving these pieces of Stamford's past.
These small clusters of abandoned graves, some dating back to the Revolutionary War era, are scattered throughout Stamford . Veterans of the Revolutionary War and Civil War are buried there, along with other residents of Stamford . Scouts and inspired individuals sometimes take an interest in the burial grounds, which occasionally develops into a passion, as it did for those who formed the Historic Cemetery Preservation Society in 1997.
But the task exceeds local means. Donations to the preservation group don't begin to fund the need for massive cleanup, headstone repair and care of these neglected burial grounds. The Stamford Historical Society doesn't have the money. And municipal government tends to look the other way, even if dangerous conditions exist at these cemeteries. Most of the cemeteries have no owner and the city says it can't afford to tend to all of them. Last month, for example, Almstead Tree & Shrub Care of Stamford removed a tree, free of charge, from an abandoned cemetery on Hope Street . The tree repeatedly damaged the house next door.
Assistant City Editor Angela Carella reports that 50 or more of these neglected burial grounds may be tucked away in back yards, woods or off roads in Stamford . But these cemeteries, which can contain only a few graves, don't turn up on city maps. No one has done a comprehensive survey, although residents have made attempts over the years. In 1998, for example, a Stamford High School student researched the Simsbury Cemetery at High Ridge and Cross roads to earn the Girl Scout Gold Award.
Last week, Ms. Carella wrote about Judge James Bingham of State Superior Court in Stamford . He wonders whether some defendants in the Alternative to Incarceration program might be able to meet community service requirements by working in the cemeteries. Judge Bingham also appears to have the cemetery bug. He plans to begin documenting the burial grounds on weekends with help from the manager of the incarceration program and from Frank Kirwin, Stamford 's tax assessor.
Cemetery preservation has appealed to various city officials over the years for the same reason that it speaks to the public: The remains of our ancestors -- in some cases, those who fought to establish our community and country -- are being ignored. Can't the city's Grants Office, working with the preservation group and individuals like Judge Bingham, get funding to take better care of our history?
Copyright © 2004 The Advocate. All Rights reserved.
Reprinted with permission.
Development threatens ancient cemeteries (June 1, 2004)
Lost stories: Historic cemetery showing ravages of time (August 23, 2005)
Stamford Cemeteries