April 17, 2005
Longtime coming: Founding family returns
Davenports gather to launch exhibit at Historical Society
By Mark Ginocchio
Advocate Staff Writer
STAMFORD -- The Davenports returned home yesterday for a family reunion that was more than 350 years in the making.
To kick off the opening of its newest exhibit, "Portrait of a Family: The Legacy of the Davenports," the Stamford Historical Society invited surviving members of the Davenport family back to the city their ancestors helped settle.
Davenports from as far as London and as close as Wilton came together yesterday to view of the exhibit, which opens to the public at 3 p.m. today at the society's High Ridge Road headquarters.
The yearlong exhibit, described by society volunteers as one of the largest they have staged, chronicles the history of Stamford as reflected by the lives of the Davenports. Stamford owes its existence to the Rev. John Davenport of New Haven, who was the first to suggest the area as a new ground for colonization by Wethersfield dissenters in 1640.
The family, now in its 10th generation, went on to play a pivotal role in Stamford's development for more than 300 years. While no more Davenports reside in Stamford, many surviving members had no problem coming back to the city they call home.
"The way my family talked of Stamford when I was younger, I thought it was some other country," said Churchill Davenport, a painter from Baltimore, Md. "When I asked where we came from, they said Stamford. From then on, I always thought of Stamford as home."
Stamford, which has named streets, schools and other buildings after the Davenports, welcomed the family back with open arms.
"This is a great way to tell the tale of Stamford," Mayor Dannel Malloy told the visitors. "And we fully appreciate the contributions of your family."
Historical Society volunteers were on hand to show off the exhibit, which features portraits of the Davenports, family silver, 17th-century furniture that belonged to the Rev. John Davenport and 19th-century clothing worn by family members. The several dozen family members in attendance took time to look over the exhibit, but also used the afternoon to play six degrees of separation.
Stephen Davenport of Washington, D.C., met Harry Davenport of Vero Beach, Fla., for the first time. After flipping through a genealogical history of the family, Stephen discovered they were ninth cousins.
Harry was a direct descendant of Abraham Davenport, a state legislator who is best remembered for keeping the house together when an unknown phenomenon caused the sky to darken one day in 1780. As legislators panicked, thinking Judgment Day was upon them, Abraham kept his wits, called for candles and encouraged legislators to keep working.
John F. Kennedy referred to Abraham's Dark Day speeches during his campaign for president in 1960.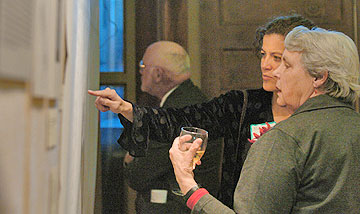 Mariana Davenport of Brooklyn, N.Y., points out here family descendants on a family tree to Carolyn Wissinger of Wilton yesterday at the Stamford Historical Society
.
Kathleen O'Rourke / staff photo
Copyright © 2005, Southern Connecticut Newspapers, Inc.
Near the front of the exhibit, an 8-foot long family tree only documented six generations of Davenports.
"We would have to line the entire room with this if we listed everyone," joked Ron Marcus, a librarian with the Historical Society. "Then we would just have to forego the exhibit."
The exhibit was the brainchild of society volunteer Margaret Bowen. For many years, the museum had been amassing a collection of items from Elizabeth Davenport Spence, who lived in Naples, Fla., until her death in 1998. For 15 years, Spence would drop off objects such as silverware, cups, plates, furniture and clothing. A year ago, Bowen thought it would be a good idea to display the collection, which had grown to about 80 pieces.
"I saw this as a history coming of Stamford from the eyes of one family," she said.
The Davenports were the perfect family to build the exhibit around because they served the community in a variety of ways, Bowen said. Some were clergymen, bankers, lawyers, actors, poets and politicians.
Charles Davenport Lockwood, co-founder of Cummings & Lockwood law firm with Homer Cummings, helped persuade Stamford residents to create the current form of city government. Town and city governments co-existed before they were consolidated in 1948, about a year before he died.
"I think this exhibit shows how strong a family can be in instilling a sense of duty and work ethic," Bowen said. "These people all worked hard."
In addition to the society's collections, some items were brought in by the Davenports yesterday, while others were on loan from Yale University.
The Davenport celebration will be a statewide event today. Gov. M. Jodi Rell declared today Davenport Family Day in the state and the First Congregational Church in Stamford will hold a special service.
The Rev. John Davenport, grandson of John the founder, was the third minister of Stamford's Congregational Church from 1694 to 1732.
Keeping track of how family members are related would be dizzying for even the most dedicated historian, but Davenport descendants took it in stride.
"I think it's fantastic how we all came together," said Stephen Lord of Richmond, Va., who is the son of Marguerite Davenport. "I know I became involved in our history because of this project. I think this project did that for a lot of us."
Copyright © 2005, Southern Connecticut Newspapers, Inc.
All Rights reserved. Reprinted with permission.
Davenport Exhibit: Portrait of a Family: Stamford through the Legacy of the Davenports