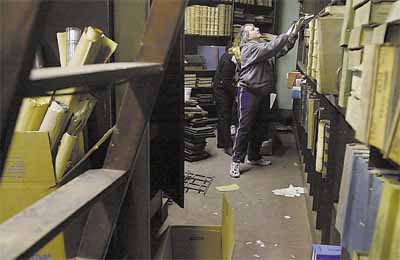 Maria Stabile, from the city and town clerk's office, sorts through documents in the basement of Old Town Hall in Stamford as part of efforts to decide how old city records should be stored
.
Kerry Sherck / Staff photo
The following is a story about the fate of old city records, courtesy The Advocate:
February 4, 2003
For the record books:
Stamford decides fate of old documents
By Kevin McCallum
Advocate Staff Writer
STAMFORD -- In 1836, Stamford resident Joseph Ballard was doing pretty well for himself.
He owned a home valued at $100. His 60 acres of land was assessed at $1,200, or $20 an acre. His four cows were worth $84 and his five sheep were assessed at $7.
He paid a $5 fireplace tax on his humble single-fireplace abode and paid a $20 poll tax for the right to vote.
All told, Ballard that year forked over $64.76 in taxes to the Stamford Town Clerk, who dutifully inked this information in a wide ledger in a hand worthy of John Hancock.
Today that ledger, and dozens of others just like it, sits on a dusty shelf in the dank, flood-prone basement of Old Town Hall, inaccessible to the public and in danger of further decay.
All that is soon to change as the multimillion-dollar renovation of the venerable 1905 stone building in the heart of downtown has forced the city to find a new home for the orphaned records.
The city is restoring the vacant 37,000-square-foot building at Main, Bank and Atlantic streets to its former glory. It served as the nerve center of Stamford's government from 1905 until 1987, when City Hall moved to its current location on Washington Boulevard.
The hope is to lease some of the space to tenants, while keeping other areas in a public function. The total cost of the project is expected to reach $21 million.
City and Town Clerk Donna Loglisci last week began orchestrating the relocation of many of the records to the vacant former police station on Haig Avenue, where they will be safe and available to the public some day.
"People are going to be able to walk in here like a regular library and be able to pull anything off the shelves," Loglisci said recently from the Haig Avenue building, where city workers are constructing sturdy, deep shelves to house the treasured tomes.
Many of the vital records of the city -- such as city budgets and minutes of legislative meetings -- were moved from the Old Town Hall to a vault in the basement of the new building on Washington Boulevard during the 1987 move, Loglisci said.
But because of space constraints, thousands of other documents were left behind in the Old Town Hall -- including land records, maps, tax rolls, voter logs, birth and death records, and various municipal reports dating to the 1800s.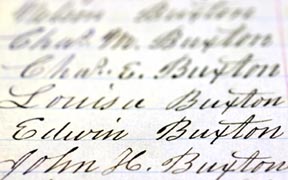 Loglisci, who took over as town clerk in 2001, recently started going through the two rooms full of dusty documents to determine which to keep, which to donate to the Stamford Historical Society and which to throw out.
Wearing Latex gloves and face masks to protect themselves from the mold and dust, Loglisci and two assistants started by cataloging the records to determine each one's fate.
It's not entirely up to them, however.
State law is specific about which records town clerks need to keep, Loglisci said. State approval is required before the destruction of any records, a process that can take months, she said.
Voter logs, for example, are near the top of the list of records that need to be preserved and were one of the first Loglisci said she had moved.
"I guess because I've been involved in so many elections over the years, I know how important it is to have a record and a history of the past elections," said Loglisci, who has been active in the Republican party for years.
She was surprised, however, to find that many of the old voting logs were segregated, one for men and one for women.
"I couldn't believe it," she said. "When you think about women being separate like that."
Women won the right to vote in 1920, and Loglisci said she has found segregated records as late as 1939.
Alongside some of the city records were file cabinets full of apparently forgotten records from three local law firms, which were seemingly allowed to keep records there for convenience, Loglisci said.
Other surprises have included a drawer full of the possessions of William F. Waterbury, who served as clerk from 1891 to 1916, according to former town clerk Lois PontBriant, who served from 1975 to 1999.
Items such as these are not covered under state law, and Loglisci said she may turn some of them over to the Stamford Historical Society for preservation.
"I would love for these to be in a place where people can come see them, and that's what the Historical Society is for," Loglisci said. "No one can see them where they are right now."
Ronald Marcus, the society's librarian, has been sifting through some of the records and making a list of those his organization would be interested in adding to its collection.
For him, the basement of the Old Town Hall is a gold mine.
"We'll take whatever she's willing to give us," Marcus said.
Loglisci predicts the work will take her and her two assistants about two months to complete.
In addition to moving the records, Loglisci said she is planning to have many of the old maps specially laminated to preserve them and allow the public to handle them.
The whole process has left her in awe of her duties as custodian of city records, she said.
"When you come face to face with this, it really does hit home -- you're the keeper of the city records," she said. "It's just incredible."
Copyright © 2003, Southern Connecticut Newspapers, Inc.
Reprinted with permission.
Images: © 2003 The Advocate (2)
Stamford Government