Dr. Bernard O. Nemoitin 1908-2004
by Irwin J. Miller, Historian
A beloved long time member of our Board of Directors since the days when we were known as The Stamford Jewish Historical Society has passed from our midst. Dr. Bernard Nemoitin known as Bernie to all of us died on November 16th in his 96th year. His wit, his humor, his integrity and ability to see through any stumbling block was that guidance which was of immeasurable value during our formative years and until the present one.
Bernie's ability to recall, and vocalize the lyrics of Gilbert & Sullivan to illustrate a point or situation whether it be at a Board meeting or any other setting was both uncanny and delightful. A retired surgeon, he was born January 30, 1908 at 621 Main Street in Stamford, the son of Dr. Jacob and Frances Einhorn Nemoitin. His father, also a physician, is still referred to by old timers as "saintly" and his mother was a former nurse at New York's Beth Israel Hospital. Bernie grew up in the landmark house at 96 Main Street after 1910 which served as the Nemoitin's home and office and later where he also practiced medicine.
A young Bernard Nemoitin between his parents, undated photo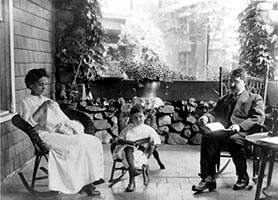 Across the street in the old Odd Fellows Building, Bernie attended Sunday School established by The National Council of Jewish Women. He attended Stamford public schools and graduated from the University of Pennsylvania in 1929, earned a Masters Degree in psychology from Columbia University and a medical degree from the Long Island College of Medicine in 1934. Serving his internship and two-year residency at Beth Israel Hospital in N.Y.C., he then returned to Stamford to join his father's practice at 96 Main St. He was an attending surgeon at both Stamford and St. Joseph's hospitals.
Dr. Nemoitin, along with Department of Welfare Director George Latourney, was the driving force behind the opening of the city-subsidized nursing home, now called Smith House. He was its medical director for 34 years, working pro bono for the first eight years.
For many years, he was a delegate from the Fairfield County Medical Society to the Connecticut State Medical Society.
A member of the Stamford Board of Education from 1966-1973 he also served as its President. Dr. Nemoitin was also a former President of The Stamford Historical Society.
Dr. Nemoitin at a lecture event in 2001
at the Society, chatting with the publisher of The Stamford Advocate & Greenwich Time, Durham J. Monsma.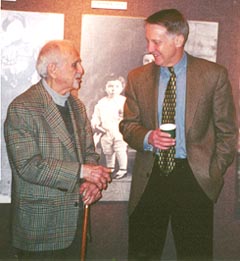 He played several roles in the Darien Troupers presentations of Gilbert & Sullivan and appeared in Darien "Playmakers" productions of "The Little Foxes," and "Lil Abner." A noted dog breeder and delegate to The American Kennel Club, he also served on the Board of Ox Ridge Kennel Club, and a member of Longshore-Southport Kennel Club.
The Nemoitin families were founding members of Temple Beth EI.
He is survived by his wife Eileen, a member of the Board of Directors of The Jewish Historical Society of Fairfield County and a volunteer in its Archives. Truly a renaissance man, we shall miss his twinkling eye and wry smile from across the Board table.
Photos © JHSLFC (1) ; Janet Schneider (1) ; Stamford Historical Society (1)