Obituaries of Noted Stamfordites
Remembering Dr. Bernard O. Nemoitin, 1908-2004
A young Bernard Nemoitin between his parents, undated photo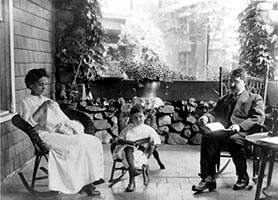 The Society lost a long-time friend and mentor with the passing of Dr. Bernard O. Nemoitin in November. Born in Stamford, Dr. Nemoitin was the son of the noted Dr. Jacob Nemoitin and Frances Einhorn Nemoitin. He attended the Center School on West Broad Street and graduated from Stamford High School, in 1925. He graduated from the University of Pennsylvania, Columbia University, and Long Island College of Medicine. Following internship and residency at Beth Israel Hospital, New York City, Dr. Nemoitin returned to Stamford in 1937 to launch his surgical practice at 46 Main Street.
His interests were varied and included schnauzers, art, history, and travel. A firm believer in civic participation, he gave his time and efforts to The Stamford Planning Board, The Stamford Housing Authority, The Smith House Health Care Center, and The Stamford Board of Education, including a term as president in the 1990's.
Dr. Nemoitin at a lecture event in 2001
at the Society, chatting with the publisher of The Stamford Advocate & Greenwich Time, Durham J. Monsma.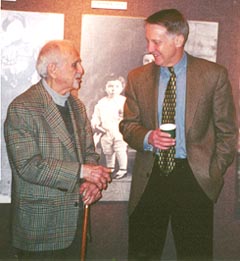 A lifelong fascination with music, theater, and psychology combined delightfully in his performing Gilbert & Sullivan's patter songs withThe Troupers Light Opera Company. Often during a tense moment at a meeting, he would inject a bit of levity with a quote from one of the operettas. He was proud of his roles as Major-General Stanley in The Pirates of Penzance, The Duke of Plaza-Toro in The Gondoliers, and Ko-Ko the Lord High Executioner in The Mikado.
During his tenure as President of The Stamford Historical Society, Dr. Nemoitin drew upon his life-long knowledge of the community which benefited the Society in many ways. Through his diligence, the Society was able to obtain our current headquarters at 1508 High Ridge Road. His guidance in the 1989 exhibit at the Society about his father, Stamford's Healer & Humanitarian – Dr. Jacob Nemoitin 1880–1963, was absolutely invaluable. For these and other endeavors he was awarded the Virginia T. Davis Stamford Historical Society Distinguished Service Award in 1992.
In a 1977 newspaper interview, Dr. Nemoitin said, "Because I find people fascinating and I'm blessed with insatiable curiosity about everything, my life has been awfully interesting and worthwhile. I guess, too, keeping a sense of humor and looking for the good in everyone, has played a major role in all of it."
Dr. Bernard O. Nemoitin died on November 16, 2004, at his home in Stamford. He was 96.


Photos © Janet Schneider (1) ; Stamford Historical Society (1)