Photo Archivist's Selection of the Month: : May 2001
Dr. Jacob Nemoitin (1880–1963)
Stamford's healer & humanitarian
painter & poet
"If any young man wants to study medicine, I think the very first requirement: if he loves People. If he wants to do good, this is one of the best opportunities, because in no profession can you do so much good to people as you can do in medicine... So if anybody is inclined to be that way, by all means, be should take up medicine. If I would like to live over again, I would want to practice medicine."
Part of the text below was adapted from the 1989 catalogue of an exhibition at at the Stamford Historical Society (in conjunction with the Jewish Historical Society of Greater Stamford, now The Jewish Historical Society of Fairfield County) called "Stamford's Healer & Humanitarian, Dr. Jacob Nemoitin (1880-1963)"
Born in 1880 in the village of Sushky in Russia, Jacob Nemoitin came to this country with his family to escape the pogroms and difficulties of Jewish life in his native land. Originally a photographer's assistant, he studied for the New York Regents examinations, which were required for his enrollment in Columbia University College of Medicine. Tuition was one hundred dollars a year, which he earned through photography while attending school. He graduated in 1905. He then served an internship at Beth Israel Hospital in New York City. It was there that he met his future wife, Frances Einhorn, a student nurse.

Several months' residency followed at the New York Lying-in-Hospital (see diploma on the right, dated October, 12, 1906). This experience proved invaluable, since eventually he delivered 10,000 babies in Stamford. He practiced for a short period on the lower East side of New York.

Doctor Nemoitin's parents, Joshua and Rebecca, had settled in Stamford in 1898. His father was a Hebrew school teacher and a merchant. In 1902 they bought a farm in the Catskills, where they remained until returning to Stamford in 1916.

Dr. Nemoitin heard from relatives in Stamford of the death—during a typhoid epidemic—of the only Jewish doctor in town. He saw this as an opportunity to begin a practice in Stamford, then a town of 14,000. The year was 1907.

His practice focused on the immigrant community, since he was one himself. To his knowledge of several languages, Russian, German, Polish, and Yiddish, he added Italian, which he learned with the help of an Italian priest, Edison cylinder records, and Italian medical books.

He had an empathy with immigrants. The babble of languages and the mixture of Eastern European cultures in Stamford's tenements reminded him daily of the world he, and they, had had to leave behind. And like him, they had come through Castle Garden and later Ellis Island, to make a new way and create a new nation.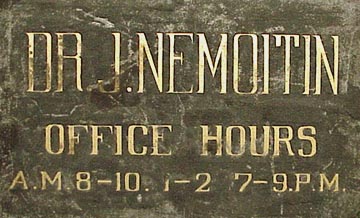 Contrary to current medical practice, Dr. Nemoitin made house calls; first by bicycle, then by horse and buggy, but he still might use the bicycle because he did not want to overwork his horse. He was remembered for his resourcefulness in traveling to treat the sick. He was known to the coal, milk and ice wagon drivers, who would divert their route to suit the doctor's needs. Eventually, he acquired an automobile. And unlike many other doctors, he was willing to travel long distances at awkward hours; a number of his patients lived as far away as Mianus and New Canaan.
The sign at 96 Main Street, his office and residence (see left) does not show days of the week, which must have meant that he was always available, "24/7" as we say nowadays.
He became something of a local legend, especially in the Italian and Polish communities, for his empathy and medical skills. In one case, he correctly diagnosed worms in a child who had all the symptoms of meningitis. He cured several children of pneumonia where other doctors either had failed or did not have the time.
Another story is about a young Polish boy who was very ill. His parents could barely speak English and had very little money. The mother knew the child was terribly sick and she thought that perhaps it was God's will that the child be taken from her. However, Dr. Nemoitin refused to consider the situation hopeless, operated on the youngster, and in three months' time the child was fully recovered. Inspired by this incident, the patient later went on to study medicine, and as fate would have it, found himself in the same class as the doctor's son. He ultimately became a professor of pediatrics.
An excerpt from The Stamford Trader of August 10, 1989, in connection with an upcoming exhibition about the doctor, too dwells on his humanitarianism:
"…The stories about the late Dr. Jacob Nemoitin of Stamford and his humanitarianism are legion.

Dr. Nemoitin practiced medicine in Stamford from 1906 to 1963, the year of his death, providing medical services and general support to, among others, the city's vast immigrant population. He spoke Russian, Polish, Italian and English, and was well known in all the immigrant neighborhoods. Prolific in deliveries, he brought thousands of Stamfordites into the world.

'e brought me into this world,' remembers Geno Lupinacci, who was born Oct. 1, 1916. Mr. Lupinacci owns a monument-making business in Stamford, and his father, an Italian immigrant, worked in a hat factory and a chocolate factory before becoming a carpenter.

Mr. Lupinacci remembers Dr. Nemoitin as a guardian angel in the neighborhood, as well as a medical practitioner. 'Whenever he saw kids in the streets in the need of shoes, he'd send them down to a shoe store like Charlie Leventhal's, and he'd pay for the shoes,' said Mr. Lupinacci.

Ronald Marcus of the Stamford Historical Society said that, while making calls during the Depression to households that could not afford heat, Dr. Nemoitin was known to slip money under a pillow with a note reading, 'Buy coal'."
He would accept goods instead of money, be it victuals or other, such as an icebox he swapped for delivering a baby. One family killed a pig each year to be used as sausage for payments to the doctor. He would accept the payment, but it was well known that he did not keep it, rather he would pass it on to a needy family.
The photo above right is of a certificate of membership in an Italian mutual benefit society in town, "Provincia Di Caserta." Dr. Nemoitin was the society's physician.
Dr. Nemoitin's son, Dr. Bernard Nemoitin, who followed in his father's foot steps but became a surgeon, recalled the following in a 1977 interview with The Bridgeport Sunday Post:
"Night and day was the same to him. When someone needed him, no matter what the time, he would go where he was called.

"[The night I was born], my father wasn't home, He was out delivering a baby. And the night he died, he had just finished giving a fellow a physical examination for a boxing license."
Two undated photos of Dr. Nemoitin and his young family:
Nonetheless, Dr. Nemoitin had time for other pursuits, such as painting and poetry. The painting below right is a portrait of his father, Joshua Nemoitin, at age 70. The paintings are part of the holdings of the Stamford Historical Society.
| | |
| --- | --- |
| Murky Winter, 1945 | My Father |
In 1962, Dr. Nemoitin gave an oral history interview, describing his youth in Western Russia. It's a vivid recollection of Jewish life in Russia in the late 19th century.
HOW I WAIT FOR MY END
With no fear and no sorrow
I wait for my end
The eternal sleep
Must follow a long and useful life
Right now I wish to be remembered
For this I call eternity
The mark of life
The trail of life benevolent...
Looking back as I remember
I hurt no one intentionally
And my healing art
Was my constant drive...
I therefore have no fear or sorrow
For the final eternal sleep...
Jacob Nemoitin
Dr. Bernard Nemoitin

, Dr. Nemoitin's son, is active at the Stamford Historical Society and other community affairs.

Here he is seen at a lecture event in 2001 at the Society, chatting with the publisher of The Stamford Advocate & Greenwich Time, Durham J. Monsma.

Postscript: Dr. Nemoitin passed away November 16, 2004 at age 96
Oral History Interview: Dr. Jacob Nemoitin, 1962
Other Photo Archivist Selections of the Month
Photo Collection Information
Photos © Stamford Historical Society
B&W photos © Janet Schneider