Nemoitin:
A few rather comical stories are under my recollection. Some were not really comical, but they always worked out to my favor.

When that druggist across the way recommended me a patient on Virgil Street, to see a little Italian child who was very sick. So when I came there with my bicycle, I noticed that the child had convulsions and had rigidity of her neck and showed all signs of meningal involvement. I've had a lot of experience in meningitis. When I was an intern in the Beth Israel Hospital, we had an epidemic and I knew everything there is to know at that time about meningitis. It was a very dreadful disease. Some of them would get well, but we had no specific cure for it. So naturally, when I went there for a few days three days, and the child was getting worse, I gave them a kind of a bad prognosis. Naturally, they were very disappointed. I started to hear the way they talk about a certain Dr. Tiffany. This was one of the doctors who was the head doctors of the hospital. He was in charge of that small hospital on Sherman Street. "Well," I told her, "If you think...," I understood from their speech. You know I didn't speak Italian so well at that time, but I could understand what they meant. So I said, "Well, if that's the case, I would be very glad to call him and we will see the child together." So they agreed, and this Dr. Tiffany came over. He used to drive one of the nicest horses in town, and he had a driver. He came in and looked at the child, and said, "Well, Doctor, it is self evident that that's a very bad case of meningitis, and naturally, as you know, the prognosis is not so good." So he explains everything to the people. He tells them in my presence that this child is so very, very ill and that she's got an inflammation on the brain and that the outcome is very bad. And so naturally they paid him, and they were all ready to accept the inevitable. [interruption]

The people were satisfied, but to me it was a terrible shock because I wanted to make acquaintance with Italian patients, and naturally, I wanted to show my abilities in treatment and yet I came across such a case that I couldn't accomplish much. That hurt me very much.

That night, I could hardly sleep. The night previous to the sleepless night, I came across to my patron the druggist, and I told him. "Mr. Champagne, I'm in trouble. You know, this child had meningitis and I've called Dr. Tiffany and he agrees with me. That's so bad that I don't know what to do."

And so he said, "Did you try that child for something for worms?" I said, "No. First, I've never seen a child with worms, and secondly, this child has such definite symptoms of meningitis." So he said, "But you know, I was a druggist in an Italian colony, and there the Italian doctors used to prescribe a lot of worm medicine, because many of these Italian children are subject to worms." So I said, "Well, if you think she might have that, suppose you give me a powder or two, and we'll try it." I said, "It can't do any harm." So I thought I should try those powders. I went up with my bicycle and I came up to the house, and when I came there I found the candles were lit and the priest just left. And all the Italians, especially those former Italian families that are now pretty well known, at that time they were still in the poorest class. So they were sitting around, waiting just for the child to die. So I told them. "You know, I looked in my books and I found a medicine that may do some good. Do you want me to try it?"

They said, "Well, what will we lose? You can try it." So, I took the powder of santamene with calomel, and I mixed it in a teaspoon of water, and I held the child's nostrils and poured in the medicine. And somehow it swallowed. After I was through, I walked out rather sad and went home. And then I had a sleepless night.

Early in the morning, I took my bicycle, and it was in late September, and as I saw the morning sky was red and there were signs of the beginning of fall, and as I slowly came up to the yard, I see the father of the child, whose name was Sabia, and I said, "Hello, Sabia. How is your child?" "Oh," he said, "I think she's a little bit better." So I said, "How many worms did she pass?" He said, "Two small ones," and he shows me on his hands, way up, "and two big ones." Then I walked in, but their little dog wouldn't let me come in, but I finally walked into the house, and there I see the little girl sitting up and eating a banana.

The idea was that this child had meningismu, which is a symptom of meningitis but it's not meningitis. It's due to worms. To me that was the first occurrence, and I suppose that Tiffany who used to take care of mostly of the wealthy patients never saw one like that. But that was not a case of meningitis, and since then my practice began to multiply. They kept on saying, "You see, this child was so sick that Dr. Tiffany, the best doctor in town, thought it was going to die. And then that little Jew doctor came over and cured it." [chuckles followed by interruption]

Another story which came to my mind was one morning, when I was at 621 Main Street. An Italian man comes in Sunday morning to me, knocks on the door. He looked kind of pale and dejected and hands out to me a little prescription blank. And on the prescription blank I read, "Dear Dr. Nemoitin: This man has a child that has a bad pneumonia, and he has no doctor. Please go to see that child. Charge him as much as you want, but please see him. He is a very nice person, and I wish you should see him." And he signed, "Dr. Stella." [interruption]

This Dr. Stella is from New York, and the patient was from New Canaan, Connecticut. Dr. Stella was one of the very well known Italian doctors in New York. He had the title of the "dottore de re." That means "the king's doctor," and he was a professor in Naples Medical School in medicine. I met him at a consultation at one of my patient's in Stamford. At that time I could speak a little Italian. He did not speak English very well, so he was so glad to meet me, and he saw that I was so much interested in medicine in general and in the patient, so he praised me a lot before the patient, and he really liked me a good deal. I felt the same way. I felt that he was such a fine doctor that I could learn a good deal from him, especially the Italian method of treatment.

So naturally, when he sent me this note, I couldn't possibly refuse, and yet I was quite busy at that time with many obstet cases and so on, and to go to New Canaan would involve quite a trip. It is eight miles, and the roads were bad in those days, and I'd have to go with my horse and buggy. But still, the urge to go by the man, and the urge to come by the request of the doctor, compelled me to go. I asked him why didn't he call a New Canaan doctor. He told me that he did and they came, and they thought that the child was very, very sick and might die, and they were afraid to come any more. Maybe the child will die. Because in New York at that time, it was well publicized that a certain Italian man shot the doctor because he didn't cure his child. The child had diphtheria, and he gave an injection of antitoxin and the child died. So then on, it became sort of a prejudice that Italians are liable to shoot their doctors. And in New Canaan they only had two doctors at that time, and they were very much afraid to go to see him, because they knew that that little boy was very, very much loved by the father. And they thought that he was likely to do such a thing. So therefore they wouldn't come. So I decided I will go. And so he followed. He had a pickup truck with the horse, and I had my horse and buggy and I followed him. We went through Hoyt Street, and then through Ponus Ridge, and he drove the horse so that the horse couldn't run any more. So we stopped for a little while until the horse got second breath. Then we started to drive again, and we finally came there. And he had a little grocery store at the top of the hill at the center of New Canaan. He had a private home where he turned the front room into a store and in the back he lived, also a few upstairs rooms. [interruption]

As I came in I found the child was very ill, but not desperately ill. It was conscious and the temperature was not too high. At first I thought he was trying somewhat to approach a crisis. So in order to make a good impression, I rubbed him with alcohol and opened the windows and applied–I took along some antiphlogestine– applied that on his chest, and I gave him some drops of digitalis, all the things that we used to use in those days which were not specific, but they used to help along. And I gave them all kinds of instructions that in case the child begins to perspire a lot and lose temperature, they should wrap him up very warm and give him a little whisky. And I left the place. He asked me how much to pay, but although I had a note from the doctor that I could charge as much as I want, yet I felt that if I charged him $5, that would have been quite a big fee. Otherwise we used to charge only $1 in the house and fifty cents in the office. He insisted I should take more, but I let him give me $7, but I just couldn't take any more.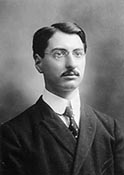 Then I left for home, and the next day I started out real early about 8 o'clock in the morning, so that I could come about 10 or 11 o'clock back home. It just happened that after I went there three times, the child got well. Now this man, after that happened, he thought I was Jesus. He thought I was the Savior himself. The fact that Dr. Stella told him that the child is very bad, that the American doctors didn't want to come, so naturally although he believed that God puts in a little hand to it, but still I was Jesus just the same. This man couldn't forget, and so that any patient that he ever knew in New Canaan through the store, American or Italian or foreigner, he used to bring him in my office, otherwise he would collect two or three patients and I should come to examine them, so I should make enough money for the trip.
So he kept it up for seven years, but one time I didn't hear from him, so I started to get interested, for he was such a friend that I wanted to know what happened to him. So finally I found out that he was killed by a runaway horse. And his son finally went to the First World War, and he came back not wounded and he became involved in one of the very big food stores in New Canaan and at present, he's a very wealthy person. [interruption]
It was also during the time when Mr. Champagne used to recommend me patients, so he recommended me a patient to 61 Liberty Street, a little boy, a Polish boy, that was very ill. When I came with my bicycle to see that boy, he was having a pneumonia. Now the pneumonia wasn't of such a very bad caliber, he gradually improved, but instead of getting a crisis, he developed pus in his chest. They call that an empyema. This was very common in those days because they didn't have any specific disease so if instead of getting a crisis some pus formation developed in the pleural sac. But his could be helped by draining, by opening up and draining the pus out, which involves an operation. This operation I have done a good many when I was in the Beth Israel Hospital. In fact, that any junior surgeon does this, about six or seven. They were very common in New York in the hospitals, especially children who have to be hospitalized.
So I called Dr. Dichter to help me and we opened up his chest. I opened up his chest to put in a tube and the pus came out, and the child began to improve, but the improvement was very slow. And the woman was very poor. She had six more children and her husband was a carpenter and all he used to make was $6 a week. So naturally that was a very small amount, although my fee to her was very small, but still she felt that she couldn't pay much. So one time, when she saw that the child was very, very sick, she said, "Doctor, I know you are trying so much, but we haven't got much money and if God wants him to die, let him die." So I said, "Oh, no." I said, "That couldn't be." First of all, I became very fond of that child because he was so handsome and he had beautiful blue eyes and blond hair and he was so appreciative when I do something for him. So I told her that whenever she'll have money, she will pay me or even doesn't have to pay if you don't have to, but I'll keep on. "Well," she says, "If you are willing to take care of him, I wouldn't stop you." I says, "But you know, I want to tell you that I couldn't possibly."
At that time they had no staff cases and even if you want to go to the hospital, the hospital had such a poor reputation that they were always afraid to send somebody. They always thought that they may die, which was that way because only very sick cases came to the hospital. And in those days, we didn't have much help for the patient, so therefore they inevitably used to die.
So I did my very best to treat him and he got finally better and he got well. As he got well, he used to run around the street, and when I used to pass by with my horse and buggy, he used to shout, "Oh, here is my doctor!" And he used to always want that I should give him a ride. So I used to give him a little ride, and then I used to give him a nickel and he would buy some goodies and feel very happy. So this episode passed by and all of a sudden, I didn't hear from him, so they told me that they moved out somewheres in Perth Amboy in New Jersey.
Then meantime, my son became of age and when he got to be in the medical college, he used to tell me every time he came for his weekend, to tell me all about his professors and about his studies and everything, because he knew I was so much interested. So then one time he tells me, "You know, I have a boy in my class. His name is Rudy, and I think he is Polish, but he is a very nice boy and he says that he has a mark on his chest from an operation that you performed on him." So I thought, "Rudy, I just can't remember a case like that." So I says, "You better find out exactly what his name was and where they lived."
And so he came the next weekend, and he tells me that his name was Rudimanski, and that he lived on 61 Liberty Street. "Well, oh," I says, "this boy I certainly remember because I took care of him for three months."
Anyway, he graduated medicine with my son and he was one of the very first students in the medical school. And the story that he gave me was as follows:
He went to Perth Amboy to public school. I think he was the first one in public school. Then he went to the high school, and he was the first one in the high school. Then he got a scholarship in Rutgers College and he graduated with a B.A. degree, and he studied a pre-medical course, because he decided he wants to be a doctor. His mother always kept on telling him how he almost died, and a doctor saved his life. So therefore, he wanted to be a doctor. And then, as he had to go to medical school, he was a very pious boy and he used to attend the Catholic Church. So, one of the priests–they had a special fund for such things or I have an idea possibly he loaned him his own money, he helped him to go into the medical school. So when he graduated, he got himself a position in the Long Island College Hospital, and then he got himself a residency in the Boston Hospital for Children, which is considered one of the best hospitals in New England.
One time, as I was looking over my medical journals, I see an article in The England Medical Journal, Dr. Rudimanski, "The Modern Methods of Treating Empyema in Children," by Dr. Rudimanski. I recognized right away who it was. Tears appeared in my eyes thinking how many babies I have saved by saving him, for he is such a wonderful pediatrician. How many children he will save. He became now a professor pediatrician in the Long Island College Hospital, and he is practicing in Brooklyn. [interruption]
Another story that came to my mind was after I'd been in practice not too long, but I'd done considerable surgery, so I had an opportunity to operate on a young married woman who had very bad pustube. At that time, they couldn't relieve those conditions with penicillin like they do at present. At that time the only cure was an operation. The operation was rather simple, and I had the assistance of old Dr. Gandy. At that time he was a young man, and he used to help me out considerably together. As I operated on her, the operation came through very nicely, but after the operation she developed constant vomiting and developed a considerable distension in such a way that she began to show signs of passing out.
At first, I couldn't understand what her condition was, whether it was peritonitis or whether it was a case of intestinal obstruction or the ileus. In modern times, we pass through a tube. We go right through the nose and into the stomach, where they get relief, but in those days we didn't have those things. All the consultants that I had gave me very poor hope. She was a very nice Irish lady. No, she was of Swedish origin but she was married to an Irish man. At that time she was one of the bookkeepers in the Motor Vehicle Department. So, finally, in desperation I began to look for help in my books. And I had at that time a book called "Pitfalls of Surgery" by Dr. Rastas. This man was a clinical professor in Chicago Medical College and he was also of Jewish origin. So I noticed he described complications of that nature, and he recommended that you should go in and open up the small intestine and drain it with a tube, as a last resort.
So I talked over with Dr. Gandy about it, and he says, "Well, if he recommends it, let us try it." So, we took her to the operating room, we gave her a very light anesthesia, and I opened up the small intestine and put in a tube. And an awful lot of gas and bowels came out, and she began to improve almost momentarily. And within about three or four days she was almost normal.
The impression that it made on me was so terrific that I was so happy that I didn't know what to do. So I used to come three times a day, irrespective of how busy I was. And in the meantime, the dressings were very extensive, because of the discharge of the bowels that could come around the wound, and she had to be cleaned three or four times a day. So she called for the nurse who was a sister of hers, a Swedish girl who was a nurse in the hospital, and she availed of her services. This girl was a nice, quiet girl, rather tall and very sincere. When she came over, she worked day and night around her. Her work was so meticulous, so perfect, that she was the surprise of the hospital. Being that she helped my patient, and I was so nice to her as well, because she was doing so well for my patient, and I appreciated her work so much.
So finally, when her sister got well and got home, I used to come to see her. She told me one time that her sister got married, and she married a Jewish doctor. This doctor happened to be a refugee doctor from Germany. At that time there was some political upheaval in Germany, and he was involved a little in that, so he escaped from Germany, and he got his position in a TB hospital. It seems that she also worked in the TB hospital. That was for awhile. Then the next time I saw her sister in the Motor Vehicle Department where I went to get my license renewed, she told me, "You know, doctor, I didn't come to you all this time because my sister wanted to take care of me all the time. You know, she became a doctor. The doctor gave her money, so she become a doctor." She became an intern, and then she became a very big surgeon, and she operated on all kinds of patients like I was sick. And that's the story, just the impression of her services of her sister who she loved so much and the appreciation of what I did for her sister made her marry a Jewish doctor and become a doctor free. That's a true story! [interruption]
Well, from this finally ending my story, I'm 82 1/2 years old, and yet, I'm practicing. The reason I do it is because if I got well from many troubles, and if my mind is clear, I can do so much good. If any young men wants to study medicine, I think the very first requirement: if he loves people. If he wants to do good, this is one of the best opportunities, because in no profession can you do so much good to people as you can do in medicine. As far as money is concerned, that is not the essential thing because when you want to do well to people, you cannot consider the money all the time. If anybody is really devoted to make a lot of money, he should go in some other field. He should go in law or in merchandise or other fields which are also useful. Medicine is only for those who want to do good. So if anybody is inclined to be that way, by all means, he should take up medicine. If I would like to live over again, I would want to practice medicine.
[End of interview]