Obituaries of Noted Stamfordites
A Grateful Remembrance of Dr. Estelle F. Feinstein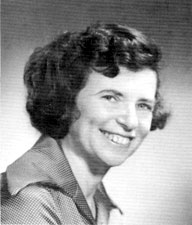 If I were preparing an essay on some of the memorable moments that happened to me during the past forty seven years of historical society work, I would say that my trip to Yale University with Estelle in the Spring of 1975 would be worthy of inclusion. That occasion marked the first opportunity I had of working with a professional historian. It served as a catalyst, expanding my outlook and approach to the discipline of Clio, the muse of history. Our objective was to gather data for her book: Stamford from Puritan To Patriot - The Shaping of a Connecticut Community 1641-1774. The work itself is long out of print and its reference use is recognized by institutions far beyond the region of Stamford, Connecticut. This book, together with Stamford In The Gilded Age - The Political Life of a Connecticut Town 1868-1893, can be found in more libraries throughout the United States than any other items on the history of Stamford.
Having thus far extolled the value of two of her major works, I should now like to ponder on what lies ahead for these creations of her mind and pen. Since historians spend a considerable amount of time studying the past, they are apt to become familiar with quotations about it. Perhaps the one most frequently cited is the line from The Tempest, Act II, Scene I, by William Shakespeare: "What's past is prologue." Stamford from Puritan To Patriot, Stamford In The Gilded Age, and Stamford - An Illustrated History (co-authored with Joyce Pendery, just recently republished), are in the past. Yet within a short time after their initial appearances, scholars, students and the general public in quest of information on the history of our city found them invaluable. Thus, the use of the word "prologue." For I am sure, that in numerous cases, her works introduced many individuals to the history of Stamford. Now I suppose that some would say that this can be true of any local historical book. What makes hers a departure from the norm is their high level of academic standards, a rather uncommon occurrence in town and city histories. One can only surmise the extent of influence her books have had, and undoubtedly they will continue to be of service to future historians of Stamford. Researchers are, to a large extent, dependent on the endeavors of their predecessors. In the case of Stamford, local historical research and writing was enhanced to a large measure by her teaching and books. Again, "What's past is prologue."
Sir James Murray, editor of the Oxford English Dictionary, in commenting on his famous project, wrote that he was "working not for the present day but for the future. Good work, once done and in print becomes an eternal inheritance which will remain of value for generations to come." All of us currently researching and writing local history share an enormous debt of thanks to Estelle. We are most grateful for her legacy to us and will always consider ourselves fortunate to have been associated with her.
7 November 2002
Ronald Marcus
Librarian
Above image from the dust jacket of Stamford In The Gilded Age.
Obituary by the Advocate
© Stamford Historical Society