Obituaries of Noted Stamfordites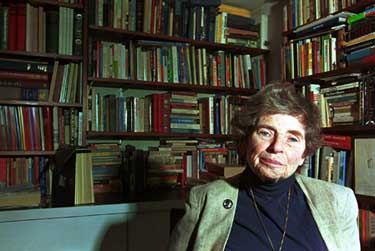 Advocate Staff file photo
Dr. Feinstein sits in her study in her Stamford home in 1999.
She died Sunday at age 78.
Courtesy The Advocate
Feinstein, noted Stamford historian, dies at 78
By J. Clyde Wills
11/5/02
Stamford historian Estelle Fisher Feinstein, author of three books about the history of Stamford, died Sunday, Nov. 3, at Stamford Hospital. She was 78.
She died of Parkinson's disease, according to her family.
Mrs. Feinstein was born Dec. 31, 1923, in New York City, a daughter of the late Moses and Libby Kaleko Fisher. She moved to Stamford with her husband, commercial artist Malcolm Feinstein, in 1956 and they made the city their permanent home.
"She is our biggest inspiration," said her daughter, Susan Barry of South Hadley, Mass. "She was so involved and so brilliant and yet so caring and humble."
Mrs. Feinstein taught history at the University of Connecticut Stamford Branch, beginning in 1957. The combination of her history background and her being in a new city inspired her to probe Stamford's past.
"I originally started for very pragmatic reasons," said Mrs. Feinstein in a 1990 interview with The Advocate. "The most sensible thing to do was to study the town where I live. It has helped me to become a citizen of the community - I think I've been very lucky to have made that choice; Stamford has been very good to me."
Mrs. Feinstein's books on Stamford history include "Stamford in the Guilded Age: The Political Life of a Connecticut Town 1868-1893," "Stamford from Puritan to Patriot: The Shaping of a Connecticut Community, 1641-1774," and "Stamford: An Illustrated History." She also published numerous essays and journal articles concerning the history of the United States and New England.
"She was a very inspiring teacher," Barry said. "She had many students who were devoted to her."
Barry recalled her mother as a courageous woman who was ahead of her time. In addition to teaching full time at UConn, she raised three children and commuted to Columbia to study for her doctorate.
"She was a real pioneer in that way," she said.
Mrs. Feinstein earned her bachelor's degree in 1944 from Vanderbilt University and her master's degree from the University of Wisconsin in 1946. She earned her doctorate in 1971.
Her career in the classroom began at Brooklyn College in 1946. She taught at UConn Hartford Branch before getting a lecturing position with UConn Stamford. She retired from teaching in 1989, continuing her study of Stamford history.
"She had students everywhere," recalled her daughter, Deborah Feinstein of Olympia, Wash. "We were crossing the English Channel and we met some of her students on the boat."
In her last days, she continued to be an inspiration and a teacher, Barry said. When she could no longer go out, she was visited every day by family, friends and students. Despite her illness, Barry said, her mother persevered through her devotion to her husband, children and grandchildren.
"She was so loved," Barry said.
In addition to her husband of 53 years and two daughters, Mrs. Feinstein is survived by a son, Daniel Feinstein of Milwaukee; a sister, Muriel Korn of Bethesda, Md.; and four grandchildren.
A memorial service will be at noon Thursday, Nov. 7, at Leo P. Gallagher & Son Funeral Home, 2900 Summer St., Stamford.
In lieu of flowers, memorial donations may be made to the Parkinson's Disease Foundation, 710 W. 168th St., New York, NY 10032-9982.
© 2002 The Advocate.
Reprinted with permission.
Dr. Feinstein was honored by receiving the 1999 Homer D. Babbidge Jr. Award in recognition of her life-long contribution to Connecticut History. 1999 Lecture by Dr. Feinstein: Stamford, Connecticut, 1641-1893
Dr. Feinstein's book "Stamford in the Gilded Age" is available at the Stamford Historical Society.
Obituaries