BEAUTIFUL HOMES OF STAMFORD
Stamford
Photographs and article by Julie Adams Powell
Sale of Hubbard Estate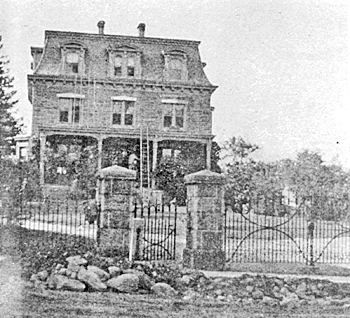 RESIDENCE OF THE LATE WILLIAM HUBBARD ON WEST NORTH STREET.
Recently purchased by The Home Building and Development Company.
During the past month an important deal in the real estate has been carried through. This is the sale of the estate of William Hubbard, situated on West North street and Hubbard avenue, to the Home Building and Development Company, of which Mr. John Linskey of of Union City, Ct., is president and treasurer. On the tract there is a large stone house, which was the home for many years and until the time of his death, of William Hubbard, one of Stamford's best known and oldest residents. The property consists of six acres, and will be cut into high class and high priced building lots. Streets are being cut through and macadamized, and cement sidewalks and curbs are being laid.
This part of Stamford has, for half a century, been recognized as one of the best residential sections in the town. On entering North Street, from Bedford street, Summer street, or Washington avenue, and continuing to the river, and so on to West North street, the way presents a certain picturesqueness, not found in any other sections of the city. The street is well kept by the town, and is lined by thrifty maples and elms, which meet in an arch overhead, and the handsome stone bridge which crosses the Rippowam adds much to the rest.
On the right of the bridge is the beautiful home of Dr. Edward Everett Rowell, sr., "Brookwood." On the left is the home of William B. Strong. Crossing Adams avenue, we come to Boltby House, which was built in 1845, and has the distinction of being the first house erected in this part of Stamford. Across the way is the home of the Rev. Charles J. Ryder, D.D., "Hillside."
Fronting on North street is the property of Mrs. J.H. Powell known as Hillside Park. Charles A. Miller and Clinton M. Fisher have built two pretty cottages here, where they reside. Just beyond, at the top of the hill, is the newly acquired property of Mr. Linskey. Here the view is all that can be desired. Around the corner on Hubbard avenue, are the fine homes of Carl J. Roehr, C.Y. Wilson and Leonard K. Prince.
"BROOKWOOD" – RESIDENCE OF DR. EVERETT ROWELL ON WEST NORTH STREET.

"SHADELAWN" – HOME OF WILLIAM STRONG
ON WEST NORTH STREET.
"BOLTBY" – HOME OF E.D. BULTON ON WEST NORTH STREET. Built in 1845.

"HILLSIDE PLACE" RESIDENCE OF THE REVEREND
CHARLES J. RYDER, D.D. ON WEST NORTH STREET.