Photo Archivist's Selection of the Month: January 2006
Women's Fashion: Family Photos, Publicity Shots, Weddings
Portraits & Family Photos
19th Century & very early 20th Century
| | |
| --- | --- |
| | |
| An undated exhibition label reads: "Photographs showing what the well-dressed Stamford lady of a century ago wore are rare, so this one is especially valuable. This young woman may have been showing off the finery she would be wearing on an upcoming European trip." | Unidentified Photo |
Mrs. J.C. Reynolds and her mother, Mrs. Platt of Pittsfield, Mass.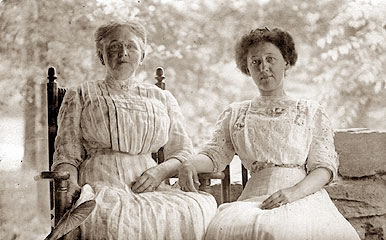 Mary Dewing, later Mrs. Edmund D. Smith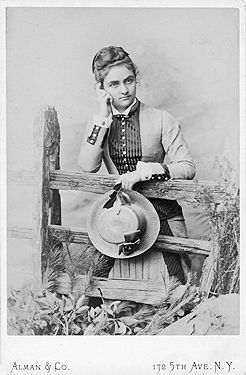 Mary Dewing & Friends, on the porch of Clark Dewing's House at the corner of Henry & South Streets
A Tiffiany Window was given to St. John's Epicopal Church in memory of Edmund Dickinson Smith by his widow, Mary Dewing Smith in 1904. "Edmund D. Smith was a navy captain who was killed during the Spanish-American War."
Note: It is not clear whether Smith was a navy captain or an army colonel, as we do have this information from the above page cited page on Mrs. Cruikshank:
"Charlotte Dewing Smith Cruikshank was born in 1897 in Sault Ste. Marie, Michigan, the daughter of Colonel and Mrs. Edmund Dickinson Smith of Stamford. When Colonel Smith was sent to the Philippines during the Spanish American War, his wife, Mary Dewing Smith, returned to Stamford with young Charlotte and her brother, Truman, and remained here after Colonel Smith was killed in February 1900 in the Philippine Insurrection."
Charlotte Cruikshank, Mrs. Smith's daughter, c. 1925.
Mrs. Cruikshank was a great benefactress to the Stamford Historical Society.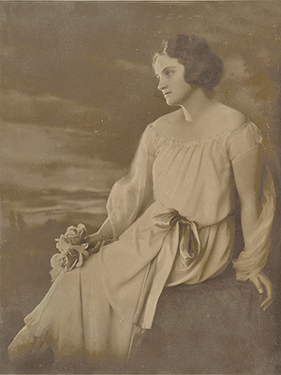 Margaret Weed
| | |
| --- | --- |
| On her wedding day, postcard. | On Broad Street Bridge, 1920 |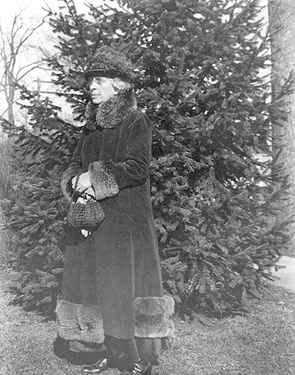 An unidentified photo, probably early 20th century.
Photos © Stamford Historical Society
Other Photo Archivist Selections of the Month
Photo Collection Information