Photo Archivist's Selection of the Month: January 2006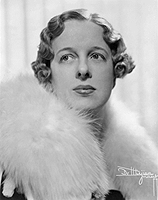 Emily Roosevelt, April 1936
Women's Fashion: Family Photos, Publicity Shots, Weddings
Publicity Shots
Emily Hubbard Roosevelt, Opera Singer (1893–1976)
In Philadelphia, she sang the title role in "Aida" (1828) and Venus in "Tannhäuser" (1929). More on Emily Hubbard Roosevelt. Photo dates may not be reliable.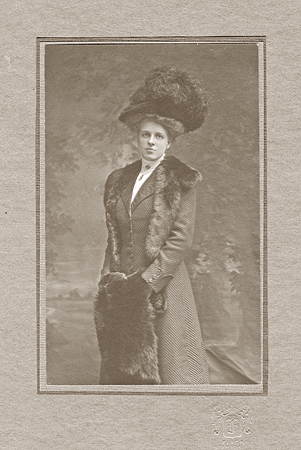 Undated
| | |
| --- | --- |
| undated | 1922 |
May Vokes, Actress (c. 1887–1957)
She lived on Haviland Road near Hunting Ridge Road.
Obituary
Internet Broadway Data Base.
Internet Movie Data Base.
Loraine Fielding
Loraine Fielding was a writer. The 1947 Esther Williams Movie, This Time for Keeps, was based on a story by Fielding and Erwin S. Gelsey.
According to the census, she was born c.1912 in New York City, daughter of George & Helen Hornaday Fielding; Helen, daughter of William F.[?] Hornaday, Naturalist. The Family lived on West North St., Stamford, CT. Hornaday was still living there in 1930, but the Fielding family is not listed. William Temple Hornaday was a founder of the New York Zoological Society, now the Wildlife Conservation Society [the Bronx Zoo], author of works on natural history. (Note 2009: The original internet link for Hornaday has disappeared, the above is a Wikipedia page, to be handled with the usual care.)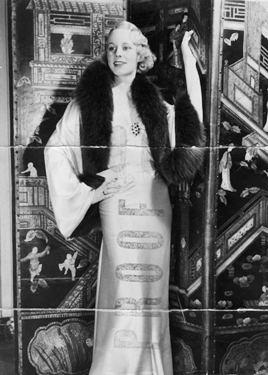 undated
Two 1932 photographs of Loraine Fielding from the Genthe Collection at The Library of Congress, Prints & Photographs. The title in the photos includes "Address: 20 W. 9th St., Stamford, Connecticut," but that presumably should read W. North Street.
Photos © Stamford Historical Society
Other Photo Archivist Selections of the Month
Photo Collection Information