Photo Archivist's Selection of the Month: January 2008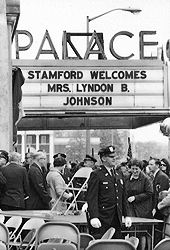 Ladybird Johnson Opens Kiwanis Park, May 16, 1968
As readers surely know, Lady Bird Johnson, widow of the late President Johnson, passed away in July of last year at the age of 94. It had been our intent to post a related photo selection as soon as we resumed this feature in the Fall, but yours truly the webmaster had an accident and a handicapped right arm until recently.
In the collection of The Stamford Urban Redevelopment Commission (URC), as recently described, we discovered photos from the dedication of the Kiwanis Park between Atlantic and Lower Summer Street, the first completed urban renewal project in downtown Stamford. The then First Lady, Lady Bird Johnson, officially opened the park, situated next to the Palace Theater, and pressed the switch that unleashed the fountain. (Today you will find a completely different park, redesigned when the Palace Theater was renovated a few years ago.)
The Advocate gave the event full coverage (PDF files):
Below are images of the event courtesy the URC. Readers are encouraged to fill in the missing gaps as far as identifying people is concerned. Please e-mail the webmaster.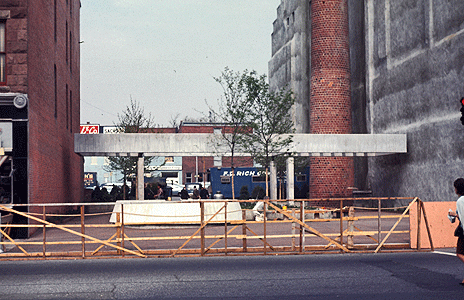 Before the ceremony.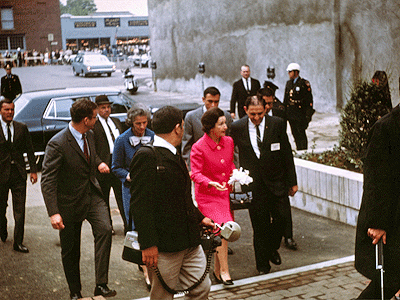 First welcome. The lady in blue is Mrs. Laurence Rockefeller.
Invocation and National Anthem
Rev. Rafe M. Taylor speaks the invocation. Mrs. Laurence Rockefeller at far right.
Mrs. Eugene Johnson sings the National Anthem (accompanied by the Stamford High School Band).
Congressman Irwin at the left of the First Lady, Mayor Giordano at the right.
Speachifying
The Fountain
The Public
Images Courtesy The City of Stamford, Connecticut, Urban Redevelopment Commission
Other Photo Archivist Selections of the Month
Photo Collection Information
Outside Links:
Washington
Lady Bird Johnson, Former First Lady, Dies at 94
By ENID NEMY, The New York Times
Published: July 11, 2007
Lady Bird Johnson, whose business skills cushioned President Lyndon B. Johnson's road to the White House, has died at 94.
Lady Bird: The Biography of First Lady Lady Bird Johnson (PBS)
Lady Bird Johnson died of natural causes on July 11, 2007 at the age of 94. She was remembered for increasing the role of the first lady to include active ...
Biography of First Lady Lady Bird Johnson, wife of President Lyndon Johnson
Images of Lady Bird Johnson: Introduction Page
Many of the images appear in the photo-essay book, Lady Bird Johnson – A Life Well Lived by Harry Middleton, Director Emeritus of the Johnson Library.
Lady Bird Johnson Wildflower Center - The University of Texas at Austin
Dedicated to educating people about the environmental necessity, economic value, and natural beauty of native plants.
Lyndon B. Johnson National Historical Park