The Old Town Hall II – Clock Tower Renovation and Reconstruction
October 2, 1975
The City signed Tuesday a $146,830 contract with the Bonina Construction Corporation of Stamford for renovation and reconstruction of Old Town Hall.
Mayor Frederick P. Lenz Jr. termed the contract "one of the most beneficial" of his administration. Signing for the contractor was its president, Leonard Bonina.
Architect for the project, Bertram Lee Whinston, stressed that the reconstruction work will retain the original character of the present building which has been officially designated as a historic American landmark.
The existing tower on Old Town Hall will be replaced and a new clock with automatic controls will be installed, the mayor explained.
"The present bell with its familiar sound will be saved for use in the remodeled tower," he said. "I know that all of our employees who are stationed in Old Town Hall will be delighted to have the old leaky roof replaced with a watertight new slate one which should end water dripping on their desks."
The new tower is being fabricated in Kentucky weatherproof aluminum, Mr. Bonina said. The aluminum will be covered with acrylic plastic to preserve the tower's appearance and new drains will be installed on the new roof and there will be new flashing.
Mr. Whinston added that other improvements to the building and its surroundings include a new plaza, new windows and the skylight in the entrance rotunda.
According to the contractor, work will start next week with the removal of the lower. Mr. Bonina said the removal might take place on a Sunday to avoid disruption of work in the building. The contract specifies 146 days for completion of the job.
Mayor Lenz expressed pleasure that the renovation will be in time for the City's observance of the nation's bicentennial celebration.
Thursday, May 6, 1976
TOWN HALL ADORNED – Old Town Hall gets a new bell tower Wednesday morning as a throng of downtown pedestrians watched. The new tower was trucked to Atlantic Square, hoisted by crane, shown left, and then slowly lowered into place. The five-ton tower, constructed of fiberglass and aluminum, replaces the original tower atop the historical building, which is being refurbished with City and federal funds. (Advocate Photos by Ryan)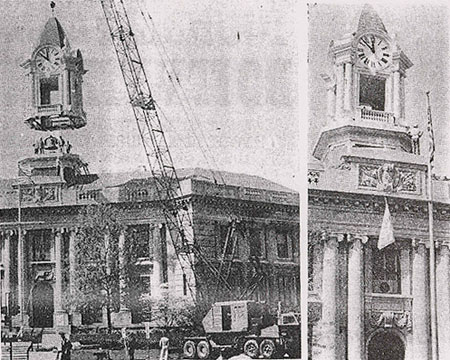 May 29, 1976
TURNING IT ON – Mayor Louis A. Clapes,. shown in inset, throws the switch to start up the clock in Stamford's historic Old Town Hall tower Friday afternoon. The tower, which had become leaky and damaged over the years, was taken off for restoration, paid for with federal and city money. With the mayor is City Highways Superintendent Patrick J. Scarella. (Advocate Staff Photo by Govoni)