Photo Archivist's Selection of the Month: March 2001
The Blizzard of '88 (1888 that is)
"The most famous snowstorm in American history, the Blizzard of 1888, has acquired an almost legendary status. Although there have been many heavier snowfalls and significantly lower temperatures, this blizzard's combination of inclement conditions has been unmatched in 110 years.
The 'Great White Hurricane,' as it was called, paralyzed the East Coast from the Chesapeake Bay to Maine. It began as a weak area of low pressure that formed in the northern Gulf of Mexico on March 10 before tracking up through Georgia to the North Carolina coast by March 11th. Moving slowly northward on March 11th and 12th, the storm remained relatively stationary off the southern New England coast on March 12th and 13th.
Light amounts of snow fell from the mountains of Tennessee up through the state of Maryland, while heavier snow fell from New Jersey up through eastern New York, Vermont, New Hampshire and much of southern New England, except Rhode Island and Cape Cod…"
to read more, click here: The Great White Hurricane March 11-14, 1888
---
Stamford, of course, was equally affected as other places. Society member Dorothy Mix recalls her father, Fred Hines, telling her his experience. March 12 was his fifth birthday, so he remembered it all his life. "We had to dig a tunnel to get to the barn!"
In Albany, N.Y., it was reported that a fire at the storm's height had destroyed much of Stamford. Fortunately, the report proved false, the blaze was contained to a telegraph office at the Stamford depot. (from the book: BLIZZARD! The Great Storm of '88)
The Marcus Research Library has a copy of an article in the Stamford Advocate under the dateline of Friday, March 16, 1888. (551 A). Here are some excerpts:
LOCAL AFFAIRS: The Great Snow Storm of 1888
"...By 10 'clock Sunday night the storm increased , and took the character of a "Dakota" blizzard. The air was so filled with particles of fine snow that even after day-break Monday morning one could scarcely see a distance of seventy-five feet. There was no intermission in the fury of the wind or the fall of the snow all day Monday nor during the night, nor in fact until day-break Tuesday morning when there was a subsidence of both wind and snow fall, though the temperature was low, reaching to ten above zero."
Business came practically to a standstill: "Milkmen gave up their routes, grocers and butchers for the time being abandoned all attempt to supply their customers, and congratulated themselves that for the most part the telephone lines were down so they could receive no orders which it was impossible to fill. The coal wagons were laid up also…"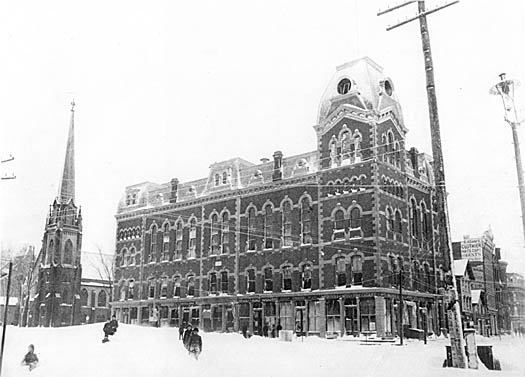 Children slide in the snow outside the Old Town Hall on Atlantic Square. Congregational Church in the background.
There is a long list of Blizzard Notes in the article. Below is a sampling:
"Many persons, employees of stores, factories, etc., started for their places of business and work, Monday morning, before they realized the difficulties in the way, but in most cases they returned to their homes, glad to get back safely."

"Harry M. Capper, a veteran soldier who lost a leg in the battle of Newbern, N.C., was found in a snow drift near D. Hanrahan's store on Monday nearly exhausted. He was carried to his home and soon recovered."

"A large elm tree in front of the "five chimney house" on Bedford street, was badly shattered by wind Monday."

"Snow shovels were in demand Tuesday. One dealer sold 38 and could have sold more if he had them."

"Two kegs of beer being towed through Main street on a hand sled was one of the amusing sights of Tuesday morning."

"A horse was badly cut on Tuesday morning by becoming entangled in a fallen telephone wire which was buried in the snow, on Main street."

"Three or four Stamford gentlemen could have been seen, Tuesday morning, walking about town on snow shoes, and appeared to be quite expert in handling the (to this vicinity) novel foot gear."

"Henry Lockwood, hardware dealer, is said to to have been the first man to come out with a sleigh on Wednesday."



"Wednesday morning, F. Hoth with four horses hitched to a lumber box wagon, and aided by fifteen men with shovels started from the Stillwater ice houses to break a road into town. They encountered drifts ten feet deep in the side street running to Summer street, and after a hard struggle were compelled to abandon the undertaking."

On Wednesday the borough authorities, as a matter of coming most properly within their province, hired Mr. John Ferris, with five yoke of oxen and a force of laborers to break open the roads. These did good work throughout the day and aided materially in opening practicable routes for wagons with supplies of coal, groceries, etc."

Of course, nothing much changes:

"Much complaint, with how much justice we cannot say, has been made against superintendent Turner [of the railroad], while some of our informants say he does all that can be done in the circumstances. It is plain, however, that no adequate snow plows have been available, like some of those in use on Canadian and Western roads, and which go through snow drifts ten feet high like a hot knife through butter."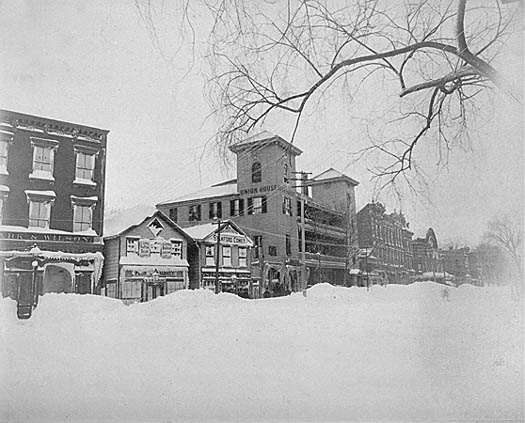 The North Side of Main Street after the blizzard.
Union House Hotel and two small frame buildings housing the restaurant of Mrs. William E. Knapp, the Tailor Shop of Samuel Lang, the meat market of Stiles C. Stevens, and the "Stamford Comet", which was then published by William A. Royce. On near left is Stark & Wilson.
"Photographer Havee, also Mr. Mansfield Toms, took a large number of photographs of scenes in the various streets with their mountainous banks. These will be interesting mementos of "The great snow storm of 1888." In Cottage street the snow was in places as high as the second story windows. On Main and Atlantic streets when the snow was shoveled off the sidewalks the heaps on the streets were raised in places to the height of eight and ten feet deep and even more. In front of Wycoff's an archway was cut through the drift to the middle of the street. In front of Faucett's harness shop a similar arch was built and surmounted with the American flag

[seen in photo below]. The structure bore the following legend:





ARC DE FAUCETT,
Main Street, Stamford, Ct., M'ch 14, '88
10 feet high, 7 feet from keystone to highway.
ADMISSION FREE.


And here is a bit of sarcastic editorializing:

"It does not appear that our great railroad has earned much glory in its dealing with the situation. The storm, to be sure, was something unprecedented in the history of railroading in Connecticut, but it does seem as if the great railroad with all the power of man and machines that it can command, should not be practically dead so far as the needs of the traveling public is concerned for forty-six to forty-eight hours after the snow storm, however extensive, has ceased."

"Many western railroads have to contend every winter with not one but several such storms, and such a thing as entire suspension of traffic for nearly a week is unknown except of the weakest of the roads. The fact seems to be demonstrated that our great railroad is not suitably equipped to contend with a first-class snowstorm, and it is very lucky they don't come often in this section."



Indeed, many commuters and other passengers, said to be some 1500, were stranded in Mount Vernon for several days - and the residents of Mount Vernon highly lauded for their hospitality, as described in a lengthy letter from a Stamford commuter. It ends a follows:

"...It being Monday morning, most of us had left our spare funds in the care of our wives or on the church plate, but Mr. Thomas W. Hall was reported to have sixty dollars over, and when he arrived home fifty-five dollars had been borrowed. Messrs. Phelps, Julian Curtiss, Weston, and others walked up from Mount Vernon to Greenwich, Mr. Curtiss feeling the need of the walk to work off his surplus vitality, having spent two nights in Mount Vernon entertaining his companions and landlady with remarks on various subjects, varied with vocal music.

I would not in my ignorance criticize the management of the road, but I think there was a general feeling that a little of the Curtiss energy in charge of things could have been inspiring and comforting if not useful.



A COMMUTER"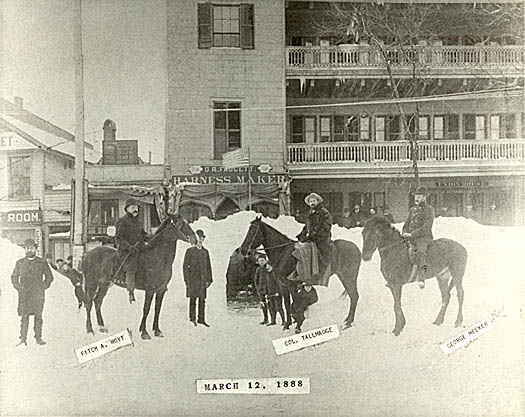 The Union House Hotel a few days after the storm.
The men on horseback are: Fitch A. Hoyt, Colonel Tallmadge, and George Meeker. Observe the flag in front of Faucett's harness shop…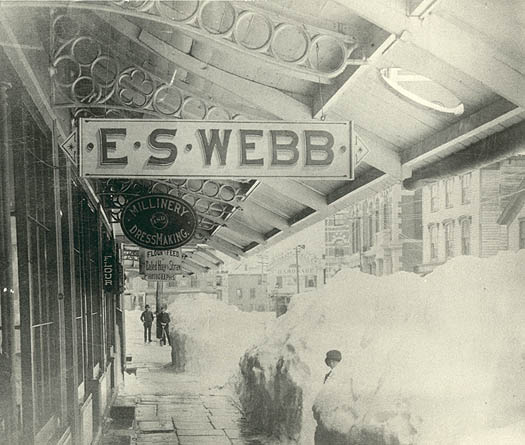 Store of E.S.Webb, dry goods and gents' furnishing goods, on 94 W. Main Street, looking towards Atlantic Street.
The article closes with "News from Down the Road":
"...The New York daily papers have but little telegraphic news either from eastern points or from the interior towns of the west. The storm was very severe in New Jersey and is supposed to have been felt heavily far to the westward, though it is believed that beyond Chicago there was no great storm or its approach could have been earlier reported. In the absence of reliable news the papers have many sensational reports, which must be taken with a great deal of allowance."

The railroad problems get some assist from a Stamfordite:

"...Henry R. Towne, Esq., President of Yale & Towne Co., offered to construct a snowplow powerful enough to clear the road. He also loaned electric batteries to the company which will be put in use to-day on such portions of the line as can be restored."
New York City:

"From New York papers of yesterday we obtain the following particulars: The city is in a paralized condition, the wheels of business motionless, traffic and communication suspended and the peril of scarcity of food and fuel imminent. It will be a gigantic job to raise the blockade and again put the wheels of industry in motion, but good progress has been made and better feelings are hourly growing. The elevated roads are running, but up to this morning the horse cars were stopped. The streets were choked with ice and snow varying in depth from two to fifteen feet. Narrow thoroughfares were blockaded completely. On some of the cross streets there were drifts as high as the second stories, and mountainous ridges extended along the curbs. The East River was gorged with ice, and below the bridge many crossed on foot."
For a full review of this instructive and often entertaining article come visit us at the Stamford Historical Society at 1508 High Road.
The Blizzard of December 26, 1947 was nothing to sneeze at either…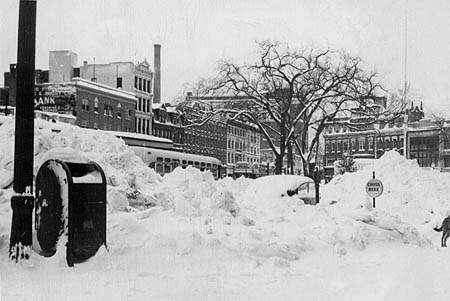 Upper Atlantic Street & Park Row, behind Central Park
Photos © Stamford Historical Society
Other Photo Archivist Selections of the Month
Photo Collection Information