Photo Archivist's Selection of the Month: April 2006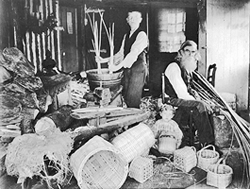 Rezo Waters, Basket Maker
At the turn of the last century, Dantown, located in North Stamford near New Canaan and Pound Ridge, was a bustling basket making center. By 1880 a large number of families were involved in the trade, and it was such an extensive business that the baskets were used as legal tender in an area of 50 square miles. They made their sturdy products in a variety of forms and sizes, and they used equipment such as shaving knife, soaking tub, pounding stone and basket horse. A review of a 2000 Exhibit at the Wilton Historical Society has this to say about Dantown:
Of particular interest are the less well-known baskets from the local area. Basket making was a substantial business in rural north Stamford, in an area called "Dantown," and in Scotts Corner and Pound Ridge just a few miles away across the New York State border. These basket makers made very sturdy oak splint baskets intended for the oyster and claming industry in Norwalk; for fruit picking in the orchards in Fairfield County; and coal and laundry gathering for the farms and barns and shops.
The business declined in the early 1900s. In 1923, to ensure the city's water supply, a dam was built across the Mill River and the Dantown area was flooded, creating Laurel Reservoir.
We have images in our collection of basket maker Rezo Waters and other familiy members in the "Rollo Waters' Family Album" (a loose collection despite its label), several of these without names though. Rezo is also featured in a January 1917 Guide to Nature article:
| | |
| --- | --- |
| | |
| MR. REZZO WATERS, STAMFORD, CONNECTICUT | BRINGING HOME A STICK FROM WHICH TO MAKE THE SPLINTS |
Rezo Howell Waters, 1850-1919, had his workshop on Ingleside Road. The 1900 census lists Rezo as head of household, wife Judah (Judah "Jeanie" Miller Avery, 1860-1936), born in Cross River, N.Y.) and four children: Les (or Leo?), born 1880, Myra, born 1887, Cora, born 1893, and Ernest A., born 1894. Another son, Rollo, born 1882, is listed as boarder with Richard and Tamizon Scofield. Richard Scofield was a basket maker too. Rezo's obituary.
In the photo below of his workshop, c.1900, Rezo is seen pounding stone, with his son Ernest at the tub. At least the label says Ernest, but from the ages above, it should be rather Les/Leo.The little girl in the photo may be his youngest daughter. In our records, Rezo is listed as Police Constable in 1874.
Rollo Waters, 1882-1965, at one time made clam baskets which he took to Fulton Market in New York by horse and wagon. He was to be the last basket weaver in the area and had his workshop on High Ridge Road, opposite the High Ridge Market, which stocked his wares. He was married to Charlotte M. Dann, whose father, D. Webster Dann, was also a basket maker. The 1900 census shows several Danns who were basket makers. Rollo's obituary.
Rollo Waters' workbench and unfinished basket
from the Society's collection
Photos from the Waters Image Collection:
Rezo (Tintype)
Label says Rezo and Jeanie, but are they? Could they be Charlotte Dann's parents? (Tintype)
daughter Myra (undated)
| | |
| --- | --- |
| | |
| Charlotte Dann (Rollo's wife) and her brothers (Tintype) | Charlotte Dann Waters at left (Tintype) |
---
The images below from the Waters collection are without any names, and undated.
They are sorted by the photographer's ads on the back of the photos.
One could speculate that these photos are of Judah, the two older sons, and the daughters Cora and Myra. Anyone who can shed light on this, please e-mail us at history@stamfordhistory.org
---
Rezo Water's Obituary

Rollo Water's Obituary

Stamford Advocate, Nov. 5, 1919

At High Ridge, Nov. 5, REZO H. WATERS – aged 69 years. Funeral services at the High Ridge M.E. Church Friday at 2 P.M. – Interment High Ridge cemetery.

Stamford Advocate, Nov. 8, 1919

Rev. Thomas L. Price of this town conducted the funeral service, at High Ridge, Thursday, of Rezo Waters, the picturesque old basketmaker of that section, who died this week. Mr. Waters' beautiful, long, silver hair was familiar to people for miles around Stamford, to whom, during the spring and summer of each year, he sold the baskets in whose manufacture he had been busy during the cold weather. He was a unique character, a natural genius, with a fund of nature-lore and a large familiarity with modern literature and culture as well.

Stamford Advocate, Dec. 31, 1965

Rollo Waters, 83, of 3070 High Ridge Rd., died this morning at his home. Mr. Waters was born in South Salem, N.Y., and was retired superintendent of the High Ridge Cemetery in Stamford. He was predeceased by his wife, Charlotte Waters. Surviving are a son, Earl of Stamford; a daughter, Mrs. John Maziarek of Stamford; a sister, Mrs. Cora Brown of San Francisco; three grandchildren and four great-grandchildren. Funeral services will be Monday at 2 p.m. at the Franklin Hoyt Funeral Home, 184 South Main St., New Canaan, with Rev. Edwin S. Gault, pastor of the High Ridge Methodist Church officiating. Interment will be in High Ridge Cemetery. Friends may call at the funeral home Sunday night from 7 to 9.
Photos © Stamford Historical Society
Basket Weaving
http://basketmakers.org
Other Photo Archivist Selections of the Month
Photo Collection Information