Photo Archivist's Selection of the Month: APril 2008
Baseball in Stamford
From the Old Timers' Athletic Association of Stamford Brochures
The Marcus Research Library has a collection of Annual Sports Dinner & Awards Night brochures of the Old Timers' Athletic Association of Stamford. They contain biographies of members and sports figures as well as photos of sports teams. Below is a selection of baseball related photos.
Salute to Bobby Valentine, 1972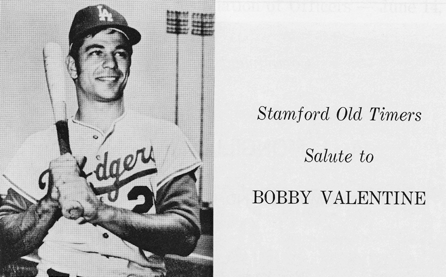 Schools and Churches
From the 1961 Program: 1911 St. John's R. C. Church Altar Boys Baseball Team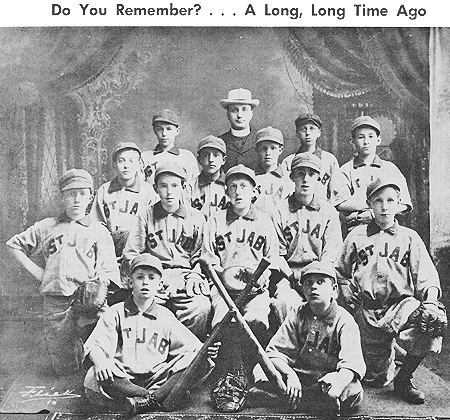 That year champions of the Westchester County and New England District Altar Boys, Baseball League.
(Bill Haggerty played on the 1911 and 1912 teams, under the watchful guidance of Father Sullivan and Father Rizzo).
From the 1962 Program: 1927 Holy Name Baseball Team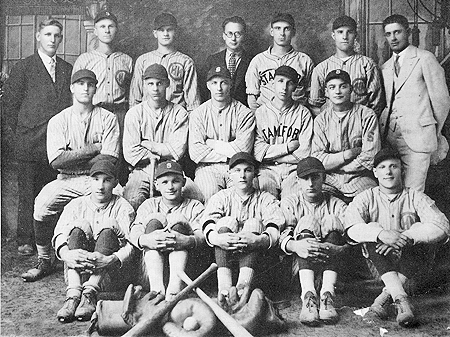 Standing, left to right, Stanley Mrus (Mgr.), Parker, Kliff, Lenczyski (Scorer), Bella, Waskiewicz, Zaremski (Steamer Stanley).
Second row, left to right, Al Koproski, Wilkes, Goscinski, Malin, Dombroski.
Front row, left to right, Niezabitowski, "Yosh" Byczaika, "Whitey" Czescik, "Mo...(?)" Koproski, Duda.
From the 1981 Program: 1932 Sacred Heart Baseball Team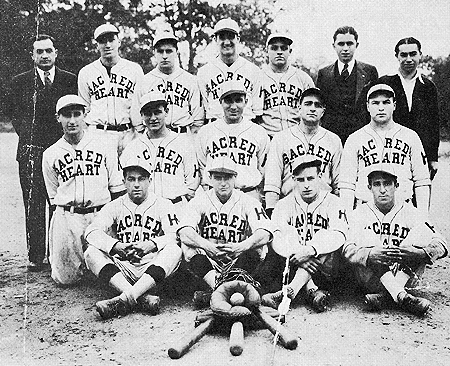 Nick (Ace) Valli, left front row
Babe Ruth & Federal Little League
From the 1957 Program:
Old Timers' A. A. Baseball Team – Champions of the American Babe Ruth League – 1956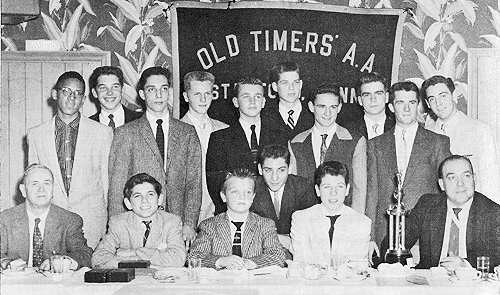 Front Row left to right: Nicholas Bologna, President Old Timers' A. A., Joseph Labbodia, Lorry Duckman (Bat Boy), Steve Karp, Andrew Grisko, Coach Al Judge. Standing left to right: Don Bannister, Paul Syemeon, Robert Frattaroli, Thomas Byrne, Henry Duckman, William O'Connor, Roily Wahl, Frank Mastrianna, John Vonlangen and James Sabia.
From the 1972 Program: 1956 Babe Ruth League World Champions – Trenton, N.J.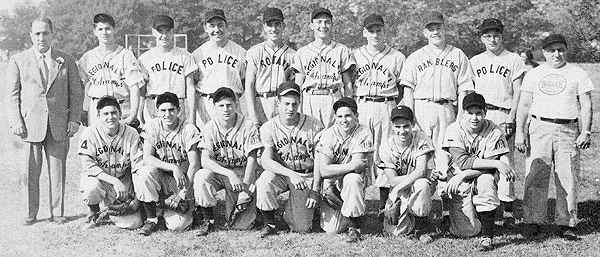 Front row: (Left to Right) – Dom Uva, Steve Chocas, Bill Druehl, Co‑Captain Charles Price, Bill Romaniello, Dom Viesto, Andy Wasi.
Back row: (Left to Right) – Co‑Coach Mickey Lione, Sr., Joe lnzitari, Fred Padgett, Peter Somma, Jr., Charles Willard, Frank Frattaroli, Co-Captain Charles (Zeke) Symeon, Michael Carella, Co‑Coach John (Sharkey) Laureno.
From the 1989 Program:
Stamford Babe Ruth All Stars won the Babe Ruth National Championship, played in Texas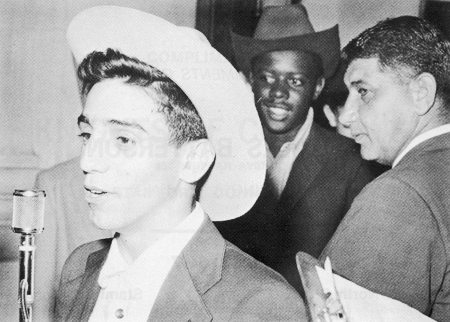 Picture - L - Tony Attansio, C - Ed White, R - F Chicatell Tony at the micro-phone at the homecoming victory celebration at the Old Town Hall
( No date given, 1989?)
From the 1966 Program: 1955 Federal Little League Champion Team – Yale and Towne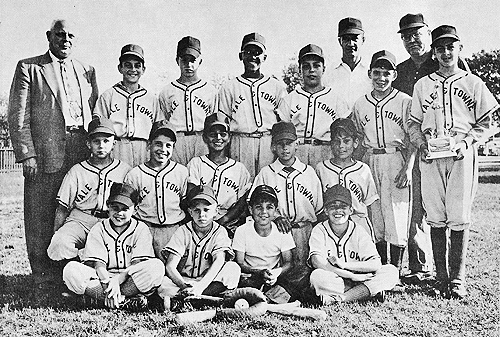 Left to right, front: Zane Kaminsky, Dennis Murty, batboy, Dave Rasines, Jr.
Middle: Stan Kaminsky, Charles Franchina, Don DelMazzio, John Zeiss, Pete Esposito.
Back: Michael J. Drotar, Federal Little League President; Al Levine, Ted Owens, Don Bannister, John Czarnecki, Coach Dave Rasines, Sr., unidentified player, Manager Whitey Robinson, Frank Rende.
Federal Little League
Stamford Little League
Other
From the 1957 Program: East Side A.C. Baseball Team – 1914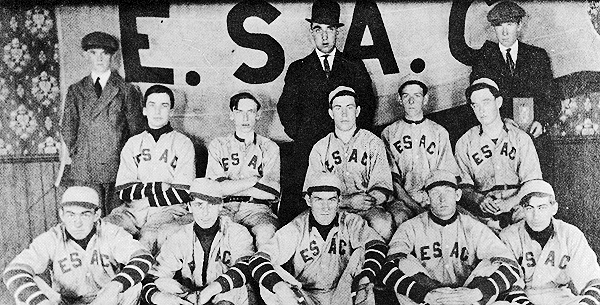 Top Row: Tommy Conners, bat boy, Henry Franklin, Jack Nolan,
2nd Row: Hugh Mathews, Larry McKeon, Joe Hanley, Jim Broderick, Martin Gillespie.
1st Row: Martin Gill, S. McKeon, Bernard Hagan, "Copper" Collery, Steve Blazey.
From the 1982 Program: Lone Star Twinkies – 1930 City Champions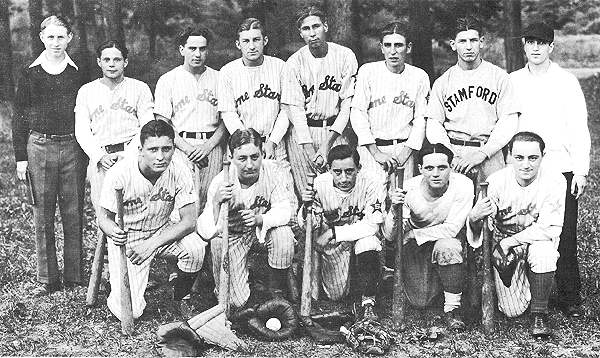 Standing, L to R: Gene Caporizzo, Bill Romanello, Rocco Macchio, Al Bridge, Spec Spiers, Harry Fedele, Gates lovino and Arthur Tozzoli.
Front row, L to R: Loreto Vitti, Mike Laureno, Ben Ferrara, Paul Romanello and Sharkey Laureno.
From the 1966 Program:
1932 Stamford Gas & Electric Team – Twilight and City Industrial Champions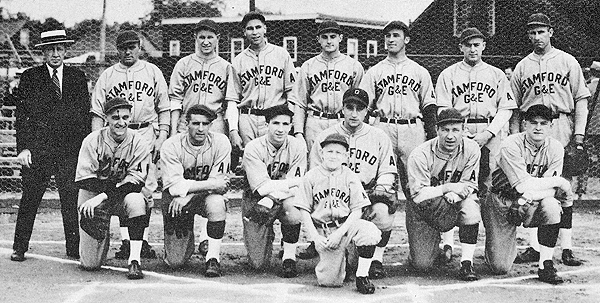 Front Row – Chick Martin, Frank Koproski, Lou Montagnino, Mascot, John Murphy, Mickey Lione, Pete Hammernick, Joe Czescik.
Back Row – J. C. Murphy, coach, Ted Bottomly, Mgr., Sam Kotos, Spec Spiers, Milt Pearson, Joe Yaeger, Jim Koproski, Harry Weaver, Capt. Lou Montagnino.


return to Baseball in Stamford