Photo Archivist's Selection of the Month: July 2005
JULY
FOURTH
IN
STAMFORD
A selection of July Fourth images from 1898 to the Bicentennial from the Society's collection. The quality of the original photos is not always the greatest, but we hope our viewers will enjoy them nonetheless. Through 1912, it was still horse & wagon for the floats, but by 1913 we had become motorized.
| | | | |
| --- | --- | --- | --- |
| 1898 | 1912 | 1913 | Bicentennial 1976 |
1898
at Central Park
Firemen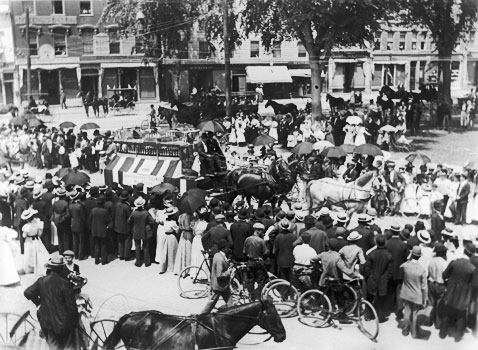 Soldiers

"Rough Riders"


this title seems somewhat doubtful, since the Spanish-American War had just begun.
Yale & Towne Float

Order of Sons of St. George, Anglo-American Alliance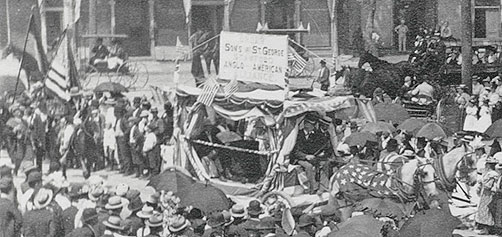 Order of Sons of St. George
Acme Soda Water Float

Y.M.C.A. Float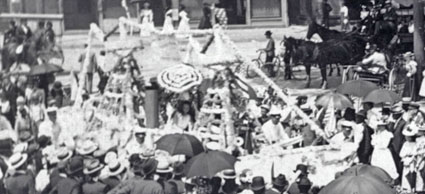 The "Lady Riders" of the Bicycle Club?


There were also Civil War Veterans, Indians, etc., but those photos are rather poor. All of them were apparently taken out of a window of a nearby building,
and the focus was not always on the particular parade, it seems.
… and finally: Make way for the police! Chief George Bowman leading the troops.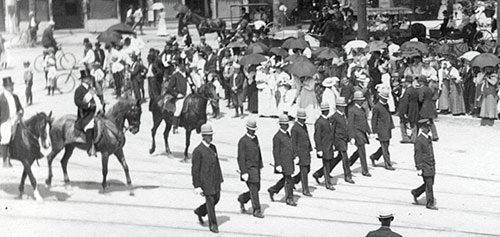 Photos © Stamford Historical Society
Other Photo Archivist Selections of the Month
Photo Collection Information