Photo Archivist's Selection of the Month: December 2000
What would be a suitable selection for December?
How about the railroad?
In 1949 The Fidelity Trust Company commissioned Stanley J. Rowland, one of the most prominent artists ever to have made Stamford his home, to paint six Stamford scenes as murals on the walls of the bank's main office at 129 Atlantic Street "with the highest degree of historical accuracy possible, the changing Stamford scene through the first 250 years of the community's existence." A brochure on the murals was published as a Bicentennial gift to the community, called Stamford scenes from yesteryear, reproduced on this website. The murals are now in the possession of the Stamford Historical Society.
So…here are some railroad pictures…
1860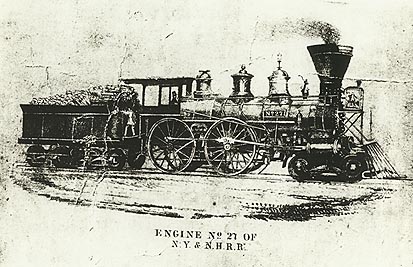 1868: The Stamford Depot of the New York and New Haven Railroad
Daily trains began running on regular schedule through Stamford on January 1, 1849. The above depot was built in 1867 and stood a short distance east of what is now the junction of Atlantic and State Streets. At that time, the railroad had two tracks and passed through town on ground level and crossed the streets at grade. In the mid-1890s two additional tracks were added, and most crossings were elevated and bridged. As a result, the depot was razed and covered over, and a new railroad station was built, as depicted below.
Early 1900s
Undated: Adams Express

WWI: Soldiers Departing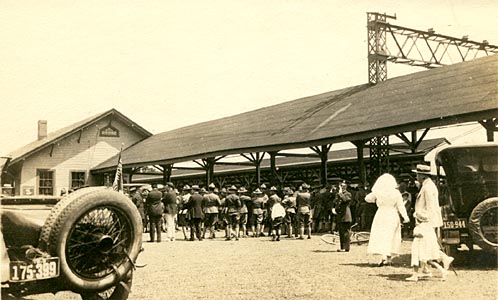 Tuesday, April 30, 1935: Train Wreck on Atlantic Street Bridge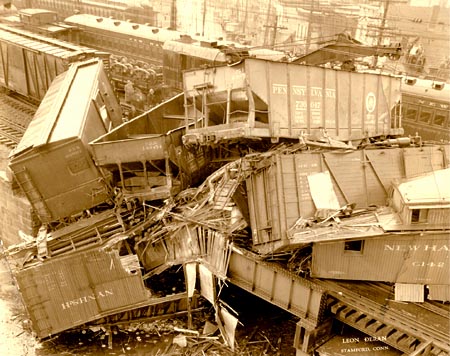 1960: Before the days of Metro North
Photos © Stamford Historical Society

Learn more about James Henry Hoyt, instrumental in the building of the New York and New Haven Railway and its third superintendent, from a contemporary of his, the Reverend E. B. Huntington.
Connecticut Railroads : an illustrated history
by Gregg M. Turner & Melancthon W. Jacobus
can be viewed in our Marcus Research Library or borrowed from the Ferguson Library.
Other Photo Archivist Selections of the Month
Photo Collection Information