Murals: Stamford scenes from yesteryear
Preface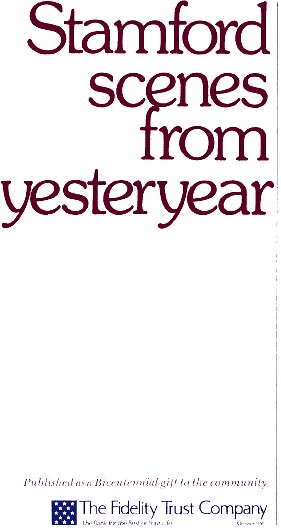 In 1949 The Fidelity Trust Company commissioned the late Stanley J. Rowland, one of the most prominent artists ever to have made Stamford his home, to paint the six Stamford scenes herein as murals on the walls of the bank's main office at 129 Atlantic Street.
Mr. Rowland's commission enjoined him to depict, with the highest degree of historical accuracy possible, the changing Stamford scene through the first 250 years of the community's existence.
Completed and installed in July of 1950, the murals have already served to remind one generation of Stamfordites of their city's historical past. In fact, the murals themselves have almost achieved the status of historical landmarks, often being used in historical publications as the most authentic view of early Stamford life available.
That the murals will be available to future generations was assured by the foresight of bank officials who had them painted on removable canvas, rather than directly on the walls. In that way, though the face of Stamford may continue to change, it will be possible to preserve the canvases.
In this year of 1976, when our nation is observing its 200th anniversary, The Fidelity Trust Company felt it appropriate to make these full-color reproductions of the historic murals available to any Stamford or Darien family that wishes them as a gift from "the bank for the best of your life."
This brochure was published as a Bicentennial gift to the community.
The murals are now in the possession of The Stamford Historical Society.

Images © The Stamford Historical Society