Picturesque Stamford, 1892
Financial Institutions, p 224
CITIZENS SAVINGS BANK.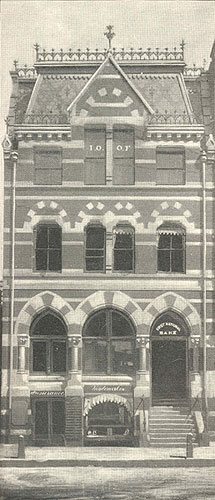 The act incorporating the Citizens' Savings Bank of Stamford was passed by the General Assembly in 1869, the corporators being John P. Hamilton, John D. Ferguson, Wells R. Ritch, William A. Keeler, Joseph D. Warren, William R. Fosdick, James Wilcox, George E. Scofield, Isaac Wardwell, Charles Williams, Jeremiah L. Sackett, H.M. Humphrey, George A. Hoyt, Charles J. Starr, Seth S. Cook, Edward Gay, Charles Gaylor H. K. Skelding, Joseph B. Hoyt, Edward Phillips, T. H. H. Messinger, Geo. Gaylor, C. Hoyt, Geo. L. Brown Brown, Walter M. Smith, Calvin G. Child, Edward A. Quintard, Chas. Brown, Wm. Hoyt James D. Smith, Oliver Hoyt and Benjamin L. Waite.
The bank has opened for business in the same year in Seely's (now Miller's) Block, with the following officers : Wells R. Ritch, President; Dr. H.M. Humphrey, Vice-President; William C. Hoyt; Secretary and Treasurer. Upon the death of Mr. Ritch in 1887 Seth S. Cook became President. The latter died in 1891 and Charles Gaylor was chosen in his place. Dr. Humphrey resigned the Vice-Presidency in 1874, when Charles W. Brown was elected. Shortly after the death of Mr. Brown, John P. Hamilton was elected to fill the vacancy. The present Treasurer, Henry N. Riker, has filled that office since 1883, when it became vacant by the death of Mr. Hoyt. Mr. Riker has been connected with the bank since 1874. The present Directors are Charles Gaylor, T. H. H. Messinger, William Hoyt, John P. Hamilton, Henry V. Riker and William D. Smith. The Attorney is N. R. Hart.
| | |
| --- | --- |
| | |
| JOHN P. HAMILTON. | HENRY V. RIKER. |
The number of depositors is about 3,200 and the amount on deposit about $1,570,000. There is a book surplus of $50,000, and if the securities were quoted their market value (as in New York State), the surplus would be almost $200,000, showing a flourishing condition of affairs The bank has always had a reputation of being conducted and managed with care and ability and is a decidedly popular institution.
The bank occupies, jointly with the First National Bank, one of the handsomest buildings in town, located on Atlantic Square, an engraving of which appears on page 222. The counting room, directors' room, together with the corridor, are also shown on page 223.
Photo Selection of the Month, November 2009: Citizens Savings Bank c. 1914
Picturesque Stamford, 1892
Research Library
917.46 Stamford G
---