Picturesque Stamford, 1892
Mercantile Affairs, etc., pp 278, 279
Hotels.
GRAND UNION HOTEL.— The erection of the Union House is referred to in the historical portion of this work. The circumstances under which it was built make it one of the most interesting structure in Stamford, and it is one of the most prominent buildings in the business centre. The present proprietor, John McDevit, greatly improved the house, and his enterprise and careful management have largely added to its reputation. The name was changed about a year since to The Grand Union Hotel. There are good accomodations for travelers, who largely patronize this house, and it contains a large number of regular boarders. Mr. McDevit has been for several years in business in Stamford, and is a prominent member of the Scottish Society. The hotel has been particulary fortunate of late in securing the services of Mr. H. E. Mackee as Manager, whose ability and enterprise are seen in the inauguration of many striking improvements in all departments.
| | |
| --- | --- |
| | |
| THOMAS F. COLLINS. | JOHN McDEVIT. |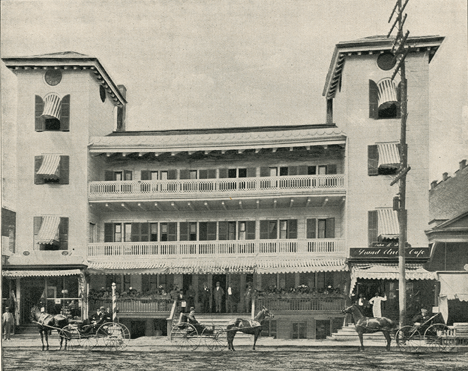 GRAND UNION HOTEL, MAIN STREET.
ARLINGTON HOUSE is located on Glenbrook Avenue, under the management of C. R. Parfitt, has for several years enjoyed great popularity. Its high, healthful and convenient location and the attractiveness of its surroudings make it a favorite resort. The house is open all the year. The proprietor is an experienced hotel man.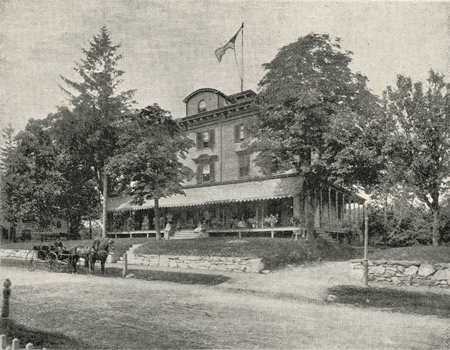 THE ARLINGTON HOUSE, GLENBROOK AVE.
STAMFORD HOUSE.— Many historial associations cluster about the Stamford House. Part of the structure is a century old. In the days of stage coaches it was known as the Stage House, and was one of the principal stopping places where travelers between New York and Boston found rest and refreshment. In later years the house has been greatly improved and has a high standing among the hotels in this section. Under the managment of John H. Barlow, the hotel has been very successfully conducted. The owner of the building is Tobias Bernhard.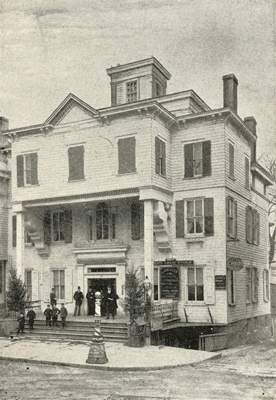 STAMFORD HOUSE, MAIN STREET.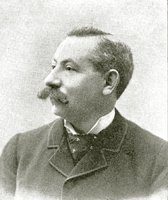 TOBIAS BERNHARD.
TOBIAS BERNHARD established the millinery and fancy goods buisness, which he now conducts, in Miller's (then Seely's) block in 1867. For four years previously he had conducted stores in Danbury, Waterbury, and Bridgeport. Mr. Bernard is a selfmade and successful merchant. He has large real estate interests in the town, and helped organize the Board of Trade, of which he is an active director. His store is 25x80 feet.
The Stamford House Register (1865-1869) – RG15
The Stamford Board of Trade – RG9
Photo Selection of the Month, March 2009
Picturesque Stamford, 1892
Research Library
917.46 Stamford G