Photo Archivist's Selection of the Month: March 2009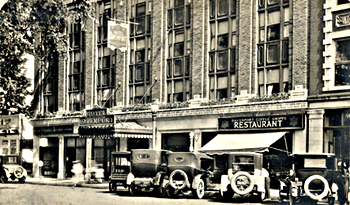 Postcards: Hotels in Stamford
It's postcard time again! Here are postcards of hotels from the late 19th to the late 20th centuries, albeit less than we could wish.
In 1892, there were thirteen hotels in Stamford. Three of those are written up in Picturesque Stamford, 1892.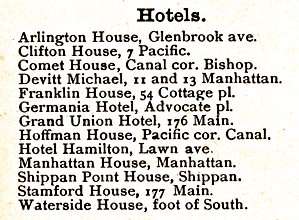 One of these was the Grand Union Hotel.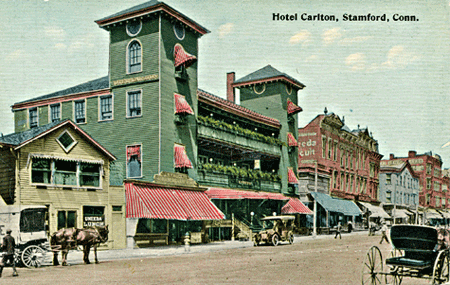 This hotel, at 176 Main Street, was originally called Union House Hotel. The name was changed some time between 1888 (whence we have blizzard pictures) to Grand Union Hotel, and at a later date Carlton House.
The origin of the Union House Hotel
---
The Stamford House was located on 177 Main Street at the corner of Stage Street, on the block between the canal (later Canal Street) and Pacific Street.
A Promotional Description of the Stamford House Hotel, undated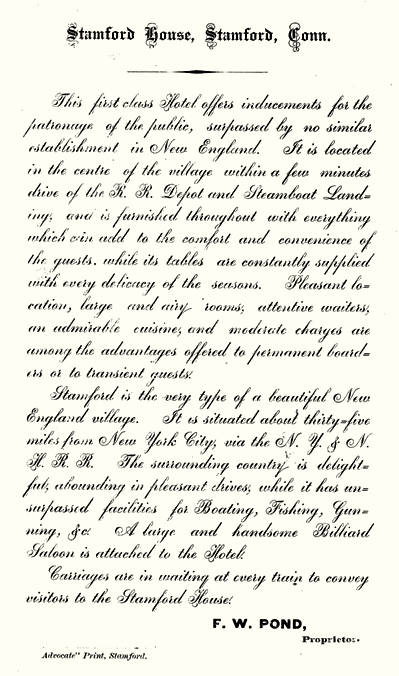 The Stamford House Register (1865-1869) – Record Group 15. The register of the old Stamford House for the years 1865-1869, along with a photograph of the old hotel, was donated to the Stamford Historical Society in November 1990 by Carolyn Berges Morrison and Ruth Berges Schiaroli (the daughters of Elizabeth Adams Berges), the granddaughters of Robert Francis Adams, who in the early 1900's (1906-1915) owned and operated the Stamford House, the town's stagecoach inn. In 1915 Mr. Adams and his partner, J. Hawley Ingalls, built the first modern hotel in Stamford which was known as the Davenport Hotel and in later years renamed the Stamford House, after the original. (When the Davenport Hotel was first opened, the guests of the old Stamford House moved right into the new hotel.)
---
The Rockland Hotel, at corner Atlantic and Henry streets, started out as "Rockland," the residence of Henry R. Towne, built in 1875.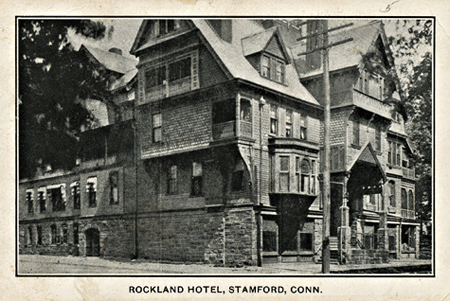 ---
The Davenport Hotel was built in 1915 on the site of the Davenport Homestead (which was moved to Lower Summer Street) on West Park Place by Robert Francis Adams and J. Hawley Ingalls, see Stamford House above. The building itself is still standing today, the only one of the old hotels..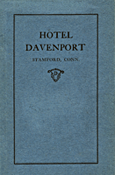 We do have an undated brochure of the Davenport Hotel in our Vertical Files Register in the Library – most likely ca. 1923, going by the history of Stamford and timeline given in the booklet. It contains all sorts of useful information, from the railroad time table to "Fire Alarm Signals and Location."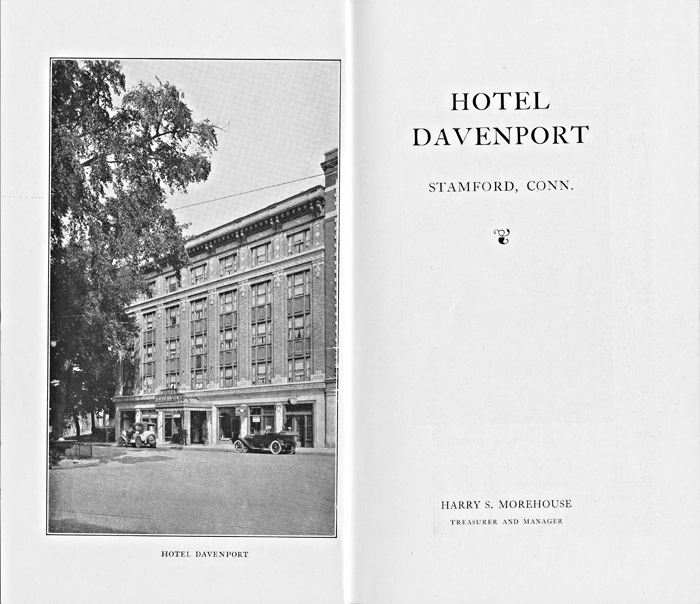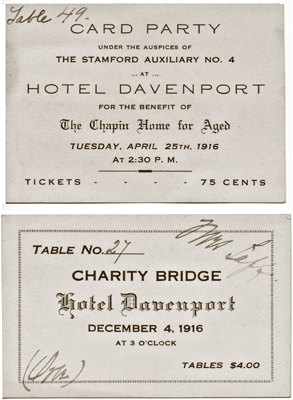 ---
The Roger Smith Hotel opened on December 29, 1928 on River Street (now Washington Blvd.) and was closed and demolished in 1981 as part of the Urban Redevelopment Project. The motor lodge was added in the 1960s.
The motor lodge image above shows quite some imagination as far as the almost rural background is concerned …
A 1970s memory by this writer: the Presidential Suite all done up in bluish-green Naughahide.
More on the Roger Smith Hotel
Urban Redevelopment Photos
---
The Marriott Hotel still stands on Tresser Boulevard.
---
Shippan
Images © Stamford Historical Society
Fun at the Beach (Shippan Point)
From Our Postcard Collection: Bridges
Personal Postcards
Portrait Postcards, Early 20th Century
Postcards from another age
Picture Show (dating back to the first days of the website)
Other Photo Archivist Selections of the Month
Photo Collection Information