The Stamford Historical Society Presents
Portrait of a Family: Stamford through the Legacy of the Davenports
Davenport Homestead Main Street (now West Park Place)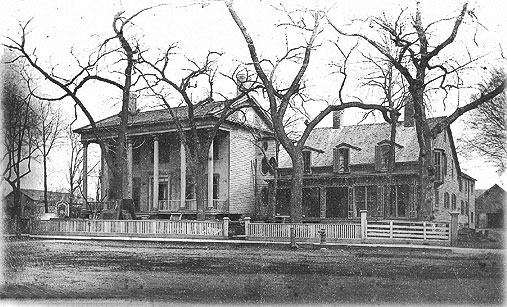 On display in the exhibit:
Davenport Homestead. The above photograph, taken around l882, is of the Davenport homestead, or mansion, as it was commonly referred to, on Main Street in Stamford. The homestead stood near the corner of Summer Street, and was actually comprised of two houses. The one on the right was that of Abraham Davenport which adjoins the pillared residence on the left, built by the Hon. John Davenport in 1807.
Picturesque Stamford, 1892
The original photograph is in the Society's collection
Hotel Davenport, c. 1923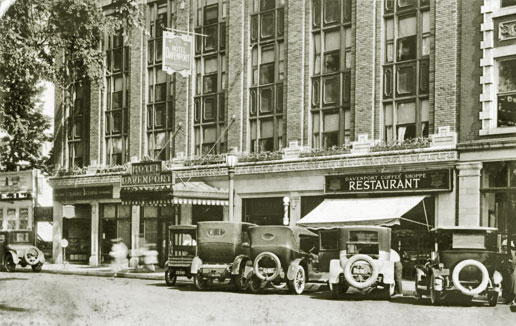 The mansion was later moved to Lower Summer Street, and in 1915 the Davenport Hotel was built on the original site. This building still stands. There was no Davenport family connection with the hotel; it was named for the site.
Postcard, Stamford Historical Society
1933 Whitman BaileySketch of the Homestead.
The works of Whitman Bailey, a color-blind artist, first appeared in The Stamford Advocate in 1924. Avid readers watched for his weekly sketches and historical write-ups for close to 30 years. Fortunately, Richard H. Gillespie, publisher of The Advocate, realized what Bailey's talents would mean to future generations.
Stamford Historical Society
Detail from an 1823 map of Stamford, showing the Homestead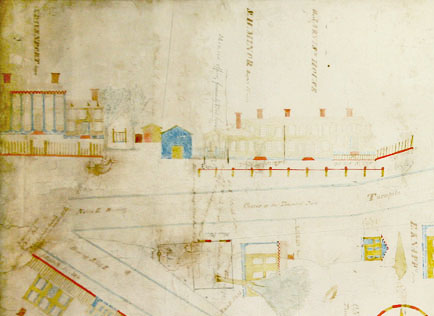 Stamford Historical Society
Mahogany Tall Case Clock, c. 1810, possibly New York.
This American clock has a molded arch top supported by round columns with brass capitals and plinths. The conforming front encases an American-made face painted with neoclassical design elements and colors. The works, circa 1805, were made in England and are marked "Osborne, Birmingham, England."

The clock stood in the old Davenport Homestead on Main Street and was shown in the Stamford Historical Society's Loan Exhibition of 1911, which was chaired by Mrs. Theodore Davenport Jr.

Gift of Mrs. Elizabeth Davenport Spence.