The Stamford Historical Society Presents
Portrait of a Family: Stamford through the Legacy of the Davenports
John Davenport 1752–1830
Born in Stamford January 16, 1752, Major John Davenport was a son of the Hon. Abraham Davenport. A graduate of Yale College in 1770, he spent one year tutoring and received his M.A. degree in 1773. He married Mary Sylvester Welles, daughter of the
Rev. Dr. Noah Welles
, in May of 1790 in a double wedding with brother James and Abigail Fitch.
In October of 1776, at age 24, John was elected to the Lower House of the Connecticut General Assembly where he served for the next 20 years.
Less than a year later, he was appointed Major of a six months regiment and also is believed to have served as commissary of State troops. He was at Darien in June 1781 when the Rev. Moses Mather together with a number of his congregation were taken as prisoners. The pastor and several members of the congregation were eventually released in exchange for those detained by American forces. John became a charter member of the Connecticut Order of the Cincinnati. In 1799 John was elected as a Federalist United States Representative in the Sixth Congress, a post his late brother had held two years earlier. He continued to serve as Representative until 1817. At that time he declined reelection, having been in public service a total of 38 years. Gradually he discontinued the practice of law and spent his time attending to his large estates.
The Major was chosen Deacon of the Congregational Church in Stamford in 1795 and served in this capacity until his death, a "Model of earnest and active piety."
It was at his home that General Lafayette was received on his August 1824 visit to Stamford, as hundreds of visitors were on hand to hear the guns fired in salute and the bells rung.
Known as mild and gracious in speech and manner, John was spoken of as the highest type of gentleman in standards and example. Major John Davenport died in Stamford November 28, 1830 and was buried in the Northfield cemetery.
On display in the exhibit:
Memoirs of the Marquis de La Fayette: major-general in the revolutionary army of the United States of America; together with his tour through the United States


Frederick Butler
Wethersfield, 1825
Shoemaker-1825 (No. 19908)

"Friday, August 20, 1824 – The cavalcade arrived At Stamford about half past five, having received a salute at Mianus's Landing, and the private Mansion of the Honorable John Davenport was thrown open for his reception. The General remained at this house for half an hour, and received the visits of many hundreds of persons of both sexes. A salute was fired, the bells rung, and this beautiful town with its gay inhabitants, particularly distinguished for many handsome women, exhibited all the life and gaiety of a city. Hundreds of ladies and gentlemen, for ten miles round, visited this town, to see and pay their respects to La Fayette. He left Stamford at six intending if possible to reach New-Haven that night. He set out from here with fresh horses, the handsomest that could be procured in the country – four for each carriage.

The Connecticut troop which met the General at the line, accompanied him through Stamford, and proceeded until they met the escort provided east."

Frederick Butler, p. 242

Lafayette Commemorative Plate

In August of 1824, the Marquis de Lafayette, French hero of the American Revolution, stopped briefly in Stamford at the home of the Hon. John Davenport where he was welcomed by hundreds of citizens who called at the mansion to pay their respects. He continued on his travels to Boston, stopping in Norwalk, where again he was received with a tumultuous welcome. So inspiring was the visit that souvenir plates were made to commemorate the occasion. This slip-decorated redware plate is attributed to the Smith Pottery, one of the many fine potteries for which Norwalk was famous.

The Stamford Historical Society
The exhibit displays digital reproductions of Ralph Earl paintings which we cannot show here due to copyright restrictions.
John Davenport, 1752-1830


Ralph Earl

John Davenport, son of Abraham, led a distinguished life of public service, being elected to the Lower House of the Connecticut General Assembly at the age of 24, appointed Major of a six months regiment in the American Revolution; and elected a Federalist United States Representative where he served until 1817.

This portrait by Ralph Earl is a companion to that of his wife Mary on the right. Earl painted a tranquil window view landscape that bespeaks the mild manner and gracious speech for which John Davenport was known.

Yale University Art Gallery
Gift of Miss Harriet C. Davenport to Davenport College

Mrs. John Davenport (Mary Sylvester Welles) 1754-1847


Ralph Earl

Mary Welles, daughter of the Reverend Doctor Noah Welles, married Major John Davenport on May 7, 1790. They had seven children.

Impressed by the beauty of the rural Massachusetts landscape as a youth, Earl frequently placed his sitters near a window, where he could paint a landscape to evoke the locale or inject a bit of personal history by including familiar houses or buildings. In the painting of Mary Welles, Earl has made a historic reference to his sitter in his window view landscape showing the spire of the First Congregational Church, of which her father was pastor.
Deacon John Davenport Homestead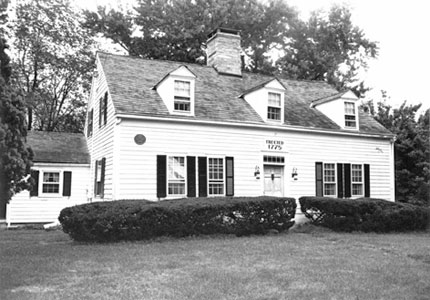 Sitting on the crest of Davenport Ridge in Stamford is this fine specimen of a colonial Connecticut farmhouse. Built in 1775 by Deacon John Davenport, it has been home to many generations of the Davenport family, including Walter Bell Lockwood, son of Judge Charles Davenport Lockwood. Several appropriate additions have been made through the years. This house was awarded a historic house plaque during the Stamford Bicentennial of the American Revolution.
One of three American Empire Side Chairs
c. 1815

These mahogany chairs were probably once part of a larger set that descended from the Hon. John Davenport, furnishing the Davenport home on Main Street in Stamford.

They are executed in the New York Duncan Phyfe style in the classical klismos form. The central backrest forms an oval cartouche flanked by carved plumes or "Prince of Wales" feather motifs. Slip seats are newly reupholstered in an early 19th century reproduction fabric in a "Classical Rosette" pattern.

Gift of Mrs. Elizabeth Davenport Spence

Reproduction Fabric Gift of Scalamandré

Empire Style Gown
c. 1815

The oldest dress in the Society's collection, this hand sewn silk gown was probably worn by Mary Welles Davenport. The small stand-up collar is surrounded with pale beige ruching which extends down the bodice.

Gift of Mrs. Elizabeth Davenport Spence
Also in the exhibit:
New York, (1797)
Aware of the danger of fire in the growing village and anxious to reduce the high cost of insurance coverage, a mutual fire insurance company was formed by John Davenport, Jr., David Maltbie, Samuel Jarvis, George Mills and John Wm. Holly. The constitution of the Stamford Mutual Insurance Co., dated Feb. 20, 1797, limited it to houses valued at $500 or more. Policies were to be activated when 30 subscribers signed. It is not known if the company actually got going.
Stamford Historical Society