The Stamford Historical Society Presents
Portrait of a Family: Stamford through the Legacy of the Davenports
Theodore Davenport 1834–1913
Unlike most Davenports, the second Theodore was not born in Connecticut, but in New York, the city which had been his mother's home, on February 25, 1834.
For about twenty years he was associated with his father in the Stillwater Company, as a clerk at the business. Wire drawing was done at the upper location at Roxbury while production in the lower mill at Stillwater was devoted to rolling iron. Theodore's position carried considerable responsibility.
Eventually Theodore became owner and manager of the entire business. These wire drawing and rolling mills were among the first in the country and became very prosperous, according to the family genealogy prepared by Amzi B. Davenport.
Theodore was also a deacon in the Congregational church, an office filled by four successive generations of the family. After business at the rolling and wire drawing mills was discontinued in 1876, Mr. Davenport retired from commerce and lived in his Darien home in the summer and in Stamford during the winter.
For about a year he was associated with the Post Office Department in Washington, D. C., just prior to his death. He died in Darien April 21, 1913 in his 80th year. Services were held at the Darien Congregational church.
Theodore Davenport was married twice, first to Georgia Elizabeth [Williams] Waters (1842-1894) and later to Jane Woolston Rambo (1872-1952). The latter served as an officer on the Board of The Stamford Historical Society and was Chairman of its Loan Exhibition in 1911.
On display in the exhibit:
Letter of agreement by Theodore Davenport Sr. to convey a portion of his 5/18 purchase of the Stillwater Company from J. D. Weeks, to his son Theodore Davenport Jr., May 30, 1862.
Gift of Mrs. Elizabeth Davenport Spence
Family Bible
American Bible Society, 1852
Leather bound and embossed "T. Davenport, Jr." N.Y. In ink on the fly leaf "Theodord Davenport Jr. from his father, Stamford, Feb. 25, 1855." Contains family records.
Gift of Elizabeth Davenport Spence
Photo Album
Leather photo album with embossed gilt edge contains photos of many members of the Bostwick family, relatives of Jane Woolton Rambo, second wife of Theodore Davenport Jr.
Gift of Mrs. Elizabeth Davenport Spence
A number of items in the large center display case in the Red Gallery, belonged to Mr. & Mrs. Theodore Davenport Jr. all engraved.
Table silver
walking stick & cane handle
pen knife
Childrens items belonging to this period:
Boy's Jacket, Skirt and Cape, c. 1890
Little boys in this era wore skirts until they were four to six years old. These white cotton pique garments decorated with soutache braid, eyelet inserts and pearl buttons are clearly "Sunday best."
Gift of Mrs. Elizabeth Davenport Spence
Toy banks, both mechanical and non-mechanical, were made first of tin and later of cast iron. They were intended to teach children the value of thrift at an early age. Toy banks were made in a wide variety of shapes.
Cashbox. An accurate tinware reproduction, whose real model was used into the 20th century.
Donor unknown
Cast iron bank in shape of a bank building
Donor unknown
Postal Savings Bank, stamped U.S. Mail and designed to look like the porch mailbox of a one-family house.
Gift of Mrs. Sylvanus M. Archer
"Junior Safedeposit" is cast on the front of this bank.
A coil spring is underneath the coin slot to stop someone without the combination from sticking a knife to remove coins.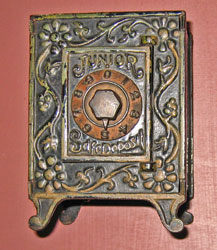 Donor unknown
Rose Faille Dress
c. 1890-1895

This dress belonged to Mrs. Thomas Davenport of Summerville, New Jersey, grandmother of the donor's husband. This two-piece dress is elaborately trimmed with black sequins and a most unusual black lace featuring sailing vessels and anchors. The bodice is fitted with a front closure of hooks and eyes. Black lace is fashioned around the neck forming a distinctive pattern in the back.

Gift of Mrs. Robert Davenport

Jane Woolston Rambo Davenport
Second wife of Theodore Davenport Jr.

Lent by Mrs. Carol Beauregard
Empire Mahogany Mirror
American, early 19th century
With a broken cornice above a divided plate flanked by ring and spiral turned pilasters.
Bequest of Charlotte D. S. Cruikshank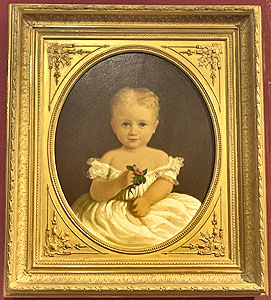 Posthumous Oil Portrait
"Daisy"
(Adelaide Hutchings Davenport 1877-1878)
John O'Brien Inman, American artist, 1828-1896
Inscribed on the back, "To Mrs. Theo Davenport, Jr. I give a faint shadow of the little 'Morning Glory' now in Heaven, with the friendship of J. O'B. Inman, artist. 1878."
Dressed in her christening dress, Adelaide Hutchings Davenport holds a rose of Sharon—a symbol of remembrance. Adelaide, affectionately known as Daisy, was born August 2, 1877 as the fifth and last child of Theodore and Georgia. She died July 22, 1878, about a week shy of her first birthday. She is buried in North Street Cemetery, Stamford, Connecticut.
A member of the acclaimed National Academy of Design in New York, John Inman painted this portrait in 1878 following his return from a twelve-year stay in Europe.
Gift of Mrs. Elizabeth Davenport Spence
The Order of the Founders and Patriots of America
Certificate of Admission for Theodore Davenport