The Stamford Historical Society Presents
Portrait of a Family: Stamford through the Legacy of the Davenports
Elizabeth Davenport Spence (1907–1998)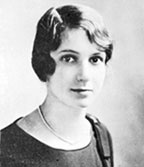 Elizabeth Davenport, daughter of Theodore Davenport Jr. and Jane Woolston Rambo Davenport, was born in Stamford on December 14, 1907. Following graduation from Stamford High School she went to Russell Sage College in Troy, New York. After graduating in 1929 she pursued a career in New York City as a financial secretary. On December 17, 1949 she married John Emerson Spence of Princeton, New Jersey where they lived for a number of years.
From 1973 until her death on February 13, 1998 in Naples, Florida, Mrs. Spence gave the Stamford Historical Society a large collection of Davenport items including furniture, paintings, silver, textiles, books, photographs and archival materials relating to the history of the Davenport family.
The Stamford Historical Society deeply appreciates her great interest in Stamford history and her generous contributions which have made this exhibit possible.
Above photo from Russell Sage Yearbook 1929, which is on display in the exhibit.
Lent by Russell Sage College
Photo © Russell Sage College
Also on display in the exhibit:
Christening Gown, c. 1840

This gown was worn by the donor at her christening in October 1908. It is completely handmade of fine woven cotton with lace trim and bands of lace insertion alternating with bands of fine tucking down the entire length of the garment. It is gathered at the waist and has long, wide ties at the back. Small puffed sleeves edged in lace complete this charming feminine garment.

Gifts of Mrs. Elizabeth Davenport Spence

Gold Bead Necklace

This necklace was purported to be about 200 years old when shown in the Stamford Historical Society's Loan Exhibition in 1911. Many of the beads are dented from generations of teething Davenport babies. Several beads have been replaced with gilded silver ones.
Two photo portraits of
Elizabeth Davenport Spence
Lent by Mrs. Carol Beauregard
© Mrs. Carol Beauregard