The Stamford Historical Society Presents
Portrait of a Family: Stamford through the Legacy of the Davenports
John Davenport
|
John Davenport
|
John Davenport
|
John Davenport
|
John Davenport
|
John Davenport
|
William Davenport
|
Amzi Benedict Davenport
AMZI BENEDICT DAVENPORT
Of Davenport Ridge, born in New Canaan, Oct. 30, 1817; ordained ruling elder in the Presbyterian Church, 1843; deacon in Plymouth Church, Brooklyn, 1857; in New Canaan Church 1867; author of Genealogy of Davenport Family, 1851, enlarged edition 1876; corresponding member of New England Hist. Gen. Society, etc.
Picturesque Stamford, 1892
Amzi Benedict Davenport 1817–1894
Amzi Benedict Davenport of Davenport Ridge, Stamford was born in New Canaan October 30, 1817. He grew up in this northeast section of town that remained rural and agrarian well into the 1930's. Brought up in a religious household, traditions of church and family remained central to his life. During his life he became an ordained ruling elder in the Presbyterian Church, 1843; deacon in the Plymouth Church, Brooklyn, 1857, and in the New Canaan Church 1887. His interest in family history and genealogy led to his compiling and authoring the History and Genealogy of Davenport Family in 1851, with an enlarged revised edition published in 1876. According to Ralsey Davenport, it was, at the time, "the most elaborate work of that sort ever published in this country."
Amzi became astute in the purchasing and selling of land, and made this his profession as a realtor. By 1863 he was well established in the business of real estate and insurance in Brooklyn, New York, but he continued to reside on Davenport Ridge, on extended weekends, holidays and especially during summers.
The land in this section of Stamford was originally voted to the Reverend John Davenport in 1705/06 by the town in consideration of his hundred pounds interest in the "Long Lots" as part of the agreement for his settling here in 1693. Between the years 1863-1865 Amzi Benedict Davenport had a mansion built on Davenport Ridge Road, a short distance from Deacon John Davenport's historic 1775 house. Amzi's large residence became his summer country home. In a delightful pamphlet titled Davenport Ridge, Stamford, Connecticut – Historical Sketch which he wrote and privately published in 1892, is an engraved view of the house as well as a description of the interior and the panoramic view from the west slope of this land. Unfortunately, the house no longer remains.
As described in the historical sketch, the house "contains twenty rooms, viz: one large parlor, one large sitting room, a small bedroom, library, (extending two stories), dining room, kitchen, laundry, and milk room; second story, eight sleeping rooms and bath room, and three bedrooms in the attic."
Amzi was married twice, first to Frances Maria Isaacs in May of 1842 (three children), and October 1850 to Jane Joralemon Dimon, whith whom he had nine children.
He continued to commute back to Stamford and Davenport Ridge from Brooklyn until his death in 1894.
On display in the exhibit:
Letter written at Davenport Ridge, North Stamford,
by Jane Davenport to her husband Amzi Benedict Davenport
September 9, 1867
An interesting letter written in response to Amzi Davenport's inquiry regarding the progress of construction of his new house at Davenport Ridge. In addition to describing the "bringing of boards" and work on the veranda, his wife includes news of the multiple activities in the gardens, mixing white lime, producing cider, attending to the animals, reshoeing a horse, making social calls to neighbors, and reports on their children's studies and chores.
The Stamford Historical Society
Davenport Ridge, Stamford, Connecticut. Historical Sketch.


Amzi Benedict Davenport, 1892
Parks (No. 8564)

Includes lithograph view of the author's home:

"This structure occupies a most commanding view from the west slope of Davenport Ridge. It is about five miles, north by east from the Stamford Depot. The panorama stretching around it is, at any season of the year, well worth a study, and in summer is very beautiful. This locality was voted to the Rev. John Davenport, of Stamford, by the proprietors of the town, in January 1705-6, in consideration of his hundred pounds interest in the "Long Lots," as agreed upon at the time of his settlement here in 1693."

Amzi Benedict Davenport quoting from Elijah Baldwin Huntington's History of Stamford … 1868.

Private Collection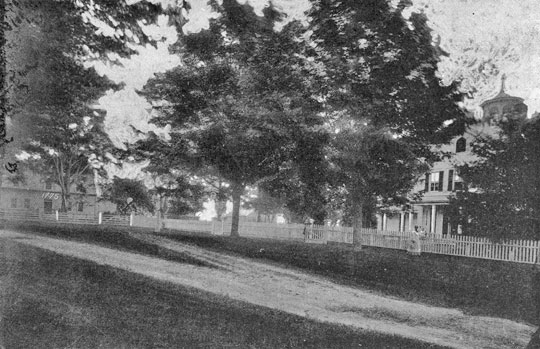 A photograph of the summer residence
Picturesque Stamford, 1892.
Of interest is that the Deacon Davenport Homestead can be seen at left, marked with "1775".