The Stamford Historical Society Presents
Portrait of a Family: Stamford through the Legacy of the Davenports
Charles Henry Crandall 1858–1923
Charles Crandall's earlier poetry featured popular rural themes: the glories of nature and man's part in it. With the advent of the Spanish-American and World War I his focus changed to patriotism. As described in the Dictionary of American Biography, "That theme stirred him most – the thrill of seeing one's flag unfurled, the superior bravery of the American military, the divine mission of America as guardian of her neighbors to the south, and as model for the governments of Europe." The four sons of Crandall served in the World War, and though one was killed, Crandall remained a "boundless" patriot. His 1918 books Liberty Illumined and Songs for the Boys in Khaki" were widely read; the Daughters of the American Revolution and Liberty War Bond campaigns solicited it, and even Theodore Roosevelt "sympathized cordially" with his verse.
In March, 1923, less than five years after the publication of his war songs, Charles H. Crandall, aged 64 and in ill health, penned a thank-you note to his housekeeper, went to his barn, and killed himself with a pistol. His funeral was held at his later home on Cedar Heights Road.
On display in the exhibit:
Family tree drawn by Roland Dimon Crandall, 1892–1970
Lent by Mary Ann Crandall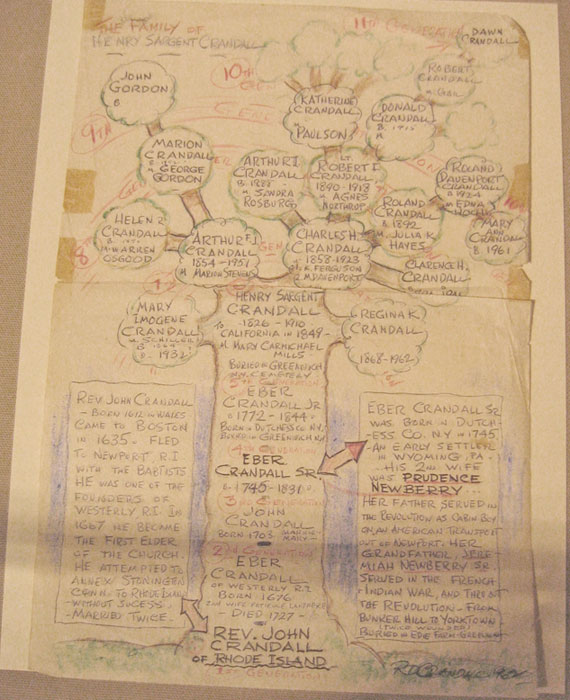 Pilgrim's Progress
John Bunyon
Incribed to Mary Vere Davenport
"Her Wedding Token from Charles H.
Crandall (Her chosen gift from her chosen man)"
Lent by Mary Ann Crandall
Photo collage from the article Crandall: The Farmer-Poet Guide to Nature Magazine Vol. VII, July, 1914. No. 2.
The Stamford Historical Society