Photo Archivist's Selection of the Month: July 2004
Postcards: Fun at the Beach
A Selection of Postcards from Shippan and Shippan Point
The Shippan peninsula and Shippan Point in the late 19th and early 20th centuries were a popular summer resort, both for Stamford residents who had summer cottages there, and for others to rent cottages or to stay at the Ocean House Hotel. When Michael McDevitt bought it, he renamed it "Shippan House." By 1890, he had added a pavilion, bath houses, a casino, and a carousel from Asbury Park, N.J. It was situated at the spot where later the Woodway Beach Club was built. The Hotel was renovated in 1911 by Leonard Barsaghi. We do not know when the hotel was torn down. Information is greatly appreciated.

William Ennis had a bathing pavilion in the water which was wrecked by a storm in 1894. In 1890, the Stamford Yacht Club was founded, and the Halloween Yacht Club near Cummings Park in 1923. Halloween Park, later called Cummings Park, was developed in 1906, when Mayor Homer Cummings cast the deciding vote on Halloween Night.

The Stamford Street Railroad Company operated the Shippan Trolley.

Gradually, real estate was developed by James Jenkins of the Shippan Land Company, with landfills, and the summer resort places disappeared.

But we still have some of the beaches…

…and remembrances, such as the one by Philip Kleinert in 1991.
Summer Cottages, unknown date. Clarence immortalized himself on the pier.
Several Views of Shippan Beach and Casino.
undated


This postcard has a cancellation stamp of April 26, with no year given.

This inscription is from the back of the above postcard,
mailed July 10, 1909.

View from Ocean House Pier, undated
This postcard is undated. However, from the bathing costumes, it seems to be of the 1930s.
Cummings Park
All four postcards are undated. They appear to be of the 1930s and 1940s from the look of the bathing costumes.
Panoramic Views of Shippan Point
| | |
| --- | --- |
| | |
| Postcard cancelled 1908 | Postcard cancelled 1903 |
| This postcard, cancelled August 1908, shows a preprinted order confirmation (see at right) by the Globe Art Company of Stamford to a customer from New Haven. | |
Two "Scenes near Shippan Point"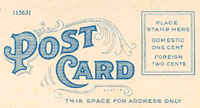 from the same sender to the same recipient, cancelled 1975 and 1976, commenting on the age of the postcard:
"under the stamp, the instructions call for domestic 1¢ – in case that helps to date it."
The 1975 postcard has an 8¢ stamp, the 1976 one, is cancelled with 9¢.
1¢ rates lasted through 1951. History of Postcard Rates.
A postcard sent fromStamford to Stamford
Apparently after a late snow storm March 7 of an unknown year: "The snow cannot last. No mail yesterday!"
Finally, a subliminal yearning for summer?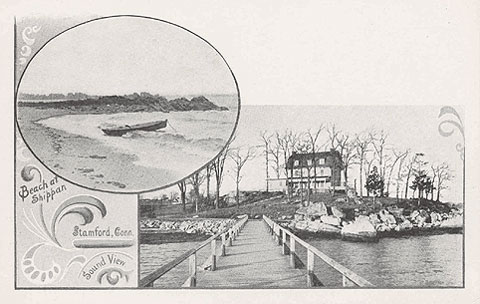 Postscript: Originally, we posted this card up on top with the cottages, but during routine archival work,
we discovered that we were mislead by the text and file location. The insert may well be a beach at Shippan,
but the "Sound View" is of the Skiddy house on Pound Rock, at 348 Weed Avenue, Cove Pond.
Photos © Stamford Historical Society
From Our Postcard Collection: Bridges
Hotels in Stamford
Personal Postcards
Portrait Postcards, Early 20th Century
Postcards from another age
Picture Show (dating back to the first days of the website)
Other Photo Archivist Selections of the Month
Photo Collection Information