Picturesque Stamford, 1892
Manufacturing Industries, p. 242
Stamford Foundry Company.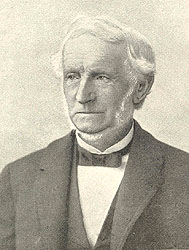 Isaak Wardwell
About the year 1830 a small foundry was established at Long Ridge by George E. Waring. It proving a success, he purchased in Stamford village, the Gothic House property at the head of Atlantic Street, extending on Bedford Street somewhat beyond Spring Street, and in 1836 built thereon a new foundry; the warehouse of which - being years afterwards removed to the opposite side of Bedford Street and converted into dwellings - is now known as the Five Chimney House. The manufacture of stoves and agricultural implements was successfully carried on at this place until, in 1840, Mr. Waring bought the old Rolling Mill on Mill River at Main Street, added new buildings and removed the business to that location. Here, in 1846, Isaac Wardwell, who entered the employ of Mr. Waring in 1838, together with James B. Scofield, and afterward Joseph D. Warren were associated with Mr. Waring and did a flourishing business under the name of the "Rippowam Company." In 1849, Mr. Waring retiring, the name was changed, and J. D. Warren & Co. continued until the expiration of the lease, when, in 1851, they erected necessary buildings near the head of the old canal, and removed thither. Business was afterwards conducted at the Main Street location by a new "Rippowam Company," but unsuccessfully, and the property was afterwards used as a woolen mill until the buildings were consumed by fire in 1886.
Business at the Canal Foundry increased, and in 1869, the same owners formed the Stamford Foundry Company with a capital of $40,000, and, Pacific Street being opened, they opened Canal Street on the line of the tow-path of the canal, through their own land to the N. Y. & N. H. R. R. and enlarged the works to their present dimensions.
The Foundry property has a frontage of about 350 feet on Canal Street, and covers about two acres of ground.
The main building for molding and casting. built of stone and brick is 71X200 feet, the warehouse 75x113 feet. Besides these, there are pattern shop, boiler house, drill shops, and pattern storage buildings. These works have capacity for employing one hundred men in manufacturing stoves and ranges, which are made in great variety of styles and sizes for cooking, heating and laundry purposes, as well as furnaces and apparatus for heating dwellings, stores, churches, etc. The owners and managers are all natives, and life-long residents of Stamford.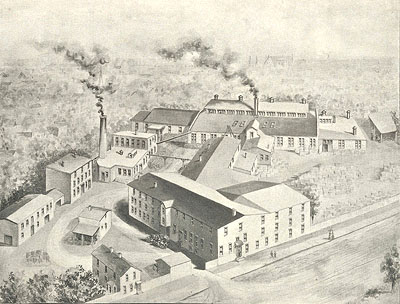 The Stamford Foundry Company, Canal Street
Obituary of Isaac Wardwell
The Wardwell Homes on Elm Street
Wardwell Family Photos
Research Library
917.46 Stamford G
---