Record Groups
Research requests may be sent to history@stamfordhistory.org
Research Fees
Passport Photo, c. 1966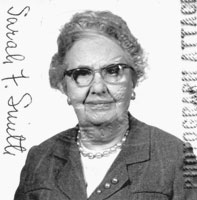 RG-04
SARAH FRANCES SMITH (1895–1987)
Registration Sheet February 1986
Revised October 2005
Introduction
The daughter of educators, Sarah Frances Smith was born in Illinois and graduated from Wellesley College, Class of 1918. She came to Stamford in 1926 as Director of Adult Education in the Stamford public schools, a position she held for 35 years. Before coming to Stamford she was employed as an organizer at the Bureau of Adult Education, New York State Department of Education at Albany and then as Director of Americanization for the Haverhill, Massachusetts, public schools.
Under her direction, the Stamford adult education program expanded from a few night classes in English and citizenship to become an extensive program with classes designed to meet the needs and interests of a broad cross section of adult residents of Stamford.
As a pioneer in education for foreign-born adults, a field that developed rapidly immediately after the First World War, Sarah Smith both drew on the work of others and developed her own educational methods. Believing education is the key to a better life for everyone, regardless of age, sex, or background, she encouraged foreign-born residents of Stamford to enroll in English language classes at their first opportunity. These classes were under the instruction of specially selected and trained teachers who used up-to-date methods that interested adults. She also encouraged students to apply for citizenship, and often assisted them in making application. Another of Sarah Smith's goals has been to help develop within the community a better understanding and appreciation of immigrant residents.
As resources permitted, additional classes, both formal and informal, were added to the adult education program to better meet the social, economic, and cultural needs of students. During the Depression the W.P.A. (Works Progress Administration) sponsored many additional classes, services, and projects for adults, providing the impetus to expand significantly the programs offered by the Stamford Adult Education department.
Sarah Frances Smith has been an active member of local, state, and national education organizations and has been a founder of several Stamford groups and community organizations. Her work has been recognized by her city, state, college, and by her colleagues. She especially treasures her friendships with individuals she first met as students in one of Stamford's adult education classes for the foreign born.
Bibliography
Smith, Sarah Frances. Adult Education an Important Part of Public School System. Stamford Advocate: Tercentenary Edition, 7 June 1941, 76-78.
Smith, Sarah Frances. The Growth of Adult Education. The Wellesley Alumnae Magazine, (March 1954), 140-143.
Annual Reports of the School Committee and Superintendent of Schools. Town of Stamford, yearly 1926-1961.
Annual Reports of the Town of Stamford, yearly 1926-1961.
Manual of the Public Schools. Stamford, Connecticut, Board of Education, yearly 1926-1961.The Problem of the Foreigner: The Americanization Movement in Stamford, Connecticut in the 1920's. William J. Gottlin, CUNY Graduate School, Spring 1990.
List of Records
| | |
| --- | --- |
| Folder 1 | Annual Reports of Director of Adult Education, Stamford Public Schools, 1926-1935. 9 items |
| Folder 2 | Annual Reports of Director of Adult Education, Stamford Public Schools, 1935-1941. (Expanded program under F.E.R.A. and W.P.A.) 6 items |
| Folder 3 | Annual Reports of Director of Adult Education, Stamford Public Schools, 1941-1949. 8 items |
| Folder 4 | Annual Reports of Director of Adult Education, Stamford Public Schools, 1950-1961. 13 items |
| Folder 5 | Publicity about Stamford Department of Adult Education from The Stamford Weekly Guide, 1928. 12 items |
| Folder 6 | Articles about Stamford adult and immigrant education classes. 4 items |
| Folder 7 | Shades of Night. Stamford Evening School Newspaper, 1939-1940. 2 items |
| Folder 8 | Integration of Immigrants by Sarah Frances Smith. (typescript) 1 item |
| Folder 9 | Transcript of oral history interview with Sarah Frances Smith, 5 Jan. 1986, Stamford, Connecticut. 1 item |
Sarah Frances Smith and the Americanization Movement In Stamford, Connecticut, in the 1920's
Obituary: Sarah Smith dies