Obituaries of Noted Stamfordites
Passport Photo, c. 1966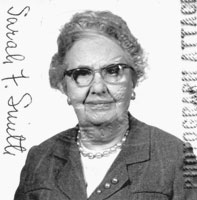 Sarah Francis Smith
Sarah Smith dies; was adult education chief
November 27, 1987
The Advocate
By Todd C. Duncan
Staff Writer
Sarah Frances Smith, dubbed the mother of Stamford's adult education program, died Friday at her One Strawberry Hill Court home. She was 92.
"Everyone that knew her adored her," said Joseph Franchina Sr., who was superintendent of Stamford public schools from 1960 to 1965.
"She was very dedicated and put in many hours. You could say she was the mother of adult education," said Franchina.
Born on Feb. 28,1895, in Warren, Ill., Smith spent 34 years in the Stamford school system as director of adult education, before retiring in 1960.
When she came to Stamford, some 60 years ago, she was put in charge of teaching English to immigrants, so they could pass naturalization tests to become American citizens.
"She must have taught thousands," said Franchina of the post-war effort. "She was amazing."
Smith was known to have walked the streets of the South End and West Side to visit immigrants' homes to instruct them in English. She would visit priests and rabbis to tell them about her classes so I they would pass the word along to I their congregations. "Her impact on the Stamford community was tremendous," said John Saradjian, a long-time friend of Smith. "She was a great woman, and her kind will definitely be missed in this town."
Out of those early classes evolved Stamford's adult education programs and in 1926, Smith was named director of the programs.
"Schools are the richest business of our day; rich because they are working with human beings molded in their youth, directed and stimulated toward intelligent understanding as they grow, (they) are the wealth of our future," Smith wrote in a 1941 article on adult education for The Advocate.
Smith was also involved in sex education before it was fashionable to talk about "safe sex."
In 1948, she organized a course called, "Social Hygiene Guidance for Adults."
The course taught parents how to instruct their children on sex. She did not use the word "sex" in title of the course because she knew it would meet with disapproval at the time.
Smith was the daughter of the late William Chandler and Mary Bowman Smith.
She graduated from Wellesley College in 1918 and completed graduate work from Harvard and Teacher's College, Columbia University.
She was also a member of the board of directors of the Italian Center, the former West Main Street Community Center, the Stamford Chapter of the National Conference of Christians and Jews, I the Council of Continuing Education, the Joint Committee on the Aging, the Stamford Commission on Aging and the Stamford Commission on Human Rights.
Smith was honored in 1951 as Woman of the Year by the Stamford Jewish War Veterans and in 1959 she received a special award from the National Association of I Public School Educators for her work in the Stamford community.
Smith had no survivors.
A memorial service will be held tomorrow at 1 l a.m. at St. John's Episcopal Church in Stamford.
Burial will be private and there will be no calling hours.
In lieu of flowers, all memorial donations may be made to the Stamford Day Nursery or the Natural Science for Youth Foundation in New Canaan.
All funeral arrangements are being handled by the Bouton & Reynolds Funeral Home, 545 Bedford St. in Stamford.
© 2002 The Advocate
Record Group 04: Sarah Frances Smith
Transcript of oral history interview with Sarah Frances Smith
Sarah Frances Smith and the Americanization Movement In Stamford, Connecticut in the 1920's
Obituaries