The Stamford Historical Society Presents
Law & Order: The History of the Stamford Police Department 1830-1956
a 2004 Exhibit and more
Excerpts from the Police Anchor Club Brochures
Courtesy Alexander A. Koproski, Jr.
1982
DEPUTY CHIEF JOHN F. MORIARTY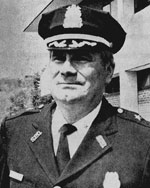 Deputy Chief John F. Moriarty, who is a Stamford Native was graduated from Stamford High School . He attended and completed Law Enforcement Courses at the University of Connecticut, Babson College, Yale University, and Michigan University.
He began His Police Career as a Special Constable with the former Stamford Town Police. He was appointed a Regular Police Officer in 1949 and assigned to the then precinct 2 Station in Belltown. In August of 1955, he was promoted to Sergeant and to Lieutenant in October 1961. He became Captain in November 1969. In September of 1981 he was named Deputy Chief.
He is president of St. Mary's Holy Name Society, a member of the Knights of Columbus, St. Augustine Council no. 41, and the 4th Degree, Lafayette Assembly; State Police Association; Police Anchor Club; and the Stamford Police Association.
Deputy Chief Moriarty married the former Jean Rohacik. the Moriartys have four children. they are John, Jr., James, Terry, and Mary Ellen.
see also Sons of Stamford - A Memoir
1983
INSPECTOR FRED A. ROBERTUCCI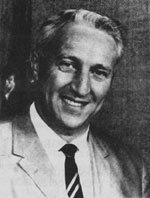 Fred A. Robertucci was sworn in as an Inspector with the State's Attorney's Office on April 8, 1983, in Wallingford, Connecticut . Prior to his appointment, he served as an Investigator for the State's Attorney.
Following graduation from Stamford High School, Fred Robertucci entered military service with the U. S. Army Signal Corps, having served in the China Burma and India theater of operation.
Having been honorably discharged, he joined the Stamford Police Department where he attained the rank of sergeant before his retirement in 1977.
He was graduated from Norwalk Community College receiving an associate degree. He later received a bachelor of science degree from Iona College, with honors in criminal justice.
His other educational training includes studies at the Chiefs of Police Command Training School, Babson University; State's Attorney's School for Command Officers, New Haven, Connecticut; National District Attorney's School of Criminal Law for Prosecutors, Chicago, Illinois; F. B. I. Schools; Kodak School for Police Photography, Rochester, New York.
He taught criminal law at Western Connecticut State College, Danbury, Connecticut .
Mr. Robertucci is a member of many professional, fraternal and social groups.
He is married to the former Catherine M. Montagnesi. the Robertuccis have two children and four grandchildren.
1984
PLICE CHIEF JOHN T. CONSIDINE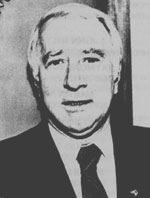 Police Chief John T. Considine was appointed to the Stamford Police Department on January 12, 1956; an investigator and radio operator; and in the detective bureau for 16 years achieving the rank of detective lieutenant. On two occasions he served as acting Chief of Police when that office was vacant.
On September 11, 1981, he was appointed Chief of Police.
He was graduated from the Connecticut Police Academy; Police Foundation; Babson Institute; Municipal Police Training Academy; and the FBI National Academy.
He is the recipient of the coveted Law Enforcement Medal of the Sons of the American Revolution National Society; four FBI National Commendations and the Medal of Valor presented by the Stamford Police Association which he served as secretary for 19 years, treasurer and trustee.
Having graduated from Stamford High School and enlisting in the U. S. Army, he honorably served in the European theater of operation.
Upon discharge, he joined the U. S. National Guard and saw overseas service in Germany.
Chief Considine and his wife, the former Doris M. Grant, have two sons, John and Michael.
1985
PATRICK J. MURPHY RETIRED WARRANTS AND COMPLAINTS OFFICER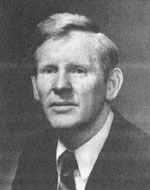 Patrick J. Murphy emigrated to the United States in 1957 from County Cork, Ireland .
He was drafted in 1959, honorably discharged in 1961 and then recalled to active duty during the Berlin crisis with the rank of sergeant.
In 1963, he became an Officer with the Stamford Police Department. He received nine citations for excellent police duty. He attended the John Jay College of Criminal Law; the Arnold Markle State 's Attorney's School for Command Officers; the Narcotic School of New Orleans, Louisiana; and the Norwalk Community College. He retired April 19, 1983 .
He was honored by the United States Secret Service.
His community and civic participation include serving as chairman of the Patriotic and Special Events Committee of Stamford, Connecticut; Co-Chairman of the State of Connecticut 350th anniversary celebration; president of the Ancient Order of Hibernians; vice-president of the Stamford Old Timers Association; member of the Stamford North Exchange Club; and secretary of the Stamford Retired Police Association.
As an outstanding soccer player in high school, he was later drafted to the English Soccer Association.
He and his wife, the former Josephine Trimble, have four children. they are Gerald, James, Susan, and Kevin.
1986
1989
JOHN F. PERROTTA, DEPUTY CHIEF, STAMFORD POLICE DEPARTMENT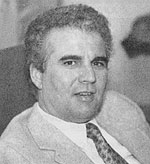 Deputy Chief John Perrotta who was graduated from Mount St. Michael Prep School, Bronx, New York, later served as a Military Police Officer with the United States Army in Korea.
Following military service, Deputy Chief Perrotta was employed as a Patrolman with the New York Transit Police, the Household Finance Corporation, Bronx, New Yor , and the Hartford National Bank, Stamford, Connecticut.
John who attended Norwalk Community College was graduated from Iona College with a Bachelor degree in Criminal Justice. He later earned a Master of Arts degree in American Studies from Fairfield University . His other educational experiences include graduating from the FBI National Academy, Quantico, Virginia, and the New England Institute of Law Enforcement, Babson College, Massachusetts.
Deputy Chief Perrotta was appointed a Stamford Supernumerary Patrolmen in 1972; Regular Patrolman in 1973; Sergeant in 1977; lieutenant in 1978; Captain in 1988; and Deputy Chief later that same year in 1988.
Among his many commendations and citations, Deputy Perrotta was chosen Police Officer of the Year in 1987.
John is married to the former Jacqueline Cavaliero. the Perrottas have three children, Matthew, Steven and David.