Photo Archivist's Selection of the Month: February 2006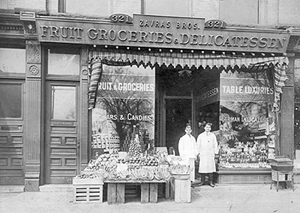 Grocery & Variety Stores
through the 1930s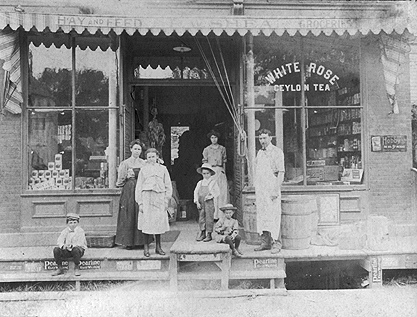 Shea Groceries, at 17 W. Main Street (per 1912 City Directory), Owned by Patrick & Mary Shea.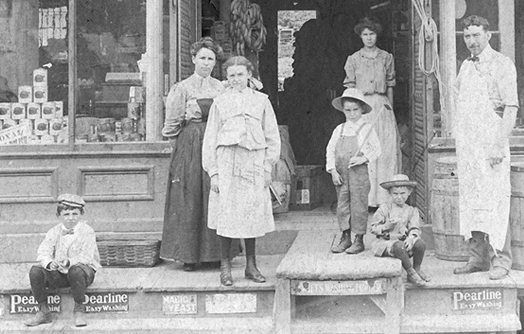 unknown boy / Mary Jane Lemon Shea / Rose Shea / William Lemon Shea (born 1902) / unknown woman / unknown child / Patrick Wm. Shea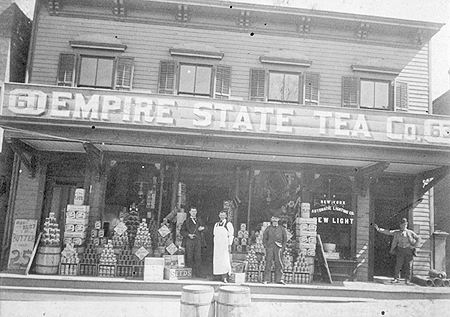 Empire State Tea Company, 303 Main Street, 1902–1913
There is a note that this photo may pre-date the Stamford location.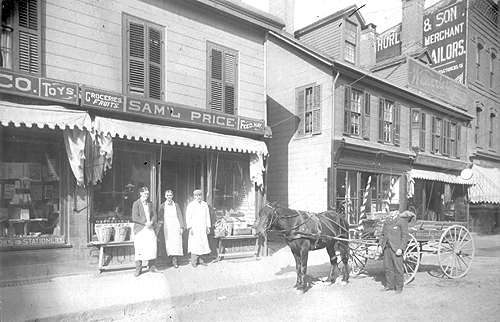 Samuel Price's Store at 298 Main Street , listed as "The Grocers" in the 1912 City Directory.
In the 1850's, this section of Main Street became known as "Minor Place," later "Minor Block." The frame gabled buildings, shown at top left, were built by Simeon Minor sometime in the mid-1830's, and for many years contained the hardware, dry goods and grocery stores typical of a rural community. The C.O. Miller store was first established September 1868 in one of these buildings. Several of the old structures were razed in 1912 to make way for the Stamford Trust Company Building.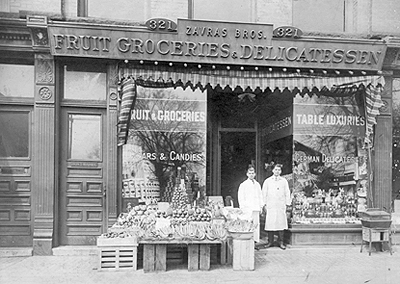 Zavras Brothers, 321 Atlantic Street, c.1926
Iovino Grocery, 212 Pacific Street, 1924
passers-by at right: Charles Malizia & Anthony Masso

Thanks to Grace Bounty for additional information from the census.

Mr. & Mrs. Erasmo Iovino (Magherita, later Margaret).
Vincenza Macarella / Salvatore (age 15) / Erasmo, Jr. (age 4) / Gaetano (age 11) / Rose (age 8).
There was also a son Felix, age 12, not in the photo.
Gardella's Grocery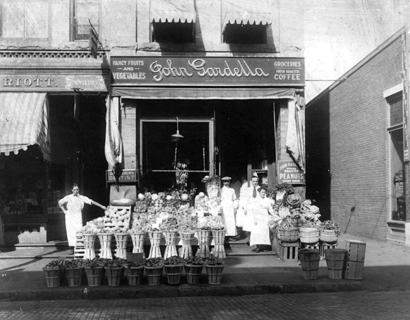 c. 1930, according to the photo label. Probably earlier, see below. Owned by John & Emilia Gardella. Home at 783 Summer Street.
There is an old exhibit label that reads: "Main Street nr. Pacific Street, 1929–1936. John Gardella sandwiched seven years in the Pacific Street neighborhood between two Atlantic Street locations—a fruit store before and a delicatessen afterwards".
14 February 2006: A check of the city directories over the years reveals a confusing array of locations. They also list "Gardella, John & Co. (John and Mario E. Gardella) whol. Nut dealers" at 255 Summer Street, which is John's home address. The title "Delicatessen" appears first in 1937. John died May 17, 1941 at age 67. However, the store continued and in 1945 is listed as "Gardella, John & Son (Joseph, Sylvester and Mario Gardella) grocers 309 Atlantic." (With thanks to Ron Marcus)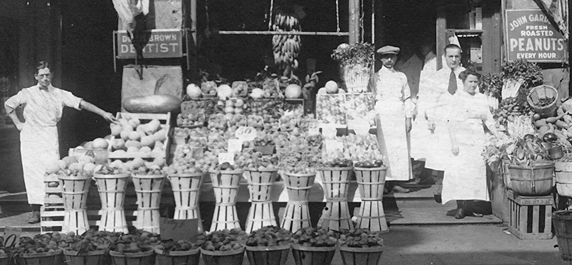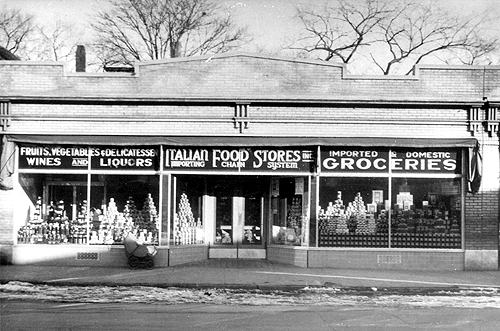 Sclafani's Italian Food Stores, c. 1930, 175A W. Main Street.
Gus Sclafani (spouse Jennie M.) is also listed in the 1936 directory as wholesale grocer at 96-98 Worth Street,
and owning the Sclafani Liquor Co. at 154 Pacific Street.
1976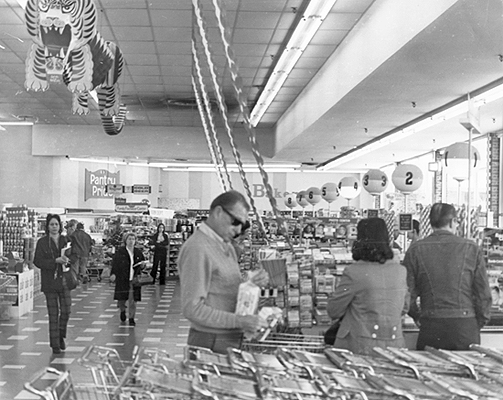 Pantry Pride Market at Newfield Green Shopping Center.
The markets went out of business October 1976.
The dragon indicates that this was taken around the Chinese New Year and thus the photo must have been from 1976.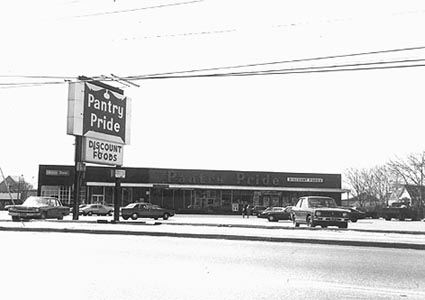 Pantry Pride Store on Elm Street.
see what was here before
Photos © Stamford Historical Society
Other Photo Archivist Selections of the Month
Photo Collection Information