Photo Archivist's Selection of the Month: March 2005
Burleigh Park: The Phillips Estate on Glenbrook Rd., c. 1900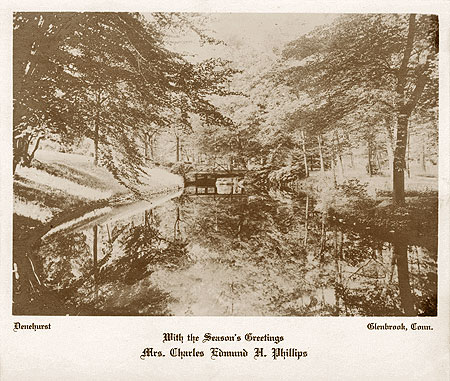 Lock and Rustic Bridge over Noroton River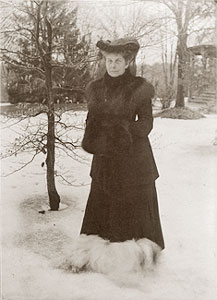 Mrs. Charles Edmund H. Phillips & dog
This being March, but still with a lot of snow this year, many of us yearn for green nature again. We herewith present Burleigh Park, the Phillips Estate in Glenbrook, straddling the Stamford/Darien border. The Noroton River ran throught the park, and the main house was called "Denehurst". The property is now subdivided, and part of it is occupied by the Tudor-style "Riverwalk" townhouses in Stamford on Glenbrook Road, adjacent to the Darien border. Originally, the property seems to have been a farm, "Brook Farm".
Charles H. Phillips, a pharmacist from England, had moved to Glenbrook where he established the Phillips Camphor and Wax Company. It was in Stamford, in 1873, that he concocted and received a patent for "hydrate of magnesia mixed with water" which he called Milk of Magnesia. Phillips produced milk of magnesia as well as other pharmaceuticals at his Glenbrook firm. He died in 1882, and the company was incorporated in 1885 as The Charles H. Phillips Chemical Company. After Phillips' death in 1882, his four sons, Dr. Alfred N., Dr. Charles Edmund H., W.D. and John B. Phillips, ran the corporation until 1923, at which time it was acquired by Sterling Drug, Inc. The last familiar blue bottle to be filled in Stamford was in 1976 when production at the Glenbrook plant was phased out. A grandson of Charles H. Phillips, Alfred Noroton Phillips Jr., was a one-term congressman and several times Mayor of Stamford.
Alfred, John, and Charles Edmund lived on the estate, the latter was the owner of "Denehurst." W.D. is not in the Stamford City Register and may have lived on the other side of the river in Darien. The company, who was situated at what is now Research drive, also built a number of houses for their employees in the immediate neighborhood.
The photos are all undated, but most were likely taken late 19th and early 20th century. From cabinet (greeting) cards by Mrs. Charles Edmund H. Phillips (1853-1937), it appears that that she commissioned a number of photos of the property. Many of them show bridges across the Noroton river.
(titles where provided with photo)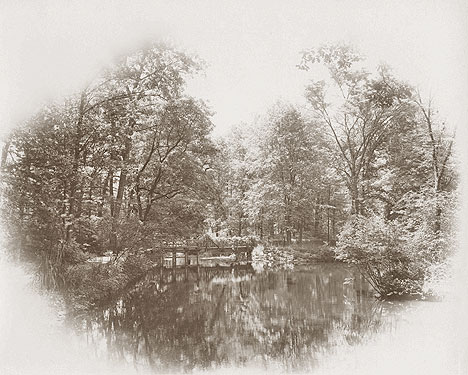 Lock and Rustic Bridge, a closer view
A Stroll through the Park
| | |
| --- | --- |
| | |
| | |
| Rose Lane Rustic Bridge in background | |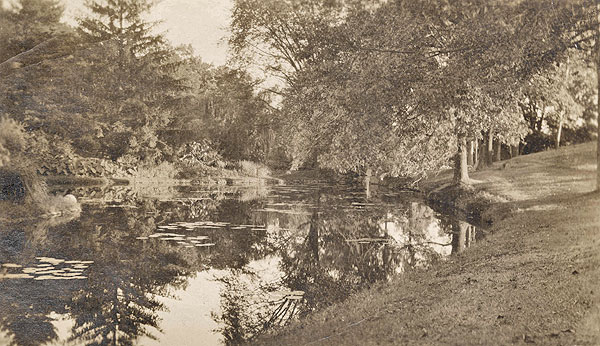 The Windmill
If you look closely at the photo on the right, there is another pavilion!
---
Images © Stamford Historical Society
Other Photo Archivist Selections of the Month
Photo Collection Information