The Stamford Historical Society Presents
GRACIOUS LIVING IN STAMFORD
Late 19th and Early 20th Centuries
Photos and Objects from Our Collection
Hallway displays from the Charlotte D. S. Cruikshank Collection
A Group of Silver-shaped Pearlware Teapots and Sugar Bowls
Staffordshire and Yorkshire, c. 1790−1810.
"Silver-shaped" means that the ceramics were shaped in the form of silver items. Silver shapes began being produced actively in ceramics after 1784 when Parliament levied a twenty-five percent tax on silver items. At the same time, the existing English duties on tea were repealed, resulting in a more prolific production of teapots in general. And with the cost of tea sharply reduced, the teapots grew larger. The silver-shaped teawares in the Cruikshank collection generally date from the 1790-1810 period. Decoration is often a combination of underglaze and overglaze painted enamels.
Though the traditional view has been that Josiah Wedgwood invented or developed pearlware over a period of years and then marketed it in 1779, archaeological evidence from the United States has been especially helpful in establishing a chronology which supports the introduction of some quantities of pearlware by potters in Staffordshire, and possibly Liverpool, before the 1779 dateline for Wedgwood.
The Cruikshank collection offers a cross-section of the pearlwares intended more to serve the table of the user than to glorify the potter as artist. The teawares in the bequest represent the period from 1790-1830.
Though the pieces displayed here are from the turn of the 19th century, they would have been typically inherited or acquired later by the people whose homes are shown in the exhibit.
Partially adapted from the 1981 Society exhibit catalogue "Tea and Sympathy."
Copies of the catalogue are still available at the desk.
A Sampling
1

2

1. Teapot and Sugar Bowl.

Pearlware with molded body painted in underglaze green and ochre in Pratt-type decoration. Staffordshire, c. 1790-1800. 6 1/2" high.


2. Sugar Bowl.

Pearlware, silver-shaped body with underglaze painting in cobalt, blue, green and ochre, banded in brown. 6 1/4" high.

3

4

5

6

3. Sugar Bowl.

Pearlware, octagonal shaped with sepia overglaze enamel painting and underglaze brown banding. Staffordshire or Yorkshire, c. 1790-1800. 6 1/4" high.


4. Sugar Bowl.

Pearlware with silver-shaped body painted with sprig enamels overglaze in rose, pink, purple and green. Staffordshire or Yorkshire, c. 1790-1800. 5-7/8" high.


5. Teapot.

Pearlware with octogonal silver-shaped body enamelled in yellow, green, cobalt blue and ochre. Staffordshire or Yorkshire, c. 1800. 6 1/4" high.


6. Sugar Bowl.

Pearlware with swirl-molded body with acanthus leaf gallery, with overglaze painting in pink, green, blue and iron red. Staffordshire, possibly Harley (Lane End). 1800-1810. 6 1/4" high.
Texts by Diana Edwards Roussel from the above catalogue.

Chinese-style Screen, American, c. 1885
Machine cut three part screen frame has Chinese-style carved panels at top and bottom. Polychrome canvas panels portray flora and fauna in Oriental style, and serve as an example of the late-19th century Aesthetic movement in America.
C955-415
Chinese Urn Stand, Chinese, 19th century
Rectangular inset red marble top above a gadrooned and foliate-carved skirt, on molded legs joined by a box stretcher.
C955F-327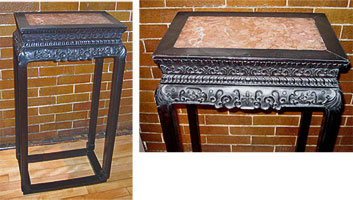 Bronze Jardinière
Engraved and repoussé design on exterior of birds in flight, with a huge hawk on a tree limb. Probably Oriental.
C955-551
---